I love a cycling workout. There are so many fitness bikes on the market. Out of all the types of exercise bikes available, where do you start in choosing the right one?
Cycling is a great way of getting fitter but sometimes I just can't be bothered to make all the preparations you need to get on the bike and ride.
Besides I like to have a destination and to be honest the weather decides for me. I like to get on my indoor bike and hit the virtual road.
Some of the most common types of exercise bikes are:
Spin exercise bikes.
Recumbent workout bikes.
Upright exercise bikes.
Self-powered air bikes.
Folding workout bikes.
Combination workout bikes.
Some have amazing features that will make your workout easier and help you stay in shape.
Benefits Of Cycling On Indoor Exercise Bikes
You might already be on your fitness journey. Maybe you've lost some weight, and you want to keep it off.
You could be starting from scratch and looking to get into shape for the first time. That is awesome.
If you add the stress of going to a gym into your daily life, you may find yourself avoiding your workout. A home routine is a great way to stay motivated. Why not find which type of exercise bike works best for you?
Cycling to Lose Weight
Though it seems simple, doing only cardio isn't the way to lose weight. Studies suggest that you need a combination of exercise types. Putting together aerobic (like running and swimming) and anaerobic (like weightlifting or sprinting) exercises will help you lose weight.
Although cycling is predominantly an aerobic exercise it's great because it can be both! 
By cycling at a low resistance, you can get a great cardio workout. Raising your heart rate slightly is great for your body. Once you're warmed up, you can bump up the exercise by cycling faster and on a higher resistance level.
This allows you to perform a high-intensity interval training (HIIT) workout. By combining cardio with strength training, you can tone your muscles and lose weight.
Luckily, most types of exercise bicycles can help you combine these types of workouts. Many have intensity adjustments.
This means your legs are pumping as much as on a normal bike. By bumping up the resistance, it gets harder to pedal the exercise bike. This means you work harder.
Different Types of Exercise Bikes
You might think that all types of exercise bikes are the same. Just pedals and some fake wheels and handlebars. Right?
Not exactly. There are some amazing types of exercise bikes, and each one is different. Let's have a look at the most common kinds and see which cycling workouts can work best for you.
Spin Exercise Bikes
Spin bikes are most suited for those looking to up their fitness game and are generally heavier and more expensive than other types.
We have reviewed some of the best spin bikes.
To me, spin workout bikes look the most like a space-age full-on technology-busting bicycle. They usually have a large front wheel or 'flywheel' which connects to a bike chain-like band that rotates the flywheel as you pedal.
The whole seating arrangement with handlebars splayed forward is set into an aerodynamic position. This type of exercise bike tends to be more solidly built for seated and standing cycling positions. A standing cycling action activates more muscle groups and leads to a more rigorous workout.
Most of these models of workout bikes feature emergency stop buttons. This is important when you're biking as fast as you can, but need to end your workout suddenly. You want to look for quality builds; a spin bike should be heavy and sturdy.
These exercise bicycles are the type used by SoulCycle and Peloton and most likely, the cycling class at your local gym.
The Spin Bike style indoor fitness bike is the best choice if you're into HIIT.
Recumbent Workout Bikes
Recumbent bikes are more suited for less able athletes or older adults giving a very low impact workout. Good for low-intensity workouts but they can raise a sweat if the effort is put in, of course.
If you're getting on in years or haven't worked out in a while, a great option is a recumbent bike.
The workout bike's pedals are situated further forward, instead of under your hips like a normal bike.
Different types of exercise bikes have their advantages, and the recumbent is no slouch.
It's easy on the back and is less stressful on your knees and ankles. You can move the seat back and forward to reach the pedals with ease.
As it's lower to the ground, it's great for people with back injuries or who might be unsteady on their feet.
Since you're reclined slightly, this model of workout bike targets your abdominals and your glutes.
Good recumbent bikes are great and especially for older people who want to stay active or anyone but especially those recovering from injury.
Upright Exercise Bikes
Upright or otherwise known as stationary bikes are more suited for anyone used to a normal outdoor bike and want a familiar set up for indoor fitness. It's a standard design, more comfortable than spin bikes. They vary the most in terms of price but can be picked up at a good price. We've reviewed 5 of the best upright bikes.
Upright doesn't mean uptight! This model is also known as a static type of exercise bike. Generally, they're higher in the air than a spin bike. You may feel a bit unsteady if you're new to cycling workouts.
If you're looking to get rid of excess belly fat, this could be a good choice for you. Since you're required to hold a balanced position, this exercise bike will force you to tone your midsection. 
Some even come with backrests so you can start a new exercise program slowly and work up in intensity.
They're generally the most cost-effective and lightest of the different types of fitness bikes but as with most things you pay for what you get.
The upright bike is a great standard design, perfect for those looking to get fitter from home for a reasonable price.
Self Powered Air Bikes
Air bikes are most suited for those after a full-body, high-octane workout. The normal design air bike has handles that you push and pull (or just hang on to) activating your arms, shoulders, and back.
Air bikes are the Chinese finger traps of the fitness industry. The air fan creates wind resistance. Just like a finger trap that gets tighter, the more you pull, pedaling turns the fan-wheel, which makes it harder to pedal.
They're fun if you're looking for an intense workout! It puts you to work with its handles that are forced to move similar to an elliptical workout machine.
We have looked at exercise bikes with moving arms specifically.
This workout bike is also great for HIIT workouts. Since pedaling slowly is easy, you can do basic cardio workouts although the next stage of effort is exponentially more intense. When you start pedaling faster, the intensity grows, and resistance is compounded. This makes it great for interval training.
The simple mechanism of resistance makes this a more reliable type of exercise machine – there is less to go wrong although this is somewhat offset by the extra moving parts of the handles. The build has to still be good quality because of the potential for standing whilst pedaling adding even more intensity to the workout.
I like air bikes, don't love them. I get a bit fed up with the constant shooshing of the air movement from the fan – that could be just me. We have created a guide for and reviewed the best air bikes.
Folding Workout Bikes
Folding exercise bikes are most suited for those fitness fanatics that want their workouts to go, or are short on living space.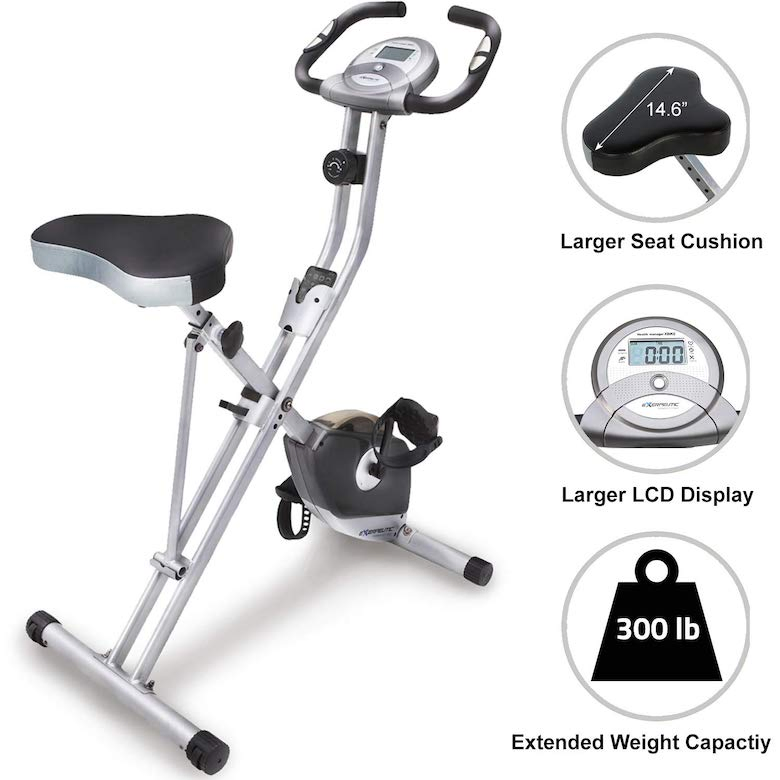 If you're going to have a bike at home, you need to find space to put it. Not everyone has a room dedicated to fitness. I know my exercise bike lives in the TV room (I say that, but every room is a TV room), so I can watch the news as I do my cardio for the day.
If you're living in a smaller apartment or follow a minimalist lifestyle, you should check out the folding type of exercise bicycle.
Most are easy to store in a closet or behind a curtain. They can be an x-style, that folds in the middle. They can also collapse and then roll away.
The better folding exercise bikes are really neat machines but they are what they are and not perfect for intense workouts. The bike's secure position on the floor can be a problem.
Combination Workout Bikes
Combination or hybrid exercise bikes are more suited to gentle low-intensity movement.
There are a number of, often, patented designs that offer a 2-in-1 or even 3-in-1 workout that combines an elliptical and upright or recumbent bike in some kind of format.
Combination workout bikes, in theory, mean that you can combine the cycling that you know and love with elliptical handles to give your arms a workout, too. In practice, they are an elliptical machine with a seat.
More movement means overall body fitness using models that recline or sit like traditional cycles. With certain bikes, you can also use it as a full elliptical trainer by removing or ignoring the seat.
You get two machines for the price of one but often the quality isn't so great and the popularity relies on the gimmicky nature of the design rather than a quality build, which it has to be with those extra moving parts.
Any type you choose can help you achieve that fitness and weight loss goal but I'm not a fan.
Next Generation Exercise Bikes
Partly due to the worldwide pandemic and quickened by the improvements made in technology indoor exercise bikes are becoming smarter and more effective in delivering the best fitness results.
The CAROL bike is currently leading the way in AI (artificial intelligence) driven exercise bikes. CAROL or "cardiovascular optimization logic" learns your ability and fitness levels over a bout of 7 initial goes on a snazzy-looking spin-style bike.
From that baseline data and the user's efforts the bike's software continuously adapts to the improved fitness level. In other words, it gets harder.
The good news is that the bike's designers claim you need less than 9 minutes, 3 times a week. Check out our CAROL bike review.
Inbuilt Coaching Technology
One of the main reasons to go to a spin class is so that you have motivation from an instructor. What do you do if you're less motivated but keen to get fit from home?
Luckily, many types of exercise bikes have modern technology designed to keep you inspired. With inbuilt coaching, these bikes show you the workout on a screen. Some will show you a trail, so you can be as one with the great outdoors.
Specific types of exercise bikes have their own programs. Some will show you a trainer, who's there to motivate you.
Some bikes come with built-in programs, but some require a monthly or yearly paid pass to access live streaming workouts.
You can even add in Bluetooth pedals to help you track your workout. The Garmin Vector 3 allows you to attach new pedals to the bike of your choice.
You may need extra attachments to put it on any type of exercise bike in your home. These pedals can track your mileage, tell you if you put too much weight on one side, and measure your total power.
Best Types of Exercise Bikes for You and Your Home
There are lots of options out there. How can you start to decide? I've listed some features of various types of exercise bikes. I hope you can find a workout bike that will help you stay motivated and on your weight loss journey.
If you are a little less active we have looked at the best bikes for seniors with reviews and a guide.
Most Compact
The smallest bikes for your home will probably be a folding or collapsible model. A unit like the Exerpeutic Exercise Bike can fold in half, via its x-design.
It's only about 2 feet wide when folded up, the perfect size to stash in a hallway closet. It's available with Bluetooth and can support up to 300 pounds.
If you're starting your weight-loss journey, this is one of the best types of exercise bikes.
You could also look at the XTERRA Fitness Foldable Bike. A great feature of this exercise bike is the seat. It's padded and has a backrest. This allows you to sit comfortably, more like recumbent workout bikes.
Quietest Bikes
If you're living with your significant other or roommates, you may want to look for a quiet model of exercise bike. Fan-style exercise bikes can be loud.
You'll want to look for an upright or spin style, like the L NOW Indoor bike. This model is quiet due to its smooth belt drive system. It's just a great all-round bike with loads of features and one of my favorite standard home fitness bikes.
Conclusion
If you're looking for a home workout, an exercise bike is one of the best additions to your home gym. There's a model of exercise bike for everyone.
Think about what kind of workout you want to do. Are you interested in straight cardio? Looking for HIIT or something to compliment CrossFit?
Are you a midlifer who just wants to keep moving and remain healthy?
Or a heavy guy/girl worried about the stability and supported weight of exercise bikes.
Any choice of indoor bike you make provides a wonderful way to keep fit. I hope you find the type of exercise bike that suits you and keeps you on your bike.