Indoor cycling workouts are a great way of keeping active as you get older so if you want to know what the best exercise bikes for seniors are we have it covered.
Disclaimer: This article includes affiliate links. If you choose to purchase any of the products we have discussed in this article, we may receive a small commission.
For those who still want the challenge and are active, we highly recommend the
L NOW LD-577 Indoor Cycling Upright Stationary Bike and for those less active or suffering from back pain and general mobility issues we would seriously go with the
Nautilus R616 Recumbent Bike.
There are a further 2 recumbent bikes that are reviewed below which are the value options and offer great value for money…
Exercise Bike Reviews For Seniors
The LD-577 is designed for high-frequency use like you would get in a fitness studio. But don't let that put you off or think that it's an option that is overkill.
It is superb for larger people as it's a very sturdy build but easily adjusts to accommodate the more petite.
The handlebar and seat are fully adjustable making it possible for people of all body types to work out comfortably.
There are 4 different handlebar grips enabling a variety of positions depending on workout intensity and exercise targets.
The L Now LD-577 is built using robust components treated for longevity and is going to outlast many home exercise bikes on the market. This bike model is built to last and to perform smoothly.
A 44-pound 1.14-inch-wide heavy duty star flywheel along with the body frame design creates a near realistic bike ride experience and with safety in mind. A flywheel over 40 lb tends to give a smoother feeling of momentum and resistance while cycling.
The LCD screen is large, 3.4″, which monitors speed, RTM, distance, elapsed time, calories burned, odometer and heart rate all accessible together whilst cycling. Pulse sensors are on the handlebars.
Longer workout sessions are somewhat cushioned by a decent comfortable seat which is better than most although you can't sit back and enjoy a Martini like you could on recumbent bikes.
The manufacturer's recommended supported weight is up to 350 lbs.
The drive is via a transmission belt which is made from leather, whether it's that or the aluminum alloy reel it sits on it is very quiet and smooth.
The resistance (friction) comes from turning a handily placed knob on the frame so it's transitional rather than incremental and you can depress the knob and the braking system is activated immediately. The transition is very smooth.
You only have to assemble the front and back base, seat, handlebars and pedals.
Overall Dimensions:21"x46"x52"
Product weight:134.5 lbs
Pros:
Quality bike, solid & durable

Displays all metrics simultaneously

The pedals are caged for safety preventing any danger of slipping

Great easy assemble and easy to adjust for different sizes

Very smooth & quiet in use

Resistance pads will eventually wear – replacements available on request

Comfortable
Cons:
The display might be metric – you can request mph

Not the cheapest bike
---
The Nautilus R616 has enhanced Bluetooth connectivity so that users can set, track and monitor their progress with the free Nautilus Trainer and other apps.
What about syncing with the RideSocial app and seeing a virtual world alongside real friends in real-time, all the time keeping track of pace and distance – then share to the social world.
You can set the workout based on the time you want to spend, calories you want to burn, or distance you want to go. Throughout the workout, you can see progress and make adjustments to make the workout easier or more difficult.
If you're more in the 'I just want a reliable exercise bike without all the fancy schmancy' camp, let me just say that these extra features can really change the way you view your regular workouts.
From something you have to do in order to gain more mobility or lose a few pounds to something that can be fun as well as challenging.
The total of 29 workout programs includes 12 profile, 9 heart rate control, 4 custom (user profiles tracked), 2 fitness test, 1 recovery test and 1 quick start.
25 levels of resistance for a wide range of workout intensity options.
Other features include a padded seat with ventilated back on sliding seat rail. The seat adjusts easily by pushing the accessible lever down, and let the seat slide forward or push up with your feet on the pedals.
There are 12 settings that should be sufficient to find the perfect comfort zone.
The Nautilus M616 is easy to put together as it's 90% assembled. The frame, seat sliding mechanism and the major components of the bike come pre-assembled – we like this.
300 lbs max weight
Floor dimensions 65.3″ L x 28.3″ W x 49.6″ H
105 lbs weight assembled
Pedals 4.75″ wide
Pros:
Backlit display for viewing in low light.

MP3 player jack and built-in charging port to keep your devices fully charged.

And a shelf to prop up your favorite device.

25 levels of resistance, 25 preset programs.

10 years warranty on the frame, 3 years on parts and 1 year on labor

Bluetooth connectivity



Cons:
Because of the weight of the parts delivered, 2 people might be needed to assemble

The backrest is at a fixed angle
---
Value choice
If you're after an affordable recumbent exercise bike that is solid, stable and does the job but without any frills the Exerpeutic 1000 High Capacity Recumbent bike would be a sound choice.
Like most recumbent bikes it has 'step through' design which allows easy mounting and dismounting.
There are extended leg stabilizers so that there is little chance of tipping over.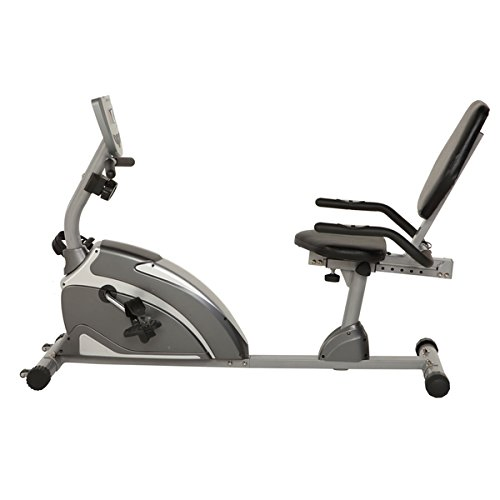 The seat and backrest are overly large and well padded and the seat moves back and forward in 10 adjustable positions, not up and down. Pulse sensors are in the armrest.
The pedals are also big with adjustable straps.
One reviewer was able to easily adjust the bike to accommodate his wife 4'11" and himself a 6'2″ man – impressive. The maximum weight recommendation is 325 lbs and maximum height 6'3″.
Dimensions: 54″L x 22″W x 34″H Max Weight: 63 lbs – Seat to floor 18″
3-year limited warranty – 90-day parts warranty
The tension controller is well designed and there is a good range of output settings and the display is straight forward showing speed, time, distance, heart rate, calories burned.
For under $200 this bike is well made and very sturdy. It can be lifted and moved easily with the aid of 2 front wheels and has a relatively small footprint for a recliner.
There are no preset programs or any other fancy add ons. There's no cup holder so not even any unfancy additions.
Pros:
Robust construction.

Comfortable and large seat & backrest.

Extended legs.

Very good value.
Cons:
The LCD display is not LED so difficult to view in low lighting.

Lightweight flywheel so not a totally realistic cycling experience
---
Value choice
This is another competitively priced sturdy recumbent exercise bike. Apart from its solid construction – it takes up to 380 lbs – it is also a good choice for comfort as the 'infinite slider seat' adjusts back and forth easily adjusts with a quick-release lever.
This lever can be locked in accommodating sizes 5'2″ to 6'5″. Adjustments can be made on the fly. Like it!
Assembling the bike was okay, as always care should be taken and go slow – well that's what I have to do. The finished product has a small footprint, 45"×20"×40", and as most exercise bikes, transport wheels for easy moving the 53 lbs around.
For those of us with failing eyes the LCD output is extra-large (single digit 1 1/4″ high) although the screen is not backlit. Tracked data is heart rate, speed, distance, time, and calories burned.
There is a handy tablet support shelf to let you get distracted by a favorite movie.
The Vanswe exercise bike has 16 levels of magnetic tension which although any significant resistance doesn't kick in until the 7th level.
The action whilst cycling the Vanswe exercise bike is smooth and stable as well as quiet when cycling which is not always the case with this category of bike – the mechanics use 2 belts which helps to get that proper cycling 'feel'.
All in all a solid bike with comfort and features you might expect of more expensive indoor bikes although it is not geared for anyone looking for a high amount of intensity in their workouts.
Pros:
Well made construction – sturdy.

Seat adjustable whilst pedaling.

Comfortable.

Smooth and quiet.

Easy to assemble.

Large display digits.

Value for money.



Cons:
Not suitable for high-intensity workouts.

The computer metrics might not be 100% accurate.

A 6'5" person may be a bit tight in the frame.
---
The Benefits of Exercise Bikes For Seniors
We all know that staying active is important as we get older. Exercise bike cycling is a great cardiovascular activity that can easily be done at home incorporating it into a healthy active lifestyle.
Cycling gives you all the aerobic benefits you get from any other cardio exercise. It is a good way to train and strengthen your heart and respiratory system.
For anyone but especially for us older types, regular activity can help keep joints flexible, muscles strong, and blood circulation healthy. It improves the range of motion, especially of your knees, ankles and hips.
Using stationary bikes for exercise is a low-impact activity. There is no jarring of the body or excess pressure on the joints when cycling.
For me, the exercise bike became an important part of my life when I had to give up running due to increasing trouble with my hips and knees although I had had one for many years which was useful whenever I was injured and unable to run properly.
As well as being a good cardio exercise it is also effective for strength training. Exercising on a stationary bike targets most of the muscles in your lower body.
Options for increasing and decreasing exercise resistance mean you can challenge yourself and measure your progress. When the cycling motion is repeated for a period of time, it burns fat as well as exerting your muscles.
Ease of comfort and convenience – features of the machine may provide distractions built into the bike although you can watch telly or even read a book – I prefer something mindless on the box, with the sound turned down.
I like to exert enough to not be able to concentrate on something interesting but not as much that I can't even see the tv screen.
Types of exercise bikes
There are fundamentally 2 sorts of exercise bikes that we'll be interested in, the upright bike and recumbent bike.
There are a few others that are worthy of mention although they aren't going to come under our category of best exercise bikes for seniors. We have however put together a more complete guide for all types of exercise bikes.
The Upright Exercise Bike
The traditional upright bike is the one closest to the bicycle we are used to cycling to get somewhere although maybe it's been a while.
For the body, it means a closed position where the pedals are under the feet and a (very) cushioned seat supports almost all the weight.
Good upright exercise bikes should have some form of resistance control as well as different programs.
The Recumbent Exercise Bike
The recumbent bike allows you to recline in the frame sitting in a chair with feet in pedals in front pushing parallel with the ground.
Although recliners look precarious on the road as exercise equipment for seniors they give the best support and even more so with handles at the sides rather than in front.
The whole seat experience should be more comfortable than the upright bikes with good back support.
The Fan (Air) Exercise Bike
The fan or air bike is classed as an upright bike because of its' traditional closed upright design but its' resistance comes from your own pedal power. The resistance increases with the amount of effort put in.
The air bike is also designed to exercise the upper body as well as the lower as some have moveable arms.
I don't believe these fan bikes are that suitable for older people in general and I would only consider the best quality ones which can get pricey.
We have covered more on air bikes.
Indoor Exercise Bikes
Indoor bikes are upright bikes with some design differences. The handlebars and seat are further away encouraging standing cycling. More muscle groups are involved and higher intensity training results.
They are mainly used for serious types and a certain type, the spin bike is more often used in spin class, directly or immersively online.
We won't be looking at them here but elsewhere we've looked at the best spin bikes.
Folding Exercise Bikes (link to The Best Folding Exercise Bikes)
Some of these folding bikes are great designs and really handy in certain circumstances but not suitable to review here methinks.
Recumbent vs Upright

With a recumbent exercise bike, there are fewer engaged muscles, mainly involving the lower body and exercise is not as intensive as an upright bike workout can be.
It is easy on the back, hips and knee joints.
Suited for older people and those with less mobility. There is more support and the chair is more comfortable than upright designs.
As your arms are free you can 'enjoy' whatever you might do with your hands. 😀
The seated position makes it physically comfortable to watch TV, a movie or read a book. Personally, I feel a bit nauseous after a few minutes trying to concentrate on reading something whilst exercising. And I always think that if you're able to focus on a book then the exercise routine isn't physical enough. Just saying.
With upright bikes, a more intense workout can be achieved and within a session different positions can be adopted (out of the seat, edge of the seat) to provide variety and again different intensities.
More muscle groups are used from the legs, through the abdominals and to a lesser extent the upper body.
The minimal design means it takes up little space and is easier to move around. And you can put them in front of the TV but the viewing angle is less good than with a recumbent.
The seat is less comfortable than recumbent bikes and after a good session, the muscles of the gluteal region can ache. This is the area from the lower back to the upper thigh, including the butt.
Things to look for when buying an exercise bike
Comfort
In particular, the saddle – memories of that hard weird-shaped pointy thing we had on our racers.
For back sufferers and those with particularly aching lower joints the recumbent bike is a good choice because of its design. Some even have padded armrests and adjustable and contoured backrests.
Getting On and Off the Bike
It's significantly easier to mount and dismount a recumbent bike. They're lower and most have, what manufacturers call 'step-through design' which means you have to just step over the lower part of the frame and recline into a comfy chair. The upright bike is much like a road bike without the crossbar.
Seat Position
The seat should be fully adjustable so that you can get your position right – it's important – you should neither be stretching to reach the handles or the extent of the pedals.
On an upright bike, set up as if to cycle, place the middle of the foot on the pedals, the leg on the lower pedal should be bent by 5 to 10 degrees.
On a reclined bike set up as if to cycle, with both feet on the pedal, the leg further extended should create an angle of 5 to 10 degrees.
The horizontal adjustment would need to be made to get the pedal when on the way down and parallel to the ground to be directly below the knee.
Handlebars Position
On upright bikes, only the handles should be as high as the saddle or in the case of those with back or similar problems slightly higher.
The handlebar should allow a comfortable position of the arms that shouldn't be totally extended and be in a generally dynamic position at the level of the torso and arms giving a secure grip in differing positions.
Maximum Height and Weight
There are recommendations for height and weight maximums in the exercise bike manufacturer's specs. 300 lbs is the norm for maximum weight although some are more and for height, it's around 6'.3" feet.
Exercise Bike Size and Transportability
Upright bikes have a lower footprint than recumbent ones and are easier to move around. Check the machine's dimensions if you think this is an issue. Don't forget you'll need some clearance around the machine.
The bike can be left in situ or put away each time after use which means it needs to be easy to move. Most bike machines have little transport wheels at one end so you lift the other end to maneuver. Some designs are better than others.
Bike Assembly
Some bikes arrive partially assembled and you only have to lock together the frame, handles and electrical wiring – my favorite. Others are a little more complex and care should be taken to follow the instructions or else you may end up with an important feature not working properly. Youtube often have videos on buyers assembling exercise bikes.
Exercise Bike Features
Resistance Control
As in many exercise programs, the key to providing the aerobic and/or strength benefits is resistance. Freewheeling won't be beneficial, so the exercise bike should have easily adjustable resistance setting available during the session.
Bike Exercise Programs
The stationary bike should have programs to select that helps to vary the routines. There can be 20 or more preset programs of varying difficulty. This is something you can set up at the start or during a session.
Data Display
Along with these programs you can input there should be a clear display screen. My glasses never go with me when working out so readouts have to be big. The display should also show data which is generally things like speed, distance, cadence (revs per minute), heart rate, calories burnt, etc.
Bike Profiles
A useful feature if intending to share regularly with others are profiles that allow you to program and lock-in seating positions and programs specific to each person's requirements.
Tips For an Effective Exercise Bike Workout
Position the exercise bike so that all moving parts have plenty of clearance including space to get on and off the bike.
Set the height and distance of the handlebar/handles and seat before beginning the cycle exercise. Get comfy.
Pain in the front of the knee often indicates too much knee bend and pain in the lower back means too little knee bend. See above seat and handlebar positions.
Your favorite 'upbeat' music may make the bike session more enjoyable.
Always warm up before an exercise bike workout.
Cool down with light but adequate stretching when you've finished and dismounted.
To stay motivated change the cycling challenge, aim for improved distance, speed or intensity. Use the inbuilt programs.
I tend to do bike exercises before breakfast so that I can enjoy my porridge after staggering out of the shower.
Conclusion of our Guide to Exercise Bikes for Seniors
As you can see we have included 2 types of exercise bikes in our roundup, an upright and 3 recumbent.
Recumbent bikes are more suited for seniors because of the body position when exercising which exerts little stress on the back and joints. Also, they are very easy to get on and off and more stable and comfortable.
The best-suited exercise bike for less active seniors whilst offering challenging motivational benefits with an array of features was the Nautilus R616 Recumbent Bike.
However, those more active seniors looking for a quality, well-constructed exercise bike with memories of cycling on the road with the wind in their hair and who are after some higher intensity and more challenges, roll back the years with the L NOW LD-577 Indoor Cycling Upright Stationary Bike.
This bike has the cycling 'feel', it is comfortable, feature-rich, easy to assemble, an output display that gives you all the information at once, it's made of steel and hey, it looks fantastic.
Check out more of our articles on exercise bike guides and reviews.