You want the functionality of a 'spin bike' and the fantastic workout it can provide but you don't necessarily want the classes, the interactive coaching and of course, you want to do it at home.
With that in mind, we have been on the hunt for the best spin bikes based on functionality, quality, comfort and value for money but no necessary subscription to bother with.
But first, check out our guide which adds a bit of clarity on all the available types of indoor cycling bikes.
This article includes affiliate links. If you choose to purchase any of the products we've discussed in this article, we may receive a small commission.
Here are the best spin bikes to bump up your workout for 2023:
Best Spin Bikes For Home Reviews
We've searched through 34 indoor bikes available on the market. None of them come with all the integrated apps and group-training bells and whistles. We have chosen the best spin bike for home from a list of 4 that made the cut.
This indoor exercise bike is a solid well-built bike and comes with the features you would expect from a top grade bike including variable handlebars. You can hold the four-prong grips in a number of ways to customize your workout.

The cycle's handlebar and seat column adjust nicely giving a suitable range for all members of the family with an upper limit of about 6'4″. It all locks into place securely so that you'll have peace of mind while riding.
This machine is one of the heaviest on the list, although for indoor cycling bikes there are more sturdy ones – they're not a spin bike though.
It does come with "easy move wheels," though, making it easy to reposition the machine. It's probably worth locating it in its final position on an appropriate mat.
The bike may come with a readout that is in km not miles. If so, call the fantastic L-Now support team and they'll send a replacement.
The support is excellent as I can testify as can many other buyers who have been similarly impressed. Is great support a surprise these days? Shouldn't be.
Now if you're looking for a more interactive workout with extra metrics, you can get a Wahoo device that links to a free app.
It attaches easily to the bike and provides the all-important spin bike metric cadence or RPM (revs per minute). It is an additional cost but, combine it with the quality of the L-Now spin bike and it's a no-brainer.
The Wahoo is a Bluetooth device compatible with many phone apps. Apart from its own Wahoo Fitness, there is Peloton, Zwift, Trainerroad, Sufferfest, MapMyRide, Komoot, RideWithGPS, Cyclemeter, Rouvy, Fulgaz, etc.
The L-Now 580 indoor cycling bike uses friction to give resistance against the heavy 40 lb flywheel so the pad will probably need replacing at some point.
As indoor bikes go the maximum supported weight is quite low at 280 lbs and the spin bike weight is 95 lbs.
Pros
Well-built exercise bike – easy to assemble
Quiet in operation
40lbs flywheel for smooth riding
Delivery and set up available
Soft PU Seat for comfortable longer workout sessions
Customer support is excellent
Cons
Friction-based resistance
Not suitable for big people
---
From the L-Now stables, the Pooboo X6 is another classy-looking indoor cycling bike with all the functionality you would expect.
We know that working out in a group can improve your mood and help you achieve a better standard of fitness. But if you want to use a home gym, can you get that rush of endorphins?
Yes. This machine features a heavy 35 lb flywheel and is bidirectional as well. This allows you to pedal forward and backward although pedaling backward should be done with caution.
It feels odd and unnatural and might surprise a few secondary muscles that have been lying dormant.
If you use this spin bike model, you can only rest your device on the built-in readout area and a tablet will obscure most of the monitor.
The measurements for readout are the normal speed, mileage and 'calories'. (I never trust the calorie info).
The handlebars and seat can be nicely adjusted for different users and different preferences for indoor cycling. The handlebars can't be adjusted in any other more creative way.
Bike weight is 75 lbs and maximum user 330 lbs according to the maker although some heavier buyers have had issues at weights of 300 lbs and above.
There is a limited 12 month warranty although replacement parts will be freely available if required.
Pros
Large seat for users who need more comfort
Easy assembly with tools provided
Bottle holder
Very quiet
Good price
Cons
Limited seat and handlebar arrangement
Pedals can come loose after heavy use; especially if you've been pedaling backwards 🙂
---
The L Now bike was voted most likely to appear in a James Bond villain's lair. Of course, I'm kidding, but this sleek model really looks like something special.

This cycle is driven by a belt drive system, which provides a smooth workout experience. It does not require repairs or oiling like a chain model might.
Like most other models, it comes with a monitor to track your speed and calories burned at the end of the course distance plus heart rate. This model is special because it has unique accessories stand for your tablet and iPhone, which doubles as a water bottle holder.
This is a great feature although if you are in a standing position really going for it you may find your head in your tablet or whatever you have in the holder.
The resistance is provided by friction but is very quiet. It handles 300 maximum weight and with a 35 lb flywheel, the unit weighs 101 lbs so is nice and sturdy.
One of the best features is the fully adjustable handle and seat which go back, forward, and up and down.
The base is adjustable for uneasy floors as well as having transport wheels for easy positioning.
Pros
All-purpose holder.
Horizontal adjustment levers for uneven floor
Comes with rear dumbbell rack and dumbbell
Machine comes part pre-assembled
Cons
Bike seats can move
Seat base is low
---
The final model on the list has the heaviest flywheel and is a heavy machine at 102 lbs. With a 40 lb flywheel, you can be sure of a smooth and satisfactory ride.

This Sunny Health Fitness indoor cycling bike model has a choice of either a belt drive mechanism, SF-B901B or a chain belt, SF-B901.
The chain belt is a little cheaper but comes with the additional 'chain cycling' noise associated with a standard outdoor bike and is more prone to requiring maintenance as they can loosen. We would go for the chain belt.
Talking of maintenance, it's always a good idea to look after your spin bike as you would an outdoor machine. Lubricate the felt brake pads with silicon-based lube periodically.
Wipe down the flywheel after each use. And if opting for the chain version lubricate it regularly or as when needed and check it for tension.
This is the right stationary bike if you're a casual user. If you were going to spend three hours a day pushing yourself to the limits, I suggest getting the number one exercise bike on this list.
If you're looking to lose a few pounds and maybe feel better, then this bike might just be perfect.
Suitable for users with inseam Max. 41 in / Min. 29 in and the maximum supported weight is 275 lbs. The product weight is 102 lb.
Warranty Description 3yr / 180 day Manufacturer Warranty
Pros
Heavy flywheel for a smooth ride
No battery, oil, or gas
Great price
Sunny health Fitness are a solid brand with good support
Cons
Buyers have reported squeaking when the flywheel is at its most resistant
No built-in monitor for speed, distance, calories burned etc.
---
Spin Bike, Indoor Bike, Exercise Bike – What the…
Unlike most indoor cycling bikes, a spin bike has a heavy flywheel, normally at the front which supplies (kinetic) energy as well as smoothness.
It takes quite a bit of energy of indoor cycling for the rider to get the momentum going but then inertia kicks in and keeps the pedals spinning.
This means it's a fixed wheel – memories of my youth when such a setup was cool and a little dangerous – just like the bikes they use in velodromes. Don't worry even the best exercise bikes aren't going to be that level of wallet-busting price.
The other differentiator of spin bikes from exercise bikes (recumbent bikes, upright, air bikes, and even folding bikes.) is that they are designed to offer a number of positions while working out, 5 in fact.
Other exercise bikes for home use are not normally designed for standing whilst pedaling.
With this extra dimension, your workout can be a full-body one and also be as hard and gut-busting as you want.
So back to spin bikes. We have purposely chosen 4 bikes of the spin design but don't automatically come with the integrated apps that give you all the Peleton or Zwift like coaching sessions.
However, if that is something you want then it can be done. More of that later.
Where Does Spinning Come From?
The term 'spinning' has become synonymous in the bike exercise and fitness world as Indoor Cycling in a class or group format headed by a coach or fitness instructor.
It has grown rapidly since its inception on the west coast around the mid-1990s when 2 cyclists, one professional, Johnny Goldberg and enthusiast John Baudhuin came up with the idea and registered as a trademark the word 'spinning'.
They formed a company to organize and deliver gym-based indoor bike classes. Locally at first and then to a worldwide audience through their certified Official Spinning Facilities program.
Their venture into designing and making exercise bikes for spinning was less successful and has been outsourced through Schwinn, then Bowflex and Precor and now I'm not quite sure who is involved.
Why a Spin Bike?
If you've been looking to find a serious workout at home that is scalable, an indoor bike or spin bike as it has become popularly known may be the best piece of workout equipment.
This form of indoor cycling doesn't need a lot of room. And you can really burn calories.
Spin bikes are unique because of their shape. Stationary bikes sit upright generally in one or maybe 2 positions.
These exercise bikes are designed with an adjustable seat post and handlebars to give a variety of workout positions.
In particular, they're made to allow for standing cycling – which I love.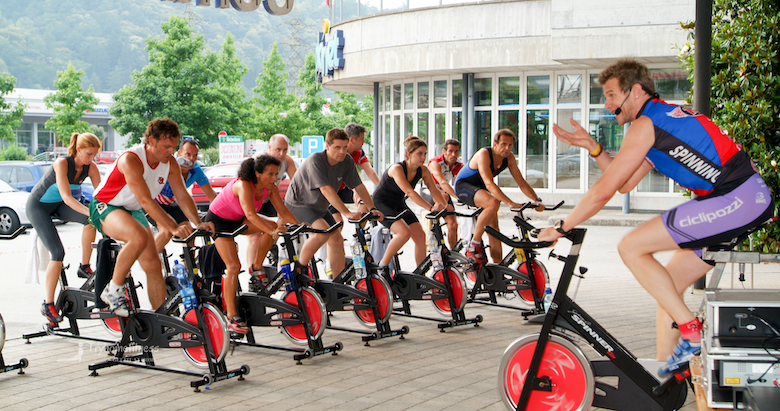 Although it's more strenuous because the tension will be higher I feel it's a rest from my butt and also the quads.
Cycling, whilst standing, spread the force from the leg muscles and you also use the upper body more to spread the effort.
Outdoor cyclists face all kinds of dangers. Pollution and traffic can be a big deterrent. An indoor cycle can help you recreate the feeling of an outdoor experience due to its construction and variable resistance. Many features make spin bikes unique. Let's take a look!
Flywheel
The flywheel is one of the most important parts of the best spin bike.
It mimics the front or back rim of a bicycle, and just like a fixed wheel, in this case,  you push and pull on the pedals, and it rotates. It creates stored energy.
To move a bicycle pedal, you push down with your feet, legs, and body weight and pull through and round.
Without the flywheel, the indoor bike ride might become bumpy and uneven. By rotating, it softens the bounce created when you apply pressure to the pedal and the force produced gives that 'road cycling' feel.
Generally the heavier the flywheel the smoother the ride but the harder it is to get the momentum built up.
Resistance
Spin bikes and other exercise bikes, use one of two kinds of resistance (although there are a couple of others) and it is applied by pressure on the flywheel. The forces are either magnetic or friction.
The harder you have to pedal your indoor bike, the more work you're doing. A more intense workout means more calories burned.
By turning a simple knob or crank, the resistance changes. The higher the numbers get, the harder it is to pedal. If you take a spin class, the instructors will ask you to adjust the intensity at different times during the workout. You can do it at home with the best indoor spin bikes.
The flywheel attached to the pedals using magnetic resistance should need little or no maintenance due to zero contact. But they tend to be more expensive to build. Friction mechanisms employ a belt, similar to a regular bike's brakes and so is rubbing which can eventually degrade the material which most likely will need replacing.
Pedals
The best spin bikes have special pedals to keep you safe while you're moving. A regular exercise bike can have a plain one, like a casual bicycle.
Spin bikes are meant for moving quickly under high intensity, so they have specialty cages to hold your feet in place.
The cage design on the spin bike allows the indoor cycling bike rider to pull on the pedals and also push down.
Normally the cage pedal, a standard of many models, can be replaced by changing the crank to a cleat, most commonly Shimano Pedaling Dynamics (SPD) which has been the standard cleat design since the 1990s. This is more favored by keen cyclists.
Health Benefits
If you're mimicking a spin class at home, be prepared to sweat. Most classes at the gym are 45-60 minutes long, but of course, you can adjust that time.
In a study of 40-minute spin classes (with 10 minutes each of cool down and warm up), participants reduced BMI and body fat percentage by over 50 percent more than other kinds of aerobic exercise.
Some spin bikes come with memberships to workout videos and online groups. Take advantage of these if you want to get the most intense workout.
As mentioned above the type of exercise bike we've included in our roundup aren't automatically aligned to any particular interactive or immersive training program.
However, using the Wahoo RPM Bluetooth or any similar device you can integrate with a whole variety of apps. See the L-Now 580 review.
Conclusion
Spin bikes come in many varieties. The L NOW Indoor Cycling Bike is our clear winner because it has the best features. Heavy-duty handlebars and good cage pedals give you a solid ride during your workout.
The L NOW is heavy enough to be stable, but light enough to move easily on its sturdy wheels. You'll be ready to ride anytime and get fit, fit, fit when you have your own spin bike at home.
Check out our other exercise exercise bike articles. Thanks