In this article, we're uncovering the best folding exercise bike and looking at the benefits of using them.
We've reviewed 5 products in all to help make an informed buying decision. Our top recommendation is first in this list of the best folding home bikes that we reviewed.
This article includes affiliate links. If you choose to purchase any of the products we have discussed in this article, we may receive a small commission.
Exercise bikes are nothing new, but new designs and using affordable materials, it now means you can get hold of a folding exercise bike for an affordable price.
These are ideal for people who may not want to spend a lot of money, or who might not have a lot of space for a commercial-grade exercise bike.
Benefits of Exercise Bikes
There are many sound reasons why someone might want to get an exercise bike for the home. Maybe it was reading our article on a guide to exercise at home – we would like to think so. For more info on indoor bikes, we have a guide for the types of exercise bikes.
Convenience
We're busy, and we always have something we "should" be doing. Why not make things easier on yourself by bringing the gym into your living room? It's something we like to encourage.
Foldable exercise bikes barely take up any room, and they fold up to around the size of an ironing board. You can take it out when you want to use it, watch the morning news, read the paper, and put it away in time for work.
Strengthen Your Muscles
Cycling helps to strengthen muscles like your quadriceps, hamstrings, calves, and glutes. Those areas are essentially the front and back of your legs from ankles to the torso. Strengthening these muscles helps us as we age because it provides more mobility and strength to get through daily tasks.
Indoor Exercise to Lose Weight
Weight loss is the most popular reason people turn to exercise although there is a multitude of good reasons why maintaining fitness is a positive in our lives.
You can burn a ton of calories depending on your age, gender, and current weight. Regardless of what you're looking to achieve, getting on an exercise bike every day will help you drop a few pounds and improve your health.
Cardiovascular Health
Along with losing weight, exercise bikes are a simple and effective way to work in a little cardio. Cardiovascular exercises help improve heart health by increasing the supply of oxygen in the blood. This factor also helps you feel more energetic, and it reduces the risks of stroke and heart disease.
Low Impact Injury Recovery
If you recently suffered an injury or you've been managing one for a while, cycling on a fitness bike is a great way to burn some calories without aggravating any prior injuries.
The motions are smooth, and you can go as fast or as slow as you like. Cycling on an exercise bike is easy on the joints and back.
Choosing a Type of Exercise Bike
Now, let's talk about different types of exercise bikes. In this article, we're focusing on foldable exercise bikes, but there are a few different options.
Indoor Cycling Bike
Indoor cycling bikes closely resemble real bikes in terms of their shape and application. These are useful if you want to do high-intensity cycling and you regularly enjoy biking outdoors.
They have more health benefits and will help you burn calories faster, but they are not beginner-friendly, and they are not ideal for people who are overweight.
Upright Bike
Upright bikes are more comfortable than cycling bikes, and these are the standard ones you typically see in gyms and fitness clubs. You can build a workout program around these bikes, and they generally come with training programs built-in that will guide you through your workout.
These bikes are more beginner-friendly, lower to the ground, and easier for people with injuries.
Foldable Upright Bike
A foldable upright bike is like a mashup of both of the above two mentioned bikes. Foldable indoor bikes are generally taller than upright bikes, so they are more challenging to get on and off, but they are incredibly lightweight and compact.
To improve comfort on these, you would want to get one with a backrest on it and a comfortable seat because the seats are usually smaller than a regular upright bike.
These foldable upright bikes are for low-intensity workouts but are more affordable than the previous two options.
Most foldable bikes are an x-frame design which means they hinge at a center crosspiece. Our first choice of folding bikes actually hinges at the base which means there's no central 'X' to get in the way when mounting the bike.
The 'arc design' as it's called also makes it possible to build the machine with a lower center of gravity becoming more stable.
Features To Look For
Once you understand the importance of cycling as a good form of indoor exercise and you're ready to pick out a bike, here are some features to bear in mind. You're not likely to get all of them on the same bike, but you want to maximize luxury while minimizing cost whenever possible.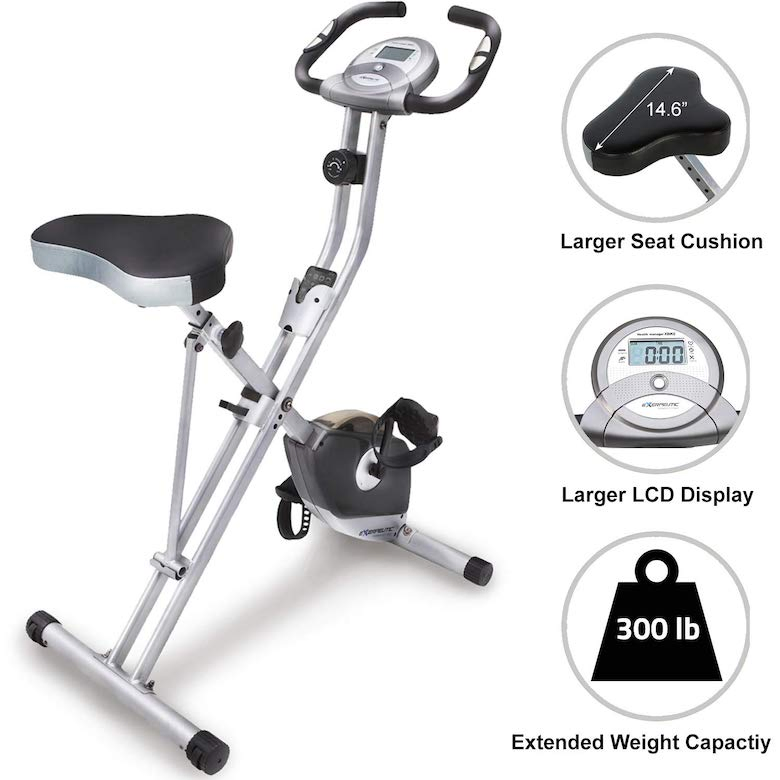 Various Resistance Levels – Having different resistance is a must have feature. You want your bike to grow with you, and you can only pedal so fast. Having resistance levels will allow you to test yourself as your fitness levels progress.
Comfort – Your folding exercise bike should have a comfortable seat that is adjustable to meet your or someone else in the family's needs. It should have plenty of padding as should any handlebars and metal parts.
High-Quality Pedals – Ideally, the pedals should have metal components, and they should come with solid holders or straps for your feet and be anti-slip.
Built-in Computer – The best folding exercise bikes will have computer systems to record things like speed, calories burned, and time elapsed. The screen should be large and easy to view results. Some will even keep track of your exercises over time to let you know how you're improving.
Fans – Having a fan on your bike is a luxury, but it's a luxury worth having and it might be necessary in a small enclosed area.
Speakers – Built-in speakers are an optional accessory, but if you love music you'll want to play it through the bike instead of having to keep headphones or earbuds on. I don't like exercising with headphones.
Bottle/Device Holder – Some may consider this a luxury, I think it's a necessity. You need somewhere convenient to put a water bottle, so you don't have to stop exercising to take a drink.
Value for money – Always, right? Well, we've chosen not to look at any super expensive options so our 5 reviewed products are all around a similar price.
Best Folding Exercise Bike: The Reviews
Here are our picks for the best folding exercise bikes. These meet most of the criteria we've talked about so go through them and see which one works best for you.
Here we have a folding bike that attempts to maximize comfort and stability where others sometimes fall short.
This folding bike is a sturdy arc frame design as opposed to x-frame which means it's very easy to get on and off. The design allows the bike to fold up easily too.
This one has a comfortable backrest and seat, and it also features handlebars at your side for added stability.
The bike has a large 3.7" screen that tracks all the essentials like heart rate, speed, and calories burned.
It also comes with something they call "unlimited tension adjustment," which means that you can adjust the tension to make pedaling more relaxed or more difficult.
The tension provides resistance and goes from very easy to very hard although I can't believe it's 'unlimited'.
The BCAN comes with five different height adjustments and once folded, you can easily slide it around using the base transport wheels.
The BCAN folding bike does all the basics well so if you aren't fussy about workout programs and other fancy bells and whistles this is a great choice.
And besides, I find it just as easy to attach an Inova tablet holder to the console and the world is your lobster.
Specifications:
Dimensions: 47.2" x 35.4" x 19.6"
Weight: 46.6 pounds
Weight capacity: 330 pounds
Warranty: 30-day money-back; one-year parts
Pros:
Mount & dismount is easy
Quiet operation
Higher weight capacity
Excellent stability
Large screen
Cons:
No pre-programmed workouts
---
Here is a have a heavy-duty exercise bike that is easy to get on and off. The bike features a large screen that displays information like calories, time, and speed. It also has heart rate monitors.

In terms of comfort, you get a large seat that is more than 14" wide, but it does not have a backrest. Adjusting the seat is simple, using a sliding mechanism on the shaft.
The bike has eight different levels of magnetic resistance, and it folds up nicely to around half its opened size for easy storage.
It's no surprise that there have been over a million of these exercise bikes sold with thousands of glowing reviews.
Specifications:
Dimensions: 31" x 19" x 46"
Weight: 42.8 pounds
Weight Capacity: 300 pounds
Warranty: One year frame; 90-day parts
Pros:
Lightweight
Compact
Easy to install
Cons:
---
This folding exercise bike comes with ten different levels of magnetic resistance. You can choose which level you want to cater to your experience and fitness.
It comes with an oversized seat and a comfortable backrest to accommodate longer rides. I believe that a backrest is really important, especially if you are looking for a low-intensity ride.
The bike also features training belts and pulse grips so you can keep track of your heart rate on the LCD screen. You can also track calories burned, speed, and target heart rate.
One of the best features of this bike is that it serves as a two-in-one. You get the more leisurely recumbent style bike for people who want low intensity.
It also changes into an upright exercise bike if you're looking for a high-intensity workout.
Specifications:
Dimensions: 46" x 28 (upright) 40" x 33.5" (recumbent
Weight: 40 pounds
Weight capacity: 280 pounds
Warranty: Three-year warranty
Pros:
Two in one feature
Good warranty
Lightweight
Easy to assemble
Quiet
Cons:
Resistance levels are all similar
---
Next is another X-frame-designed folding exercise bike, the XTERRA Fitness FB350 folding exercise bike.
This one has a well-padded seat with an adjustable backrest. It has a recumbent design, so you sit back and pedal in a more comfortable position.
It features eight levels of resistance that you control using a dial tension knob and a three-piece pedal crank for durability. The LCD screen is small, but it provides you with all the necessary information like speed and calories burned.
The bike also has heart rate grips mounted on the handlebars so you can ensure you're reaching your target heart rate.
Overall, nothing stands out about this bike compared to the competition other than the fact that it has a backrest.
Specifications:
Dimensions: 40.5" x 21" x 50.5"
Weight: 42.3 pounds
Weight capacity: 225 pounds
Warranty: One year frame; 90-day parts
Pros:
Lightweight
Folds easily
Has a backrest
Heart rate grips
Cons:
Not as durable as we'd like
Tips easily
---
Our last bike is a bit different than some of the previous options. This one comes with an extra-large adjustable seat with a padded backrest.
It has six different adjustment points to ensure you find the perfect height for you.
The bike has a 3.5" screen that displays all the essentials like heart rate, calories burned, and distance traveled. It also has heart rate sensors on the handles.

In addition to all the standard features you get on an upright exercise bike there is a twister plate at the base behind the seat to exercise the waist and hips. Nice.
This folding exercise bike comes with resistance bands built into the bike. While you're working out your lower body, you could work out your chest, arm, and shoulder muscles too.
I think this is a great feature. If you like versatility or you have someone else in your house who might benefit from the upper body resistance bands, this is a great choice.
This is an exercise bike for women or that's how Murtisol market it. Maybe they think the pastel colors will appeal to women otherwise I think it would be suitable for men too.
As with all the other bikes, this one is foldable and saves a lot of space when you fold it up and hide it away somewhere.
Specifications:
Dimensions: 47" x 20" x 46"
Weight: 45 pounds
Weight capacity: 264 pounds
Warranty: Unavailable
Pros:
Features resistance band training
Space-saving
Attractive design
Easy to assemble
Cons:
Difficult for smaller people to get on and off
Colors?
---
Our Verdict
Congratulations on making it through this entire review, you're a champ! By now you should understand the many benefits of having a foldable exercise bike in your home.
You can reap all the cardiovascular and muscular benefits of cycling without having to leave the comfort of your living room.
Now, if you're ready to decide on a bike, I have a recommendation. I think the BCAN Folding Exercise Bike is the best option. It covers well, most of the elements we're looking for in the best folding exercise bike and has the unique arc frame design which I love.
You get durability, variability, comfort, and it's packaged up in a way that makes it easy to put together and actually use.
If you're sitting on the fence wondering if you should get an exercise bike, choose one of these foldable ones. They are much more affordable than many non-folding bikes and they serve the same purpose.
We have you covered for more exercise bike-related guides and reviews.