Regularly using exercise bikes to lose weight and get fitter is an excellent place to start. But choosing the best exercise bike for a heavy person isn't straightforward. There are some issues to consider.
Is it a heavy-duty exercise bike and will the machine support my weight?
Is it durable enough? Will it be comfortable enough?
What are the main features I should search for?
Should it be a recumbent bike, an upright bike or a compact bike
Will it end up in the cardio machine graveyard?
We'll answer all these questions.
Talking of cardio machines, in another article, we have looked at the cardio machines that burn the most calories.
This article includes affiliate links. If you choose to purchase any of the products we have discussed in this article, we may receive a small commission.
However, we selected some different options for you to review. Here are the best exercise bikes for overweight people:
Recumbent exercise bike options:
Compact bike options:
Upright bike options:
We've covered the best treadmills for big people as well.
Reviews of the Best Exercise Bikes for Heavy People
We are assuming that anyone looking for an exercise bike who is overweight, obese or just heavy is looking to use the machine for weight loss and to get fitter. That's awesome.
However, it can be a daunting experience initially if you start out on a swish, fully functional bike that is hard to work out on. Discouragement sets in.
So we've gone with a variety of different bike choices for those packing the pounds including some easy starter options to get the heart rate raised without causing any overload.
We've chosen two recumbent bikes, which for many big people is a suitable choice for those starting out on their fitness journey or who have put on too many pounds.
Recumbent bikes are easy to mount due to their step-through design.
Another two exercise bike options are mini or compact under desk type of models for which a user's weight shouldn't be a problem as you don't actually sit on the bike. The supported weight limit isn't important.
Two upright bikes, a spin bike and a foldable bike complete our exercise bike options for big guys and gals. There must be something for you here.
So let's get underway with our comprehensive reviews of our pick of the top 6 exercise bikes for heavy a person:
Compared to our other choices of heavy-duty exercise bikes for a heavy person, this one's price point may sting but it comes from a company with a reputation for quality health & fitness products
The R5i recumbent bike has a weight capacity of 400 lbs and it's built to last. Lifespan are confident of the durability of the exercise bike that it comes with a lifetime warranty on the frame, 5 years on parts and labor 2 years.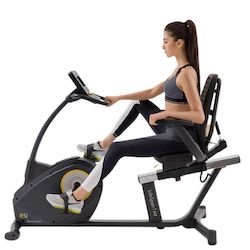 For a heavy, overweight or even obese person, the level of comfort cannot be overstated. With the well-designed breathable backrest, the huge comfy seat and the armrests, be careful not to get too comfortable – remember this is an exercise bike. 😀
The armrests are a stand-out feature and with the adjustable backrest, pressure can be minimalized on a sensitive back.
Sensors in the armrests pick up your pulse and integrate the data into the screen output giving all the usual data. Distance, rate, heart, calories, etc. A Bluetooth-connected device can turn that data into reports tracking your progress.
You can follow a number of preset programs (34) or configure 2 custom-made ones.
There are 16 levels of magnetic resistance controlled from the panel. The eddy current system produces the power for all the electrics so it's totally cordless and with the back wheels can be transported easily – which is just as well as it's quite a heavy-duty bike.
| | |
| --- | --- |
| Weight Capacity | 400 lbs. |
| Type of Bike | Recumbent Bike. |
| Resistance Settings | 16. |
| Product Weight | 146 pounds. |
Pros:
Heavy duty bike.
Life time frame warranty. 5 year parts. 2 year labor.
Commercial grade equipment.
High weight capacity.
Adjustable back. Arm rests.
Very quiet.
Cons:
Armrests and seats can't be adjusted in relation to the back.
Heart rate sensors are not very conveniently located.
Pricey.
---
If you're concerned about comfort, this model of recumbent exercise bike should make you feel at ease. It includes a high-density foam seat ergonomically designed to suit the majority of body shapes. You can also adjust the seat position for an optimum comfortable riding session.

You'll even be able to hold on to the bar handles—covered with foam— to maintain proper balance.
Tech Specifications:
| | |
| --- | --- |
| Weight Capacity | 300 lbs. |
| Type of Bike | Recumbent Bike |
| Resistance Settings | 8. |
| Product Weight | 61 pounds. |
Pros:
Sturdy machine.
Ergonomically-designed seat.
Monitor displays extra-large numbers.
Adjustable seat position and foot straps.
Comes with transport wheels.
Extremely quiet.
Cons:
Larger footprint.
Seat adjustment can be challenging for some users.
---
We love this model for its convenience and versatile use. Just consider that traveling, working, or an uncomfortable seating position will no longer be valid excuses not to exercise.

This mini bike only comes with the pedals and can be used with any type of seat—couch or office chair. It's so compact that it can fit inside a car or under any desk as low as 27 inches high.
Sturdy and stable, it has a nice long front bar that eliminates any side-to-side wobble.
The 8 levels of difficulty are controlled by magnetic resistance which means there is little friction and is therefore quiet. Magnetic resistance also reduces any wear on moving parts so the bike should last a long time.
There is a small screen that shows real-time steps (strides), distance, speed and calories burned – although use the last metric as a guide only. A calories burned figure can never be that precise.
Both the knob to adjust the resistance and the readout sits on the machine and as it's a compact under-desk design it's a long way down to adjust.
For an overweight person, this may be too much of an incumbrance although it would make sense to set the resistance once, starting off easy and leave it for that session only increasing when fitness improves.
Tech Specifications:
| | |
| --- | --- |
| Weight Capacity | 350 lbs. |
| Type of Bike | Mini Bike. |
| Resistance Levels | 8. |
| Product Weight | 23 pounds. |
Pros:
Can be used from any seating position.
Compact and easy to store.
Removable LCD monitor.
Eight resistance levels.
Quiet operation.
Large range of pedaling motion.
One-year warranty.
Cons:
The bike doesn't come with a handle for convenient transportation.
Can be difficult to reach the resistance knob.
Less natural cycling position.
---
If you need an economical exercise bike that'll make you burn these extra calories, this model offers excellent value. To start, it's a mini bike; therefore, it's compact and portable. It even includes a carry handle for easy transportation.

This model can be used to strengthen both the arms and legs from the edge of your bed, couch, or office desk.
It doesn't have a particularly high stated supported weight and it's not a traditional heavy-duty exercise bike but, as mentioned previously because it's not a seated or recumbent exercise bike, there isn't the full weight of the body's force.
Tech Specifications:
| | |
| --- | --- |
| Weight Capacity | 220 lbs. |
| Type of Bike | Mini Bike. |
| Resistance Settings | 8. |
| Product Weight | 21 pounds. |
Pros:
Strengthens arms as well as legs.
No maintenance required.
Non-slippery base.
Includes a carry-handle.
Extremely compact design.
Good price
Cons:
Pedals could be more sturdy.
Limited in the exercises you can do.
---
If you enjoy spinning, this model can withstand up to 330 pounds. For those large but fitter users or those aspiring to get the most out of their exercise cycling experience, this spin bike is a great test.
The Funmily bike is not the cheapest exercise bike but it is a good price compared to the better spin bikes.
It comes with an ergonomic seat and padded handlebar to pedal comfortably.

You'll benefit from multiple functions and high-tech features, such as a heartbeat monitor. It's also compatible with the Qiber free application for personalized coaching.
Tech Specifications:
| | |
| --- | --- |
| Weight Capacity | 330 lbs. |
| Type of Bike | Upright Spin |
| Resistance Settings | 3. |
| Product Weight | 49 pounds. |
Pros:
Padded handlebars.
Heart and pulse monitor.
Non-slippery pedals.
Ergonomically designed padded seat.
Sweat protection.
Includes a cup and tablet holder.
Transport wheels.
Compatibility with the free Qiber application.
Cons:
Handle grips are a little short.
The resistance is variable.
Screen is hard to read.
---
If you need a bike that'll handle your energetic pedaling, this product should stand the challenge. It's made with a sturdy steel frame and can withstand up to 400 pounds. This model even includes a one-year limited warranty.

The comfortable seat is larger than most other exercise bikes, which should avoid sore buttocks. Finally, we like that you can fold the bike to save space.
Tech Specifications:
| | |
| --- | --- |
| Weight Capacity | 400 lb. |
| Type of Bike | Upright Bike. |
| Resistance Settings | 8. |
| Product Weight | 51.6 lb. |
Pros:
High weight capacity.
Easy to store—foldable.
Heart and pulse monitoring.
Durable steel frame.
Extra-large seat.
Transportation wheels.
Three-piece cranking system.
Cons:
The bike isn't suitable for bikers over 6 feet 5 inches tall.
Limited warranty.
---
Important Features to Consider
We've summarized for you the critical elements to evaluate before committing to a specific model:
Bike types.
Durability. Heavy duty build.
Comfort. Adjustable seat.
Workout features. For Motivation.
Storage.
Bike Types
There are a few different kinds of bikes mostly which have a suitable enough weight capacity to accommodate the heavier person.
The term "stationary bike" covers all exercise bikes that aren't built for roads. Because of this, a stationary exercise bike is normally limited in its wheel configuration. That is, normally just one.
Mini Bikes
Mini bikes are often the least expensive type of machine. They're extremely compact and the most portable option as they only consist of pedals.
Because they don't come with a seat, you'll be able to use an office chair, the edge of a bed, or a couch. Mini bikes are ideal for anyone with limited mobility or looking to multitask.
Recumbent Bikes
These bikes look elongated in shape. Compared to upright and spin bikes, they generally offer the most comfortable pedaling position. You can even adjust the seat according to your height. And as well as comfortable the seat can be big as there is little chance of chaffing in this position.
Working out in the recumbent position puts little pressure on the knees and back. A significant perk for overweight people.
Upright Bikes
With an upright bike, you're sitting in a straight position with the cycling action more similar to a traditional road bike.
An upright exercise bike is a better option for exercising the muscles in the upper body as well as the legs. In fact, it's more challenging than exercising on a recumbent bike as it's more of an all over body workout. The back, abdominal and arm muscles all come into play.
Both exercise positions are a form of low cardio workouts although the recumbent bike offers a lower risk to stress on the joints than the upright.
Upright bikes have a smaller footprint than recumbent bikes, and some models are even foldable making access and storage easier.
Spin Bikes
Essentially a spin bike is a normal although somewhat modified upright bike with tech that connects to streaming training or immersive sessions. Otherwise, spin bikes are class-orientated set in the gym.
This is a more frenetic form of exercise that we won't be going into any detail about here.
Durability
When carrying extra weight, durability is critical. First, consider the maximum weight capacity of the bike and don't get near it. You'll find that the sturdiest models can carry up to and more than 400 pounds.
The best exercise bike for the heavy adult should also contain a robust steel frame.
As well as a heavy-duty exercise bike, look for a decent length of warranty if something breaks.
Comfort
Comfort is your next criterion for selecting your bike, and the seat is a crucial factor. It should be wide, well-padded, and adjustable to your height.
Recumbent bikes are more comfortable and so less challenging than upright bikes with back support and perhaps armrests.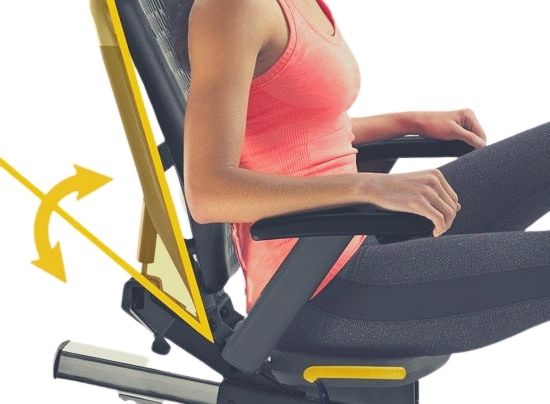 The mini or "under desk" style of bike can be used in a recumbent or upright position.
Workout Features
Here are a few more important characteristics you may want to consider:
LCD monitor: Almost all monitors indicate speed, time, distance, and calories. Note that they typically require batteries to operate which may not be included. Control panel for ease of use and accessibility.
Compatibility with apps: Such as Fitbit or other tracking and interactive systems.
Resistance settings: Eight levels is enough. Check for position of adjustment.
Other features: Heartbeat sensor. Resistance type. Magnetic is generally quiet.
Storage
When space is limited, a mini bike is your best option. You'll also find foldable upright models, convenient for storage. If you need to move the bike around, make sure that the base comes with built-in wheels.
Warranty
Warranty is always a consideration especially when you're after a piece of equipment that has heavy-duty moving parts and is going to take some prolonged wear and tear.
You know a maker's length of warranty is directly related to the approximate length of time they think the machine is likely to last. So always consider the most generous. Unfortunately, there'll be a premium but as we know, that's the price of quality.
And Finally
The right exercise bike for overweight people is the one that'll be used most often and that's comfortable whilst pedaling. If it's not, the exercise bike will soon fall out of favor as a means to lose weight and get fit.
You might have noticed my favorite model is the Lifespan R5i. It's one of the best heavy-duty bikes out there made by a reputable company with a lifetime warranty.
It has all the comfort features that a heavy person will want. The R5i has a wide range of programs, app connectivity and features that should keep the most easily bored, motivated.
What can be better than burning calories for weight loss and getting fit? And all without having to plug it in.
Interested in more articles on exercise bikes? We have more bike guides and reviews here.