Life can get in the way, leading us to gain a few pounds. Who doesn't want to lose weight?Whether it's from stress or overeating, the weight starts to pile up. There's a way to shed this weight: a treadmill for the home.
But what's the best treadmill for a heavy person?
We've found 6 treadmills to get you revving to run or walk briskly and get fit from home.
If you're keen to get down to the meat first, here are our top picks of the treadmills.
The Top Six Best Treadmills for a Heavy Person
Below are my top picks for the best treadmill for the larger person. Let me start off with my personal favorite, the impressive although a little pricey Life Fitness T5.
In our opinion, the best treadmill for a heavy person and a well built heavy duty treadmill. With a large maximum user weight limit of 400 pound, it's ideally suited to those of a larger constitution.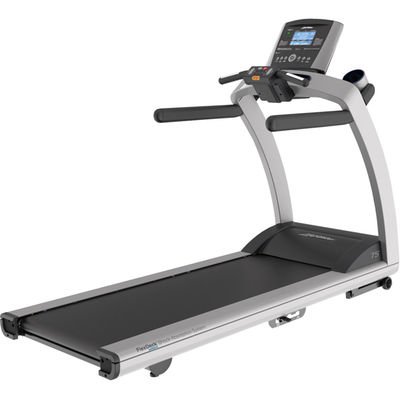 It allows you to train on three different surfaces because of the firmness settings. As well as remembering your preferred walk, jog and run speeds.
Not a feature of all treadmills is the incline which engages gravity to make your workout harder. It can raise up to 15% in .05% increments.
The Life Fitness treadmill has a good size running belt useful for the wide person.
The company Life Fitness has been making quality fitness products both commercially and for the home, for over 45 years, so it's no surprise that the T5 treadmill is expertly made and designed for home exercisers and especially those looking for a high weight capacity.
You can connect your Bluetooth smartphone or tablet to sync your fitness apps.
This means that you can have your tech on the viewing area and follow your workout when needed.
The compatibility with Android and iPhone means you can connect to a growing number of partnered apps like MyFitnessPal, Nike, RunFit Apple Health, Garmin and Fitbit.
Using interactive apps like RunSocial provides an outstanding virtual workout experience that will distract you from the effort of getting fit as you run through the hills of Tuscany, overtaking other users from around the world. Great fun.
Dimensions: 79.5 inches by 32 inches by 61 inches
Weight: 341 pounds
Weight Capacity 400lbs
Running belt 60″ x 22″
Pros:
Shock absorption: adjustable FlexDeck 3 settings to simulate preferred running terrain, suitable if you enjoy running outside.
Warranty; lifetime on the frame, LifeSpring shock absorbers, 10-year on drive motor; seven years on parts, three years on console and one year on labor.
Wide running surface of 22 inches, which I would suggest suits those unstable on their feet.
0.5 – 15% incline for workout variation and intensity.
Bluetooth and tablet holder to connect with relevant apps or just play your favorite videos.
Includes cup holders to ensure you remain hydrated.
Speed range of 0.5 miles per hour to 12 miles per hour; possibly ideal for those wanting a machine to follow them on their fitness journey.
Cons:
Very heavy piece of equipment weighing 341 pounds, which may not suit those looking for a more compact machine.
---
The 3G Cardio treadmill is designed to be a compact machine with a nice fold-away feature taking up a lot less space than many comparable treadmills.
And yet it still manages to offer a high weight capacity, a range of variable speeds and like the Lifefitness treadmill an incline option from 0.5 to 15%.
The downside is that it lacks Bluetooth connectivity, so app integration is zero although there is a standard audio jack and a smart device holder.
I know that that isn't a downside in many people's eyes, however.
I do like the fact that the machine is very quiet in operation even at advanced speeds. This may make it the best treadmill for a heavy person who doesn't wish to disturb others in the household 🙂
Dimensions: 74 inches by 35 inches by 58.5 inches
Weight: 242 pounds
Weight Capacity: 350 lbs
Treadmill belt: 58″ x 20.5″
Pros
Large orthopedic belt of 20.5 inches by 58 inches.
Stable and heavy-duty, which could be useful for intense use or if the machine is shared.
Maximum user weight of 350 pounds.
Variable speeds of 0.5 miles per hour to 12 miles per hour.
Wide handrails to provide enhanced stability and safety.
Incline setting 0.5 to 15% for varied and intensified workouts.
Cons
No Bluetooth connectivity
Can't save personalized programs
---
With a colorful back-lit LCD screen and nine simplified push-and-go workout programs, you can work to your own comfort level. The Bowflex treadmill is a heavy duty machine and with a high weight capacity.
You can create and save your workouts as you go, with real time-planning.
The B has a motorized incline up to 15% to increase workout intensity. I'd suggest this is great for people wanting to increase the difficulty as their fitness levels rise.
Bluetooth connectivity allows a limited syncing with compatible apps although it does include RunSocial which is a favorite of mine allowing you access to a variety of virtual running locations.
You can monitor your progress and using the "burn" meter design custom programs at the touch of a button and it is intuitively adjusted to your level of intensity.
Dimensions: 84.6 inches by 36.3 inches by 55.2 inches
Weight: 309 pounds
Weight Capacity: 375 lbs
Running Belt: 60″ x 20″
Pros:
Soft drop folding treadmill system to provide gentle opening every time, and allows the machine to be reduced in size, suitable for those with limited space.
Maximum weight limit of 375 pounds.
Heavy duty treadmill.
Speed range of 0.5 miles per hour to 12 miles per hour.
Can link to apps to allow you to run in virtual environments; may appeal to those who want the fun of outdoor running, indoors.
Cons
Treadmill is heavy weighing 309lbs.
---
I'd suggest the Sunny Health & Fitness machine is the best treadmill for the heavy person if you're looking for good value.
Or put another way if you want a heavy-duty treadmill without all the fancy app connectivity, built-in programs and limited speed capacity, then this is probably the number one choice. It's a great value option.
It has a "quick button" to get to the pace you feel comfortable with in little to no time. This is helpful when you only have a brief window in which to work out and need to get to the desired speed.
This treadmill only goes to six miles per hour. Perfect for walking or light jogging. Because of this limiting factor Sunny Health & Fitness have designed their T7643 treadmill to be compact with a relatively short belt size.
It also lacks any incline feature although it folds away beautifully with a soft drop hydraulic action – love it.
Dimensions: 60.6 inches by 32.3 inches by 52.4 inches
Weight: 143 pounds
Weight Capacity 350 lbs
Running Belt 44.5″ x 19.5″
Pros:
Weighing only 143 pounds, it's lightweight; this could prove a bonus to those wanting to relocate the machine after use.
Folds away and is compact.
Tread walking space is wide for comfort, 20 inches.
Big buttons on the machine for ease of use: this may appeal to those with poor eyesight or coordination.
A budget-friendly option.
Good weight capacity of 350 pounds.
Cons
The motor may be quite loud.
No incline option.
Only goes up to a speed of six miles per hour, no good if you want to focus on running
---
This treadmill may be perfect if you want to save some space. With its EZfold foldaway system, you're able to store and unfold effortlessly.
The folding treadmill mechanism is really easy to manually put up and down.
It's lightweight for a full running machine, possibly making it the best treadmill if wide of girth but short on space. It still manages a weight limit of 350 lbs.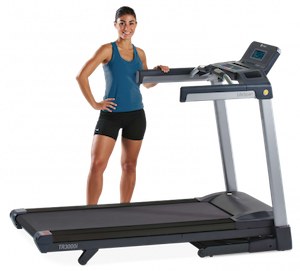 It has 21 built-in workouts as well as having a console that tracks speed, time, calories and more. This is useful to help monitor your progress.
There is no in-built Bluetooth capability although you could buy an adaptor (currently around $30).
There is a 3 speed fan to keep things cool. The speed range is from .5 to 12 mph and another machine with an incline that goes from level to 12%.
These substantial machines with some serious moving parts means that all treadmills need maintenance. Although this machine has proved by some long time owners to need very little.
The treadmill doesn't include the lubricant it needs occasionally however, there is a handy indicator which will turn on when it's needed.
With slight shock absorption, this machine has your comfort in mind when running, walking or jogging.
Dimensions: 71 inches by 33 inches by 56 inches
Weight: 220 pounds
Weight Capacity: 350 lbs
Running Belt: 56″ X 20″
Pros
Lightweight manual fold, suitable for homes and storage purposes.
Oil indicator light.
USB port – can use to recharge devices.
Large full-color LCD display.
Includes a cooling fan.
Eight shock absorbers mean it should be light on the knees and ankles.
Durable treadmill.
Good company support.
Cons
No in-built Bluetooth capability
Doesn't come with lubricant
---
The Horizon Fitness treadmill has a built-in device holder and Bluetooth connectivity. This means that you can connect to whatever fitness app you fancy whether it's interactive or immersive. Alternatively you can settle for the system that comes with the treadmill.
This Smart 7.0 AT Treadmill has advanced Bluetooth connectivity which can connect to multiple devices.
What some people may love is the fact that there is a no-subscription app you can use for your workouts and it's free.
The speakers are a good quality although it's easy enough to connect your own.
Although this machine is a well made heavy duty treadmill with all the right credientials like good weight limit (350 lbs) that makes it suitable for a heavy person it has some features that mean it has more relevance for someone keen on the advantages of running.
So this treadmill has a system that can change the range of speeds (.5 to 12 mph) as well as the incline (0 to 12%) quick and easy with touch of a button.
This means the Horizon treadmill would be suitable for HIIT workouts but, as mentioned, this may be an unnecessary feature for an overweight person. For the moment anyway – in the future?
It's built for durability with its 60-inch 3-Zone cushioned deck for comfortable workouts. Especially useful if you're more of a heavy-footed person like me.
Dimensions: 76.5 inches by 36 inches by x 59 inches
Weight: 253 pounds
Weight Capacity: 350 lbs
Running Belt: 60″ x 20″
Pros:
Includes a free app to monitor your fitness progression.
USB port means you can charge your phone or tablet while exercising.
Front and side handgrips for increased stability.
Running and walking settings can be altered from the handlebars, so you don't need to lose your grip to change.
Folds up for easy storage.
Lifetime guarantee on the frame and motor.
Cons:
Cannot move the height of handlebars which doesn't benefit smaller people
---
Exercise and Overweight People
In the United States, 66.3% of adults are overweight or even obese. When trying to become motivated to exercise, it's always hard. I remember wanting to watch TV rather than work out. But you can do it!
It may not always be easy, and sometimes you may feel like giving up. But don't. I was there once. Many people have. If you want to lose weight it takes time, determination and motivation.
But how do you get motivated?
John P. Higgins, from the University of Texas Medical School states,
"While it can be challenging for an obese person to transition to a healthy lifestyle, the physical and emotional benefits of a regular exercise program make it worth the effort."
Treadmills are an incredible way to do that. The best treadmill for a heavier person can be the catalyst for becoming a new you.
What Are the Advantages of a Treadmill?
Treadmills are fantastic for your overall health. If you do 30 minutes a day, even if walking briskly, you'll start to see a difference.
Lowers Blood Pressure
As we age, our blood pressure rises, and this can lead to cardiovascular disease or coronary heart disease.
Doing daily exercise on the best treadmill for the overweight will reduce that risk.
Reduces Stress
Walking reduces stress and has a positive impact on your life. The happier you are, the more likely you are to exercise.
Strengthens Bone and Muscle
Using a treadmill when overweight will move your joints a lot more. Doing this, you'll slowly build up your muscles. This will cause you to move easier for longer and make daily tasks simpler.
When I first started using one, I had it on the slowest speed with the TV on in the background. It didn't even feel like I was doing exercise!
Beats Being Outside
If you think you're overweight and need to do something about it I know what you're thinking. Why waste money (and space) on a treadmill for the home when you can go outside and pound the concrete?
There are many benefits:
Safety: reduces the risk of injury that can arise from uneven sidewalks or motor vehicles.
Lower impact: the best treadmill for heavy people will have a cushioned belt to lower pressure on joints.
Convenient: you can walk or run whenever you want, whatever the weather.
Self-confidence: if you're worried about others seeing you exercise, running in the home can prevent these concerns.
Research shows that walking or running on a treadmill can:
Reduce the

chance of falling

, especially in older people.
Increase weight loss by

inhibiting appetite

.
Lower the risk of developing cataracts.
Drop the pounds by increasing calorie burning during and after exercise.
What's the Best Way to Use a Treadmill?
Warming Up
Make sure you warm-up. It will raise your heart rate and temperature so your body will be ready to go for the workout. It will also reduce the risk of injuries when exercising.
Know the Features
Use the workouts and calorie counters that the better treadmills will have built in. These are good when you want to stick to a schedule and only have a certain amount of time for exercise.
Handrails
Handrails can provide increased support, especially if you're a little unsteady on your feet. They are also a reassuring safety feature if you are not completely comfortable with the treadmill motion.
As you progress and your strength increases, you will use them less, which is what you want to aim for. Moving the arms when running or walking improves your form and should burn more calories.
Cool Down
Do a cooldown. Much like a warm-up, cooldowns are important as you can slow down the rate of your heart in a controlled way. Don't just jump off the treadmill. You will feel dizzy. Trust me, I've done it!
Here's a handy video guide on the correct approach to using a treadmill:

What to Look for in the a Treadmill for a Heavy Person
In our reviews, we've picked treadmill models that have what a heavier person would need in a machine to provide a good workout and get fit at home.
Tread Width
The average width of a treadmill belt is around 18 inches. The best treadmill for heavy people will need to have a wider and thicker tread.
Some of the heavy-duty treadmills come with a width of 20 inches or larger, making it more comfortable for you to walk. The ones in the review below vary in belt width, so make sure to have a look.
Treadmills for Heavy Weight
Most home treadmills hold 100 pounds to 300 pounds of weight. However, other models can hold up to 400 pounds. And commercial treadmills are the most tolerant but are the most expensive.
You may have noticed at your gym that they also get the most attention maintenance-wise.
Generally, the heavier weight capacity treadmills will be of a higher standard build so go for one that will suit your requirements. Look for a weight limit of 350 lbs or more.
The weight capacity and heavy duty treadmills are the things to look for.
The total weight on your floor, whether the surface is carpeted, wood, tiles or whatever might need some protection.
Maximum Speed
Although a high maximum speed may not be a necessary feature on your choice of a treadmill if heavy, consider this option if you have ambitious goals or if you have an aspiring athlete in the family.
After a while, increase the rate to suit your progress. Having one that maxes out at six miles per hour will be no good when trying to run at a steady pace.
Workout Program
It's not essential as a feature of your treadmill if you're large but having a system of workout programs is a bonus.
Either in-built into the machine or apps that you can follow if the treadmill has Bluetooth connectivity should help with motivation to lose weight, get fitter and make more enjoyable.
Having a series of programs is usually good enough and most treadmills have, at least, basic workout programs that you can use.
The better they are the more helpful they will be. So you want workout programs that you can customize for each user as well as ones you can configure to provide the best workout.
All but the worst or most basic treadmills will have a readout showing the workout metrics like speed elevation if there is an incline feature, distance and calories burned. Although I wouldn't take too much stock by the calories burned figure.
The amount of calories you burn is dependent upon so many factors which can't possibly be computed without a lot of variables being included in the dataset.
Suitability
A solid home treadmill for the big guy (or gal) is an investment, so you need to make sure it's right for you. Does it have all the features you want? Is it easy to use? Can you store it?
Putting the treadmill away after use can be an issue. Treadmills can be heavy duty machines so you don't want to be struggling with it after a tiring workout session.
And you may not have the space for a treadmill. Folding treadmills might be the answer. Three of the reviewed treadmills here can fold upright making storage easier.
Best Treadmill for Heavy Person Conclusion
For a good, reliable treadmill that will give you a smooth exercise experience, go for the Life Fitness T5TC.
It is a super feature-rich treadmill from a very reputable fitness machine designed with a lifetime frame warranty.
You'll love the easy-to-connect-to-apps feature, which will make exercising interesting and fun.
If you want to run on different terrains, you can! I particularly love this feature.
Once you're comfortable walking on the soft ground, you can increase the intensity to hard terrain. Great to work out those leg muscles and easy on the joints.
It's wider and thicker tread means that you don't have to worry about where you are stepping as there's plenty of room. It will also last a long time because of the thickness, so no need to worry if you step hard.
For a quality treadmill for a heavy person, the Life Fitness T5TC is the best choice, although a bit pricey. Easy on your legs, simple to use and perfect for beginners. For a great value option, I would go with the Sunny Health & Fitness Treadmill.
Check out more treadmill options. This time with tv screen and internet.