We have put together an in-depth guide to the best adjustable weights most suitable for home use in 2023. Adjustable weight dumbbells are one of the most used pieces of fitness equipment for strength and aerobic training. Dumbbells are not just for the bodybuilder types and are suitable for women as well as men.
This article includes affiliate links. If you choose to purchase any of the products we have discussed in this article, we may receive a small commission.
Our top 5 picks are below and lead with the PowerBlock adjustable weights set that stands out for us…
Selection Criteria
Whilst selecting these top 5 we decided on adjustable weights suitable for beginners or intermediate users. Medium-sized weights so around 50 lbs per dumbbell was the goal. As it turned out most of these are expandable to larger weights anyway. When deciding the best dumbbells we took into account…
their use as resistance in aerobic exercise and strength workouts

weight increment change efficiency – speed and ease

comfort

balance

durability – although this was an estimate on quality of build

and of course price – value for money
Our 5 Best Adjustable Weights Reviewed
If you're not used to the design of our first choice of adjustable weights it may seem a bit disconcerting at first when putting your hand inside the box weight. It did seem a bit strange to me at first but it's fine unless you have unusually large hands and thumbs.
Incremental weights are 2.5 (with adder weight), 5, 7.5, 10, etc. up to 50lbs which replaces 16 pairs of dumbbells in the space of one.
The grip is comfortable and the weights themselves are surprisingly stable to use. Each weight is easy to dock (replace into the individual weight rack system) between use.
The incremental weight change system is very quick and easy once you get a little practice – each change can be made in 5 to 10 seconds – although it's easier to do weight adjustments as near to eye level as possible.
Using the stand that the maker's offer (at an additional price) or your own solid construction at a good height would save a lot of back bending and eye squinting during workouts.
The general construction of these adjustable weights is solid and metal although the adjuster levers are lightweight plastic. The correct alignment should be made when selecting weight increments. Avoid selecting 2 weights at a time.
In fairness, it could be argued that being plastic gives more flexibility to allow for easier weight selection and with the original steel version you needed to 'jam' the lever in. Just need to be a bit careful.
As the selector design of the PowerBlock Elite 50 goes and going by the build quality and materials, these weights should last a long time. Like all designs of compact adjustable dumbbells, there are moving parts and we wouldn't recommend throwing them around.
These dumbbells have the normal superb space-saving feature that adjustable weights give you although I like the PowerBlock design and compactness – you could probably double up and when not in use form the base of a coffee table (kidding – I'm not recommending).
To adjust the weight by 2.5lb increments as opposed to 5 is a bit of a faff as you have to 'unlock' the 2 middle chambers which hold the variable weight. For me, though I would not start a circuit or routine that I thought required such a small adjustment. Not a biggie.
Pros:
The length of each dumbbell is short relative to similar systems (Bowflex) – this was a very big deal for me as biceps curls, pushups, etc. could be all done without them getting in the way
Good quick increment change
Comfortable in the hand and great stability
Low weight 'clanking' during operation
Can be expanded to 70 and 90 lbs
Cons:
The adjuster levers are plastic although tough
The box design might take a little getting used to
---
These adjustable dumbbells by Core Fitness have the look and feel of traditional weights and so are well balanced.
These weights are ideal for the fledgling home gym especially if you're starting out. And especially if you won't be needing huge weights.
They go from 5 to 50 lbs in weight per dumbbell but are not expandable giving a 10 set spread. That is 2.5 lb on either side of the dumbbell.
You change the weight by simply twisting the handle whilst the unit is in the cradle and the selection is locked for a super fast change.
They're a nice compact design with the length minimal when not loaded, 5 lbs 9.5″, to 14.5″ when fully loaded 50 lbs. To me this is important. Although it seems a small thing there is something off-putting about lifting a lightweight when its length is the same as when it's fully loaded.
The plates are solid iron and coated with a plastic resin which helps with the integrity of the plates so no movement and therefore no clanking of plates. The comfortable handle has a rubberized finish.
Weight bottoms are flat so good for push up rows.
There is a 2-year warranty on parts.
Pros:
Quickest weight change selector mechanism around
Compact and solid construction
Good price – value for money
Cons:
Dumbbell sticks in the cradle at higher weights – need to hold cradle to lift it out. The stand (extra) would solve the problem
Weight maxed at 50 lbs per dumbbell
Increments in 5 lbs
---
The Ironmaster adjustable weights system doesn't use a weight selector system but has improved on the spinlock mechanism so their patented Quick-Lock handle design lets you change weight plates with just a partial turn of the locking screws. It's pretty quick (15 seconds or so per weight) and it means there are less moving parts for the mechanism to get damaged.
The increments go from 5 lb (handle weight) to 7.5 (handle +1 locking pin) and in 2.5 to 45 lb and expandable with kits to 75 and 120 lbs.
These are heavy duty, well-made dumbbells with chrome plated steel handles and cross-hatched knurled handles which means you're less likely to lose your grip.
The good solid locking means there is no rattling between plates which makes for a smooth, stable and well-balanced workout. No stress on the wrists – well no more than usual.
Weight plates have rounded corners so they act and perform like traditional dumbbells but won't roll away – especially useful when adding or removing the plates.
And did I mention, these dumbbells are very durable.
A really nice option that Ironmaster has is the quick-lock Kettlebell which is an add-on that can be purchased to turn your weight into a kettlebell. They also have a fat grip adaptor for those that prefer a more substantial hold. Other adaptions available are straight and curl bars to turn your weights into barbells. Now those are really adjustable dumbbells.
Pros:
Solid, enduring and good quality materials
Relative quick weight change (compared to spinlock systems
No rattling between plates or between plates and locking screws
Lifetime warranty
Cons:
Grips might be a bit heavily knurled for some
Not as quick weight change as selector systems
Not cheap
Can be expanded to 75 then 120 lbs (with kit)
---
These dumbbells' set use, SelectTech, Bowflex own selector dial system providing very fast weight change from 5 to 52 lbs with increments of 2.5lb to 25lb – around 5 secs a weight.
The speed of dialing a weight change is impressive and is really useful when doing workouts that need quick transitions or when rest periods are short, going from minimal weight to max and back is not a problem.
The ingenious design uses a dial at each end of the dumbbell which you turn to select the desired weight within a cradle which holds the plates that are separated by plastic divisions.
The SelectTech system design looks like a slight wobbling of the plates is inevitable although it's something I think most people will get used to.
Because the construction is fairly complex and uses a mixture of plastic and metal there is a danger of materials damaging so care should be taken to get the most out of these weights and for them to last. Banging dumbbells down would not be advised.
This video shows that there can be problems with plates sticking but it also gives an idea of how the mechanism works.


Each attractive dumbbell, connected weight plates that sit in a tray,  replace 15 sets of weights.  The dimensions of one dumbbell are 15.8 x 7.9 x 9.1 inches and the length of it doesn't change whatever weight you have dialed in. The grip is a comfortable molded rubber so no metal knurled finish which most newer dumbbell users seem to appreciate although it's a fatter grip (c.4.6″) than regular iron dumbbells.
Pros:
Very quick and easy to change weights
Comfortable grip
Bowflex SelectTech training App
Priced well
Cons:
Not expandable above 52 lb
Not made for weight-slamming-workout
Difficult to return weights to tray
---
These weights are adjustable by the simple spinlock method with their star-lock collars. I wanted to find a basic weight change system that removed any complexity of movement that seems, in the more expensive selector models, to be the source of problems especially after a period of regular use.
This solidly made adjustable dumbbell pair fitted the bill and works out a lot cheaper solution for the space-saving qualities that you expect from adjustable weights.
The cast iron weight plates are finished with baked enamel and forever rust-free and corrosion proof. The handles are nicely knurled for comfort.
They come in 65 105 & 200 lbs options and these are the 105 lb which ranges from 5 to 52.5 per weight and increments are in 2.5 lbs
The lighter version (65 lbs) comes with a chrome-finished barbell which was a really good addition. I believe, however, you can buy it separately for the 105 and 200 lbs versions.
As with all spinlock dumbbells, it's going to take longer to change weights, about 30-45 secs each one but if that's compatible with your workout routine then these could be a superb, cost-effective option.
We found the collars locked securely with no resulting rattling between weights – the use of 'o' rings helps and there were spares included – nice touch.
There is no easy way to expand these weight maximums but it seems that the supplier is happy to provide parts like the barbell.
You may have noticed that especially for the price, these Omni Adjustable Dumbbells are my favorite dumbbells that use the basic method of changing weight plates.
Pros:
Well made construction and finish
5-year warranty
Great value for money
Cons:
The long handle can get in the way on certain workouts
No easy way to expand
As with all similar systems changing weights takes a while
---
Best Light Adjustable Dumbbells
If you are planning to do mainly fitness routines using dumbbells as additional resistance and only need light adjustable weights then these may be a great fit.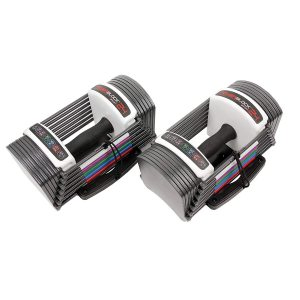 Perhaps you prefer as I do to have 2 sets. A sturdy no-nonsense set where the time it takes to change weights is less of an issue than reliability, durability with a higher maximum weight and another set of dumbbells for adding resistance to aerobic exercises can be a good idea but comes at a cost of course.
The maximum load is 24 lbs and the weights are in 3 lb increments replacing the need for 8 sets of fixed dumbbells.
The selector mechanism is the same as the bigger weight PowerBlock version reviewed above with the same comfortable padded handle and compact well-balanced design.
There seems to be little to fault with these lightweight dumbbells. My friend's sister who is a small woman swears by this set of dumbbells and the only gripe that she (and other reviewers) has is that you need a hard surface to change the weight increments – so not a plush carpet.
---
Why Use Adjustable Weights
Dumbbells whether they're fixed, adjustable or make-do garden ornaments are the most versatile ways of providing weight resistance in attaining muscle toning and strength or for adding to an aerobic workout.
If you have or are considering a home fitness program like the P90X then dumbbells are nearly always one of the few essential requirements. We consider the main reason to buy adjustable dumbbells over fixed ones is the convenience of multiple weight sizes in a compact form that suits your home and budget.
Many people like me will start off with a set of fixed weight dumbbells and then realize they need more.
You'll want a range of weights as you get stronger but also as you discover the variety of exercises and therefore weights that you have to buy.
This means the cost mounts up (you'll need a rack before long) and you can't get out of bed without falling over a dumbbell. There is an advantage with fixed over adjustable weights though.
Fixed dumbbells allow you to move through the weights when circuit or HIIT training fast. Although weight select systems are not far behind in the time it takes to change weights.
A weight bench is a great additional tool when using the full range of strength exercises associated with weights. We have taken a look at some of the best weight benches for home as well as compact benches.
Different Types Of Adjustable Weights
The difference between all adjustable dumbbells comes down to the way the weight increments are changed either up or down.
Either the weight plates are selected within a frame using a selector dial or slotted clamp. Alternatively, the weight plates are simply added to either side of a short barbell then collars are either spun on a thread (spinlock) or are turned and clicked on.
What To Look For When Buying The Best Adjustable Weights
Feeling comfortable about your purchase means whatever weights you go with are suitable for you, are good value for money and are going to last. But what else should you look for when choosing the best adjustable weights.
Comfortable grip
The handle or grip varies. They're sometimes contoured. They may have knurling for better grip which can sometimes be sensitive to the skin. A comfortable grip is important but if there is a problem then gloves may be helpful.
Balance
With fixed weights the design is so simple there is no balance issue as you have 2 weights (circular or hex) between a metal bar. With selector based adjustable weight systems then your weight could be distributed unevenly.
This may also be relevant with spinlock versions, where to get to a certain weight increment you need to have more weight on one side and then move your hand on the bar to compensate. I find that a pain and can be stressful on the wrist.
Speed and ease of changing weights
If you're planning on doing multiple weight changes during a training session then you want to be as efficient as possible especially if there is limited time for rest between efforts.
With the selection system of weight changes being near to eye level might be necessary as there is a matter of accuracy involved and don't forget we're not at our most alert after 30 mins of cardio.
Maximum Weight & increments
It's not necessary to pay more for something you'll never use so don't select the adjustable weights with a high maximum capacity. I believe 165 lbs is the biggest load you can get essentially for home use and that is by Ironmaster.
Too much for me! If you need fine weight increment adjustments, make sure that transitions through the weights are smooth – 2.5 lb is normally the smallest size.
Ease of use
As previously said the weight changes should be straight forward. The weights should also be able to be docked or set down safely and easily. Getting the dumbbells out and storing them again shouldn't be a big part of training time.
Durability
With some systems, there is a mixture of materials rubber, urethane, steel and plastic. Be aware of the weakest link. With some other systems, particularly the spinlock variety, the design is simple and is often just metal construction.
With any adjustable weights, because there are moving parts, we would never recommend slamming them down. All non-fixed dumbbells can be susceptible to damage over time if misused. It's worth checking the details and length of the warranties.
Aesthetic & odor
Traditional dumbbells have a certain look, like it or not – I think they look pretty cool. It may not be a big issue but some adjustable dumbbell systems available may seem a little, well, different. Or you may like the styles.
On researching many, many adjustable weights I have noticed people literally can't bear the odor that appears to come from their new purchase. It seems to affect only rubber or urethane coated weights. I made sure that none of the dumbbells with a toxic smell ended up in the top picks.
Value for money
You may not want a high maximum weight per single dumbbell if you don't mind taking 20 seconds or so to add or take away each weight.
If you're after a quality, comfortable, long-lasting adjustable weight value for money will be different from someone who would like all the bells and whistles in a pair of dumbbells. 
A Note To Choosing Home Adjustable Dumbbells
If the speed of changing the increment weights isn't important. You're happy with a simple mechanism that is solidly built and will outlast you and me. You have loads of room in the house. You might have sand kicked in your face now but will be massive with lots of work then start with these babies… Ironmaster 45 lb Quick Lock adjustable dumbbells.
Conclusion
Choosing which adjustable weights are best for you may seem a bit daunting but there are just a few things to consider and we feel that the PowerBlock Elite 50 adjustable dumbbells set covers all angles.
These weights are comfortable and balanced to use. They're great for increasing resistance in aerobic type exercises where weight change needs to be quick as well as for strength training. The whole weights system can be upgraded to even beefier maximum weights.
Because of their block design, they are extremely compact and easy to store – I personally like the way they look when not in use. Admittedly, to use they are far from traditional looking but that wasn't one of our criteria.