A weight bench is a very useful piece of training equipment worth having in your gym at home. It allows you to partake in a variety of exercises without having to head out to your local fitness facility.
Whether you're looking for a flat or adjustable option, the best weight bench for the home can come in different styles. Our favorites are.
This article includes affiliate links. If you choose to purchase any of the products we have discussed in this article, we may receive a small commission.
Our top picks of fixed weight benches:
And our top 3 adjustable weight benches:
Top 3 Flat Weight Benches
This weight bench comes with a rugged steel base for a sturdy construction. It's made to support up to 1000 pounds so you can push a serious load here.
If you're deep in the world of weightlifting, this bench is a good option because it meets the requirements for competitions. In our opinion, it's the best flat weight bench for this reason. But because it's competition grade it works for users at home.
Furthermore, it comes with extra cushioning and a nice leather finish, which should hold up to wear and tear over the years.
There are two wheels attached to one side at the bottom, so you can easily shift it from one location to the next.
Dimensions: 52 inches by 17 inches by 17 inches
Weight: 53 pounds
Pros:
A solid steel base and a leather finish mean quality materials that should last.
The bench is padded with extra cushioning to provide the comfort you need when exercising.
It's ready for competitions.
Cons:
Assembly could take you some time, so make sure to have some patience before embarking on the mission.
---
Rep Fitness brings us a flat bench that comes in a variety of colors including red, blue or silver. You can use it to workout in style with power racks, dumbbells and even smith machines.
Moreover, it's strong and stable for use with any of these options and its design makes it a perfect support for lifting. The bench is constructed from 11 gauge steel and a thick plywood base. A foam core and top cushioned layer make it comfortable for your back.
A vinyl material covers the 2.5-inch thick pad and it's easy to clean after those sweaty workouts. The grippy non-slip surface on top gives you a feeling of safety.
The bench comes complete with 1000-pound weight capacity, so there's no fooling around here!
Dimensions: 47 inches by 12 inches by 17.5 inches
Weight: 45 pounds
Pros
The grippy, non-slip vinyl cover is easy to clean and dependable for use.
A serious weight capacity of 1000 pounds should cover most endeavors.
Rep Fitness includes a 10-year warranty on the frame and 30 days for the pad.
Cons
It might be challenging to tighten the bolts during assembly. Double-check that the bench is level after you're finished.
---
Great value option
This budget-friendly flat weight bench could be a great option for beginners. The weight capacity is less than the others so far at 600 pounds, so do keep that in mind if you want to lift heavy loads.

It's constructed of steel and foam with an oversized pad to hold you comfortably. The tubing down below has a sleek powder-coated finish for a nice look.
Claims that the bench is easy to assemble appear to be true, which is great for those that aren't keen on facing annoying difficulties during setup.
Dimensions: 44 inches by 19 inches by 17 inches
Weight: 32 pounds
Pros:
The oversized cushioned pad makes it comfortable for the user.
A budget-friendly option.
Sleek design made from high-quality materials.
Cons:
This bench can only hold 600 pounds.
---
Top 3 Adjustable Weight Benches
The Bowflex Adjustable Bench is a great tool for any weightlifting enthusiast, thanks to its versatility and ease of transport. Once you finish exercising, you can fold it easily and wheel it away to storage.
There are six different positions available here, ranging from a 17-degree decline to a 90-degree incline. The bench comes with a removable leg hold-down for extra support when you're pumping iron.
Stabilizers on the feet further enhance this commercial steel bench making issues with stability a thing of the past.
You can focus on your strength training here and not be concerned about the equipment moving around.
Product dimensions: 61.3 inches by 28.1 inches by 49.5 inches
Weight: 70 pounds
Pros:
Six different positions with an adjustable seat pan provide numerous options for bulking up.
The commercial steel construction and feet stabilizers make this bench durable and safe to use.
It's easy to stow away, thanks to the fold option and wheels for transport.
Cons:
The bench has a weight capacity of 600 pounds only.
---
Are you looking to embark on the ultimate number of workouts? This bench might fit the bill with its 11 angles available.
A patented foot lever allows you to quickly adjust the decline/incline. The incline seat is removable, providing further options for customization.

There's a 1000-pound weight capacity with this one to suit the needs of the heaviest lifters out there. You'll be supported here, thanks to the heavy-duty construction of the bench.
It's made with 11 and 12-gauge steel with an "ultra-stable" platform.
The bench is ready for a variety of add-ons including a dip-bar handle, leg curl and extension attachment. It's even suitable for a cable system.
One of the best parts is that this bench comes pre-assembled, except for the feet. It won't take you long to set up and get going. It's just another reason this bench is the best adjustable weight bench available.
Dimensions: 44 inches by 18.75 inches by 20 inches
Weight: 65 pounds
Pros:
This bench is super customizable with 11 positions available and suitable for a slew of different attachments.
A 10-year warranty on the bench and one year on the cushion provides peace of mind for the user.
Cons:
The bench's height might be too tall for shorter users.
---
Great value option
FLYBIRD brings us a budget-friendly adjustable weight bench that's fashion-forward and ready for action. The black and red design on the padding is sleek and there are six back positions available for use. You have four different options for the seat portion.

According to the manufacturer (we were unable to test), this adjustable weight bench is highly stable, thanks to its triangular structure made of heavy-duty commercial steel.
Its backrest has a thickness of 9.7 inches and there's a soft foam pad atop the bench. Along with the leather covering, you shouldn't have any issues with comfort here. The legs also get to benefit from foam support, thanks to the leg hold-down attachment.
Furthermore, this 500-pound capacity bench is foldable and easy to move around, weighing a mere 32 pounds.
Dimensions: 47 inches by 16 inches by 47.5 inches
Weight: 32 pounds
Pros:
This bench comes pre-assembled, so there's no wasting time upon arrival.
It cushions your legs during exercise, thanks to the foam foot support.
Storage and transport are easy here with the lightweight, foldable structure.
Cons:
Take extra care with the pad materials as they are a bit flimsy in design.
---
How to Choose the Best Weight Bench
With the many available options out there, choosing the best weight bench for the home can be a daunting task, especially for beginners.
Different manufacturers and sellers all argue that their product is the best workout bench. A buyer must have specific criteria for determining what's suitable for them.
Some of the top features to keep in mind are:
1. Dimensions and Capacity
A good weight bench accommodates a wide array of body types. If more than one user is taking advantage of the equipment, this will be even more important.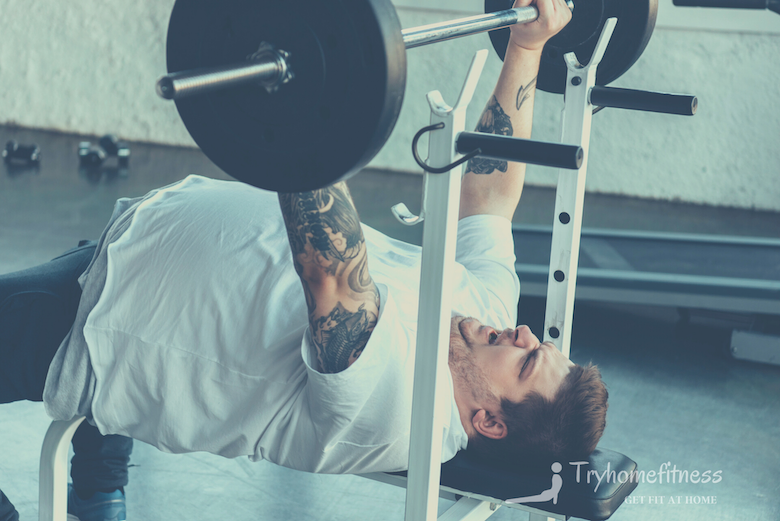 Most fall between 15 and 19 inches wide and 45 to 50 inches long.
Your best bet is to try the bench out before committing to the purchase. Make sure it fits you comfortably, so there's no regret later on. Or use a cut-out template and see how it is a fit for your body.
The weight capacity also differs from bench to bench. This is crucial to keep in mind, especially if you plan on lifting a heavy load.
2. Flat vs. Adjustable Weight Bench
There are two primary types of weight benches: flat and adjustable.
A flat weight bench is a simple horizontal bench that remains in one position. On this type, you'll do most exercises lying down, like with a chest press, for example.
The downside is that your workouts and the range of motion are limited here, with no back support or angle options.
On the other hand, adjustable-style benches offer a variety of positions, thanks to the multi-functional chair portion. The various angles amplify your opportunities for targeting specific muscles safely.
3. Attachments
Some weight benches come with various attachments such as an arm curl accessory or leg extension module. Do you want all the bells and whistles? If so, keep it in mind when you're choosing.
Others may offer the option to purchase the attachments separately, so there's no need to decide right away. Most benches on the market should be usable with a variety of these.
4. Additional Considerations
Other things to check for when choosing the best exercise bench include budget, comfort, sturdiness and warranties.
The features you choose will depend on whether you want to fork out on for them. Set it beforehand to avoid a letdown later on. On the other hand, if comfort is a top priority, something like extra padding might be important for you.
If you're looking to really invest in the bench, a warranty could be a lifesaver if anything goes wrong during that period.
Exercises You Can Do With a Weight Bench
Before acquiring any fitness equipment, the first step is to understand what you can do with it. Thankfully, a weight bench provides numerous options for strength training.
To get the most out of your weight bench you'll likely have weights but if not or you're looking to upgrade we have looked at some of the best adjustable weights and barbells that you can buy.
These are just a few examples of exercises with and without weights:
Bench Jumps
Maybe you're familiar with bench jumps from the old-school days. This exercise works the hamstrings, abductors, adductors, glutes and quadriceps.
Furthermore, jumping can increase your bone density throughout the entire body and specifically the hips and lumbar spine. This is most useful for middle-aged individuals who are more prone to bone loss.
Shoulder Press
This exercise targets the shoulders, trapezius, obliques, lower back and triceps. A shoulder press is best performed with an adjustable weight bench so that you can sit against the backrest for stability.
Dumbbell Rows
This upper-body exercise targets the upper back muscles, deltoids, forearms, triceps and the core. It can also improve your grip, an important aspect of strength training with weights.
A flat weight bench will suffice here.
Single-Leg Squats
There's a variety of ways to perform single-leg squats. This exercise is a wonderful way to tone the lower body including the glutes, quads, hamstrings and calves. You'll use the bench for support as you squat down.
Our Best Weight Benches
Are you ready for the 6 best weight benches for the home? We've scoured the available options, done our research and are ready to reveal them to you.
We have also looked at compact weight benches and reviewed our favorites with a look at the different functions available.
Conclusion
The best weight bench for the home will depend on what sort you think you'll want and how much you want to spend. Are you after something for a few basic exercises or do you need a variety of options for a broader range of possible exercises?
Our winner for the best flat weight bench goes to the Titan Fitness Flat Weight Bench. The 1000-pound weight capacity is solid in construction and stable in use.
Where adjustability is concerned, though, our favorite has to be the Ironmaster Super Bench. It has 11 different angles and it's suitable for a variety of attachments, which extends the fitness workout opportunities.