As I started expanding my home gym, I knew that weights were the next on the list and my couple of barbells were looking lonely. At first, I thought it was as easy to simply pick up a basic set.
Little did I know there's a wide range of weights. Bumper plates, made for barbells, are just one of them.
My weightlifting game has benefited immensely and I haven't been disappointed with my choice. Choosing the best bumper plates for home doesn't have to be so challenging and we're here to help.
Starting with our favorite, the top choices are:
The Best Bumper Plates for Home
We've scoured the world of barbell plates, taking into account our own experience with weights, as well as feedback from other customers. Our top 5 picks are here:
The Rogue Color Echo bumper plates make for a colorful, budget-friendly option, constructed from quality virgin rubber. They have an IWF diameter standard and meet the target weight criteria laid out by the federation.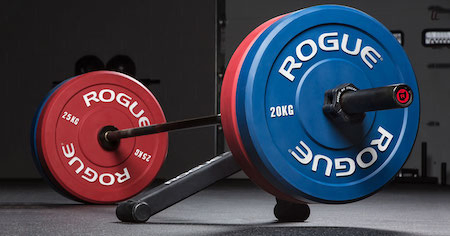 These plates produce minimal bounce, referred to as "dead bounce" by the manufacturer, making them a safe, durable option for heavy usage.
Stainless steel inserts should stop them from cracking and any imbalances that could occur. Customers praise the grip on the plates and the lack of rubber smell upon delivery.
You have the option to purchase individual pairs, such as two 10-pound plates. However, many go with the sets that contain between three and five different weight categories, two for each size.
Plate diameter: 17.72 inches
Collar diameter: 1.98 inches
Weights available: 10, 15, 25, 35, 45, 55 pounds
Pros:
High quality, sturdy design.
Meet IWF standards.
Offer minimal bounce.
Stainless steel inserts for durability.
No rubber smell.
Cons:
Inspect them well upon delivery, some may arrive scratched.
---
Are you starting out with weights looking to incorporate some smaller weights into your routine? You certainly have that option here with the 2.5 pound and five-pound options.

You can purchase these plates in pairs or go big with an entire set. For the former, the only ones available are the popular sizes of 25, 35 and 45 pounds. The sets come in a multitude of options, allowing you to customize your selection.
A one-year warranty, aside from cosmetic issues, comes with these plates. It begins on the date of purchase, so keep your paperwork just in case.
It's worth noting that these plates are coated with a recycled rubber casing that's fitted to a high-quality cast iron plate.
The five-grip handles on the plate make it easy to hold. Furthermore, there's a stainless steel precision hub that ensures a good fit for your barbell.
Plate diameter: 45 lb plate 16-3/8″, 35 lb 14-5/8″, 25 lb 13-1/2″10 lb 10″, 5 lb 7-1/2″, 2.5 lb 6-1/4″
Collar diameter: 2 inches
Weights available: 2.5, 5, 10, 25, 35, 45 pounds
Pros:
Available in a variety of sets and pairs.
Smaller sizes offer beginners a starting point.
The plates have grip handles for carrying.
Cons:
The quality of the rubber may be questionable.
---
These zinc-coated steel plates have a virgin rubber casing and a low bounce, according to the manufacturer. In fact, these plates were factory tested at the height of eight feet to ensure they could withstand over 12,000 drops. Quiet, safe workouts are right around the corner.

There are seven sets of varying sizes to choose from or you can buy any weight in a pair of two.
The company made the smaller weights, such as the 10-pounder, thicker than usual to protect it from wear and tear. On the flipside, Rep Fitness thinned out the larger ones so you can fit more plates on the bar.
A home warranty covers most plates for three years, while it only goes up to six months for the 10 and 15-pound options. Take care of these smaller ones to ensure they last you. The company recommends straight drops if possible versus sideways angles, which have more potential for damaging the plates.
Plate diameter: 17.71 inches (except for 10 lb plates – help them last longer when used with the larger plates)
Collar diameter: 2 inches
Weights available: 10, 15, 25, 35, 45 pounds
Pros:
The sleek black design looks cool.
Low bounce for safe workouts.
Thickness varies by weight for different accommodations.
Cons:
These plates might need an airing out to get rid of the strong smell.
---
These 25-pounders are a great option for someone new to using bumper plates. They can easily be combined with other weights once you progress in your gains.

The steel-lined central portion fits Olympic bars to a "T" and the company claims it maintains its shape well, even after heavy use.
They feature a very low bounce, so there's no need to worry about damaging the floor or other objects around you.
Rubber encases the steel inserts, supposedly providing durability. However, there's a chance they may not live up to the standards listed. Watch out for scratches or dents in the rubber, as some have experienced here.
They may be delivered with a slimy coating on them as well. The company claims you can simply wash them with soap and warm water to get rid of it.
Plate diameter: 18 inches
Collar diameter: 2 inches
Weights available: 25 pounds
Pros:
The right fit for Olympic-style bars.
A low bounce is always appreciated.
For a single pair, 25-pounders are a versatile option.
Cons:
The slick coating could be a turnoff – simply wash off.
Durability might be in question.
---
These HulkFit bumper plates have a color-coding system to help you easily identify them, along with labels in both kilograms and pounds. They feature a steel inner ring that improves durability and offers a firm grip around the barbell.

The company sells them in singles, so make sure you make the correct 'quantity' selection if you're buying for barbell use. However, you have the option to choose from four different sets of 3, 5, 5 or 6 pairs of plates.
2 x 10 lb, 2 x 25 lb, 2 x 45 lb
2 x 25 lb, 2 x 35 lb, 2 x 45 lb
2 x 10 lb, 2 x 15 lb,2 x 25 lb, 2 x 35 lb, 2 x 45 lb
2 x 10 lb, 2 x 15 lb,2 x 25 lb, 2 x 35 lb, 2 x 45 lb, 2 x 55 lb
Which we thought was a good way of getting straight into plates weights although it might be prudent to make sure you're happy with the offering first. So maybe buy 1 first.
The company claims these plates are "high density," offering extra protection when they're dropped. Difficult to tell the difference but they do seem solid enough.
HulkFit does make a point to warn you against using the 10-pound plates on their own, as they're prone to bend that way. Make sure to include other weights if you're placing them on a barbell.
Plate diameter: 17.75 inches
Collar diameter: 2 inches
Weights available: 10, 15, 25, 35, 45, 55 pounds
Pros:
A steel inner ring offers durability and stability.
Listed in both kilograms and pounds.
Color-coded for easy identification.
Cons:
---
What Are Bumper Plates?
Bumper plates are durable circular weights, made to fit both ends of an Olympic-style barbell. We have reviewed the best barbells too. There's a collar that's then placed to either side of the plate to stop it from slipping around. Some manufacturers also refer to the inner circle on the plate as the collar.
Most plates are crafted of steel with a rubber coating on top.
With the popularity in high-intensity workouts and Crossfit, bumper plates are now used as a stand-alone piece of fitness equipment. You can hold onto them during sit-ups, for example, for a more intense abdominal exercise.
Standard bumper plates may come in a black color, but more often, you'll see these plates in a rainbow selection at the gym. This isn't just for decoration. It's a color-coding system that allows you to identify the weights easily.
Although bumper plates differ in weight, most are around the same diameter—from 17.5 inches to 18 inches. The main exception to this is lighter weights such as one-pounder and two-pounders. These are often smaller, like mini-bumper plates.
Benefits of Using Bumper Plates
Aside from helping you get ripped, bumper plates come with other advantages that your standard metal plates may be missing:
1. Safe and Long-Lasting
Are you aiming for Olympic-style weightlifting? Your end form is with the bar overhead, which is then dropped to complete your rep.
The rubber casing on these bumper plates prevents them from damaging the floor and other surroundings. This also applies to the moment you need to drop the bar mid-lift because it's too heavy.
Furthermore, the high-quality rubber ensures your plates won't be damaged when dropped either. Otherwise, cracks or dents are a common occurrence and you can avoid this.
2. Quiet to Use
When walking into a gym, a common sound is the clanging of steel weights. For some, this might motivate you to work out hard. However, when a steel plate drops right next to you, the noise can be annoying and distracting.
Rubber bumper plates are quieter. Training with plates that don't make as much noise allows you more freedom to focus on the workout without being worried about knocking steel.
If you're working out at home, you can do it any time of the day or night without waking up the kids or rattling the dogs. The neighbors will be happy too.
3. Provide Flexibility
Many weightlifters and other athletes use bumper plates for training and competitions. This indicates that this variety is high in quality and provides you the option to lift in a similar way, even if you're not competing.
Bumper plates used on barbells or not are relatively small compared to most other gym equipment, making them easily portable and convenient to store. You can perform a large array of workouts with these plates nearly anywhere in your home, including:
Squats.
Deadlift.
Bench press.
Bent-over rows.
Military press.
Russian twist.
Watch this video of 10 fat burning exercises you can do using a bumper plate without a bar:
What to Look for When Choosing Bumper Plates
While bumper plates have a lot to offer, there are still some key traits you need to consider before deciding on what are the best plates.
1. Durability
Even though bumper plates, in general, are durable, you can still damage them when you're rough-housing around. With rubber types, the most damage usually occurs around the center ring of the plate.
This area can crack, causing the plate and the bar it's on to be imbalanced. You don't want to compromise here because balance plays an essential role in weightlifting.
When shopping around, make sure the plate, along with the insert in the middle, are made from durable materials. Virgin rubber is a popular option for the casing, while stainless steel is the way to go for the insert.
2. Competition or Standard?
Bumper plates used for competitions have to meet a specific set of guidelines laid out by the IWF (International Weightlifting Federation). This includes weight, diameter, bounce and collar size. This can increase in the cost.
Keep in mind that the priciest barbell plates can smell heavily of rubber. If this bothers you, plates made of virgin rubber will be better since the smell is typically lighter.
Standard bumper plates manufactured by a reputable brand can still be of high quality.
3. Bounce
When dropped, bumper plates should have a slight bounce.
Again, a light bounce versus a more intense one prevents damages from occurring. The density of the rubber should absorb the impact and prevent it from dangerously bouncing back up.
---
Get Ripped at Home
Bumper plates offer you a safe and quiet-ish workout experience and all from the comfort of your own home. Furthermore, you have plenty of options for using them, whether on a barbell or gripped in the hands. The activities they are most commonly useful for include Crossfit, HIIT, weightlifting and powerlifting.
Our favorite it would be the Rogue Color Echo Bumper Plates. They meet the standards set by the International Weightlifting Federation, which means they're competition-ready if you're serious about lifting. Furthermore, they have a low bounce and don't produce a terrible smell. They are totally suitable for barbell-less use.
Whether you purchase a pair or a set, you can easily identify these color-coded plates when you're mid-workout and ready to roar.
Now's the time to get ripped at home with the best bumper plates. And we've also reviewed the best barbells too. What are you waiting for?