When we think of home fitness equipment we think bulky, expensive and complicated but we have been hunting down the best vertical climber, a machine that takes up little space and can be an affordable option to give your body a workout challenge every day in 2023. Well, maybe not every day.
This article includes affiliate links. If you choose to purchase any of the products we've discussed in this article, we may receive a small commission.
The vertical climber or mountain climber has been around since the 90s and has been endorsed by sporting elite and movie celebrities like LeBron James and Matt Dillon. Here is our pick of the top 5 choices…
VersaClimber H/HP-Consumer Model – The Best Vertical Climber
MaxiClimber XL-2000
Ancheer Vertical Climber Folding Exercise Climbing Machine Best Value
Body Champ Leisa Hart Cardio Vertical Stepper Climber
BalanceFrom Vertical Climber with Cast Iron Frame
Reviews of the Best Vertical Climbers
We've chosen vertical climbers specifically for the home and none comes better or with more credentials than the VersaClimber H/HP.
This model and others by VersaClimber are the results of the original invention of the vertical climber by the president of the company.
This is the consumer model and is pretty expensive if compared with other climber options for home fitness workouts and doesn't have adjustable resistance. It's built for home use as the warranty is invalid if it's taken down the gym.
However, there are models by VersaClimber specifically designed for commercial and specialized use.

And you can upgrade to the feature-rich Sports model at a later date when you fall in love with the H/HP. The Versaclimber SM Sport Model is specked out to the hilt with optional Bluetooth support, adjustable variable resistance and ready for action for the toughest of fitness enthusiasts.
Famously, the VersaClimber is the favorite fitness equipment of LeBron James but I think it's getting a lot more celebrity endorsements now.
The machine is built like a tank with a super durable coating on all exposed parts. And the cables are coated to keep the noise to a quiet rustling.
The sturdy frame, made from aircraft-grade aluminum and steel, has a solidly stable triangle base that has levelers to enable tweaking to get the machine spot on the level.
There is some assembly to get the machine ready for action which is not difficult and the video instruction is as good as you'll ever see.
The resulting vertical climber/stepper is designed with handrails allowing you to use the machine as a traditional
stepper
or a full-body workout climber. Your control of the 1" to 20" variable height of the steps makes it feel like you're stepping, walking, jogging, running, then climbing.
This very low impact movement gives you the variety of activities with different levels of intensity replacing the normal resistance levels another machine may offer.
Don't forget adding resistance makes the workout easier so if you need it easy the Versaclimber might not be for you.
The climb angle is 75 degrees. The maximum speed is 255 vertical feet per minute.
There are 3 adjustable settings for the pedals and handles which makes the lowest level suitable for anyone over 3' 6" and the highest level suitable for all but giants. Talking of which, the maximum weight recommended is 350 lbs.
There is a module display that can be adjusted for the user's eye line.
You can choose from a program mode that gives you 16 pre-programmed options. Then a familiar option with standard outputs like time, speed, distance, stroke length and calories burned.
There is also a race mode that allows you to compete against an imaginary opponent. There's an additional, fourth setting but only on the H/HP model which is a heart rate monitor.
Power is via a 9-volt battery.
Assembled dimensions: 36" x 44" x 7' 6" Weight: 65 lb
Warranty: 3 year frame & electronics, 1 year parts & labor
Heart Rate Inc. who make these babies are one of the few remaining cardio equipment manufacturers that still make all of their products in the USA and 90% of the materials are sourced from the USA.
Pros:
Made in the USA-Super build quality
The original evolved patented vertical climber
16 pre-built programs
Program option to race against
Recommended by sports institutions and celebs
Maximum supported weight 350 lbs
3 pedals and handle adjustments
Cons:
A little pricey (great quality)
May not be suitable if just starting on a fitness journey
---
This most well known of names in the vertical climber arena has been marketed on "as seen on tv" for a long time now. A MaxiClimber review consisted of an infomercial showing lean bodies bouncing up and down with happy smiles seemed to have proved successful although that kind of presentation always makes me think "yeah but really?"
That was all about the original MaxiClimber. Maybe just a grab to get the brand name so synonymous with the product that it becomes one and the same.
Then there came the XL series. The XL 1000 was the star and then they became generally unavailable and now there is the XL-2000. The specs are largely the same, as is the price.
The MaxiClimber XL series seems to be an about turn in terms of design and whatever we think of the original this is a different beast although it is a more expensive one. But that's what you would expect.
First of all the XL-2000 frame is aluminum as was the XL-1000, unlike the original MaxiClimber model.
There was an issue with the older model's durability especially of the rollers which get a hammering. The rollers configuration has been totally redesigned for the better and added to.
The other main differentiator between this and other mid-range vertical climbers is the fact that it has 12 levels of adjustable resistance. This is operated by hydraulic pistons.
One of the complaints of older models was a poorly designed pedal. The pedals have been totally revamped and are now large swiveling platforms that have a more reassuring feel when your feet are hinging when in full flow. They can be adjusted for different foot sizes.
Even so when standing on the foot pedals, keep upright parallel to the machine with your arms half extended. Needless to say – or perhaps it's not – don't lean back, it may become unstable.
This XL-2000 machine is designed for stability with robust supporting rods and braces and is a lot more stable than it's preceding MaxiClimber models.
The curved handles now give more variety where to hold your arms when used as a stepper as well as giving a safe feel to a rigorous workout.
The XL series is well-built, a lot different from earlier and older MaxiClimber models. It has kept some features unchanged however like compatibility with a free to download app, adjustable height, a fitness monitor (not on classic), foldable and 90% ready assembled.
The monitor provides calorie and step counter stats and the workout timer stops when you do which is quite handy.
The weight limit is increased to 300 lbs s you might expect from a more robust climber and the height limit to 6′ 6″.
Assembled dimensions: Unfolded 26″L x 41″W x (6' – 7' 9")H – Folded 14.17″L x 25.78″W
Warranty: 1 year
Pros:
Good support
Very quiet in action
Virtually ready assembled
Adjustable 12 resistance levels
Solid construction
Height adjustable
Cons:
Resistance levels might not be severe enough for some
May not allow for a full range of motion for the over 6'2″
Short warranty
---
The Ancheer exercise climber comes in three flavors. Two are designed with a seat and pedals that allow you to warm up by free cycling. They come in either pink or orange – the pink one is more expensive at the time of writing, go figure – the other, blue version, is just a vertical climber and is considerably cheaper.

On the surface of it, the 2 in 1 idea is a good one. You get the joints warmed up on the bike and then go for the mountain. Or theoretically, one person could be using the bike and another the climber.
We think the bike is an unnecessary distraction, ads complexity to a simple design and is not very good as an exercise machine giving no resistance, not even body weight.
It's recommended to warm up before vertical climbing but this can be done with some squats, back kicks and so on.
The vertical climber itself is well made of durable steel alloy but the whole climber unit is only about 40 lb but the maximum weight load is 220 lb which is a little restrictive, well a lot restrictive if you're anywhere near that weight.
Exposure areas are coated with anti-rust paint – when used effectively these machines bear a lot of sweat.
This vertical climber has the better basic functions that many climbers have like adjustable user height for small and adults to use – 3 of those.
It also has an adjustable display giving the user time, distance, speed and calories burned (always take with a grain) all showing whilst doing workouts.
The handles are nicely cushioned with thick sponge but the pedals are a bit basic so it would be advised to wear comfortable trainers or walking shoes as the pedals are otherwise 'spikey' after a while.
The machine is easy to assemble and stores folded down to about 3′ x 6.6′.
The Anchor Vertical Climber looks like a white label product as the same machine or one of the 3 options is being marketed and sold by a number of distributors so we chose Ancheer for their of record of good support and at least they actually specialize in fitness equipment.
Assembled Height: 80-85.8 inch(from base to top grip)
Warranty: 30 days return, 1 year guarantee on materials.
Pros:
Great value
Good simple design with all the necessary features
Compact
Option of 2 in 1 cycle
Cons:
Not as robust as other (more expensive) climbers
Limited warranty
---
The Body Champ cardio climber hs an unusual system of providing some resistance and suspension support. To counteract stress on the joints and aim for a smoother action, the system is built with 2 bungee cables. The single point of resistance comes from the cable-pulley operation with the added bungee suspension.

You feel more secure with this climber because of the wide base and 180 degrees surround rails.
Apart from the rails, there are also the static handles if choosing to use it as a stepper so the 3 different grips help target various muscle groups. The lower rail is lower than most but is particularly good at targeting the glutes and upper legs.
The solid steel pedals are basic looking but make sense not to be an easily broken plastic. We would encourage comfortable but appropriate footwear. All the grips are cushioned and comfortable.
The Body Champ cardio climber as promoted by Leisa Hart comes with an installation video and installation is straight forward and once it's set up that's it but it doesn't fold down or get any smaller.
And it's quite large for a vertical climber's normal footprint but it does have transport wheels so you can wheel it into the spare room when done.
The height of the handlebars is adjustable to a maximum height of 87" and is done manually with spring-loaded pegs that fit into holes spaced 2″ apart.
The monitor outputs time-lapsed, step count, calories 'burned', and reps/min depending on which criteria you want to track.
The maximum weight supported is 250 lbs.
Assembled Dimensions: 40.6" x 42" x 87" Weight: 55 lbs
Warranty: 1 year for the frame, 3 months on parts. Invalidated if used commercially
Pros:
Solid and safe frame
3 different grip/stance positions
Bungee suspension
Cons:
Some moving parts (rollers, Bungee) may not last well with intense regular workouts
Large-ish footprint
---
Value option
This vertical climber from BalanceFrom is a simple straightforward design but what there is of it is sturdily built with double steel frame and the normal features as you would expect from better but affordable vertical climbers.
It comes partially installed and you just need to attach the accessories to it (tools included) although some found the bolts needed a bit of persuasion.
There are 5 height levels available to choose for all sizes of the family and the adjustment is a simple press and click design.
The climber machine comes with a digital display timer (battery is included) and is basic.
Nice well made non-stick grips help to feel secure as do the large non-slip pedals especially when you're going for it.
Folds down with 1 pin to release the stability bar.
Assembled Dimensions: 28″W x 37"L x 80"H Weight: 30 lbs
Warranty: 2 years
Pros:
Good Value
Small footprint
Well designed handles and pedals
2 year warranty
Cons:
Less secure than some
Not for high-level workouts
---
Some Background
The early 80s must have been a creative time for those seeking better cardio workouts through fitness machines as the first stair stepper, a rotating staircase machine, the StairMaster was first shown in 1983 but the vertical climber machine was invented in 1981 by a mechanical engineer, Richard Charnitski in his own garage. The patent for this new vertical climber machine was granted in 1991 and further patentable upgrades in 1995.
This led to the Versaclimber, a frontrunner in exercise machines, that is still produced today and is 100% made in the USA with 90% of the materials locally sourced.
What is a Vertical Climber
The vertical climber is an exercise machine that is often cited as being x times more beneficial than other fitness machines as it simultaneously exercises both the upper and lower body for an all-round workout for all the major muscle groups. We'll come back to that later.
A vertically extendable frame has two associated long support structures that are all interconnected via cables or chains. Pedals and handles are attached to the support structures and pressure causes the sides to move in opposite directions.
When the leg of the exerciser is extended almost straight, she pushes down on the other pedal whilst pulling the opposite handle causing the opposite support structure down.
When one support member moves down, the other moves up and simulates the climbing action in a synchronized and coordinated way.
The arm movement can be static or work in a range different from that of the legs. The workload on the upper body is different relative to the lower body and it can be adjusted.
Benefits of the Vertical Climber
Like most other fitness workout machines, vertical climbers can offer opportunities for exercising the heart and respiratory system. It can also help with weight maintenance, muscle toning and overall well-being.
Better Health Benefits?
However, the motion of climbing is particularly advantageous because it exercises the upper and lower body simultaneously, and it efficiently and effectively works all the major muscle groups of the body. They include…
Back muscles, rhomboids, trapezius, lats.
Deltoids, shoulders and pectorals, chest, abdominals.
Arms, biceps & triceps.
Lower body, glutes, quadriceps, calf, hip, hamstring.
The American College of Sports Medicine has published results of fitness studies done that indicate there was a more efficient uptake of oxygen during the whole body climbing exercise (using a vertical climber) than in both treadmill running and rowing as a measure of muscle power.
The speed in getting to an optimal heart rate was also apparent using climbing machines which means that they're ideal for high-intensity interval training (HIIT) workout regimes. A HIIT type of regular exercise is good for those in a hurry.
The quick increase and sustained heart rate should also increase metabolism after working out which may make losing fat a lot easier. This is dependent on many variables of course.
Bone Health
We overlook the fact that our bones just like our muscles respond positively to physical exercise and become stronger, something that is even more important as we get older, which is when our bones get weaker and more prone to osteoporosis.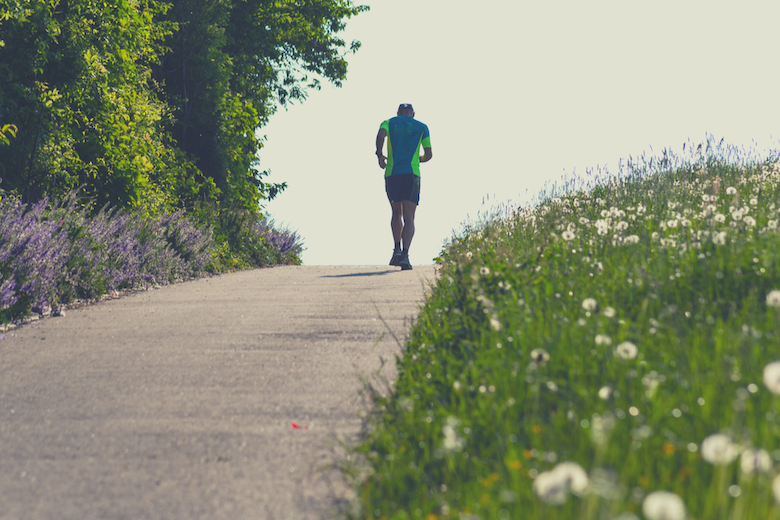 Living on top of a hill "I hate gravity", on my way home from a run, it's a phrase that goes through my head every time, but there are many health benefits of exercising under load or resistance and for bone health, you can't beat weight-bearing or resistance workouts.
Low Impact
The vertical climbing action executed on the machine is a weight-bearing exercise comparable to other activities like running, walking and climbing stairs but without the skeletal impact.
Exercises like vertical climbing not only strengthen the muscles, but also helps with coordination, and balance, which guards against bone damage related to falling over.
Using the handles and pedals as fixed points on these cardio machines to generate movement means there is little stress on the body's joints especially compared to the pounding generated by running or even walking.
So, unlike cycling and swimming, it has the benefits of a weight-bearing exercise without the problems associated with the joints like running.
A Cardio Machine with a Small Footprint
A big benefit of working out at home on a vertical climber is the amount of space required. Really not much!
Generally, a decent vertical climber will have dimensions approximately 3' x 4' x 7' with a variable height which may be the biggest consideration.
Many machines are even easily foldable which means they're even more suitable for small living areas or home gym rooms.
Convenience
A good choice of vertical climber should be smooth and quiet and because of your natural posture and eye line when exercising on one, it's possible to distract yourself with a favorite box set on the tv.
I have seen people at the gym reading books on a treadmill or bike but I wouldn't try anything like that whilst galloping up the side of the Matterhorn.
Because of the climber's portability and relatively light frame, you can position it wherever you like, bearing in mind that the surface the machine sits on is firm and even. A quality exercise mat would be a good idea.
Some Questions You Might Have About Vertical Climbers
Do vertical climbers really work? They pack a real punch if you want a good hard workout. The upright design means exercising is more efficient, relying on gravity to power the bodyweight resistance.
Do vertical climbers build muscle? Vertical climbers are not only efficient in giving a good cardio workout but many muscle groups are engaged like the arms, back, legs and glutes.
What muscles does the vertical climber work? To get a really full-body muscle workout you can change the angle of positioning to target not only the large muscle groups like the glutes, quads and hamstring but also the arms, core and chest.
Are vertical climbers good for weight loss? It's hard to take it easy on a vertical climber especially if there is little resistance so expect to burn 500 calories or more after a 30 minute routine.
Getting the most from a Vertical Climbing Machine
It's hard to be passive on the climber as each action follows another but to get the most out of your vertical climber workout…
… position handles just below the shoulders to give recovery during the descent of the arm stroke.
Use foot straps if you can as they help with the lower body effort. Maintain the grip loosely.
Relax the arms at the bottom of each stroke. Don't squat whilst climbing.
Complete the range of motion on the vertical climber maintaining full use of the lower body throughout the climber phase.
The unfamiliar action of a vertical climber may take a few go's to get used to as I found out and most people do who haven't exercised on one before.
You might get a little panicky and start rushing the up and down movement which leads to a very early maxed out heart rate.
Only the better vertical climbers have adjustable resistance which means without resistance you are pulling your whole body weight. Built-in resistance allows you to start off with more which is easier and move to less – harder.
It also makes for variety in your vertical workouts especially good when you're feeling out of sorts.
First time climbing exercisers will then give up complaining it's too tough. Well, it's not really recommended for anyone really out of condition – unless there's a lot of patience – and it's not an exercise machine you want to spend an hour on. It's more suited for quick hard workouts – so give it a bit of time to get used to it.
What the Best Vertical Climber will Look Like
There's nothing too complex about these machines but if you're looking for the best vertical climber you want to be sure that it is well-made and will last
It should be smooth in operation and quiet enough to watch tv.
Superior vertical climbers will have variable resistance to spice up your workout. But using your own weight and the 'magic' of gravity you should get a good overall cardio hit. And if more resistance is required try wearing a weighted vest.
You want comfortable handles and pedals which can have multiple positions for different size humans. Foot pedals with straps assist in the upward motion.
There can be a lot of body movement on these climbers so it needs to be solid and planted to the base which needs to be level.
There will be a maximum supported weight which is around 200 going up to 350 lbs for better vertical climber models.
Check the warranty details. The cheaper models have a tendency to fall to pieces so preferably look for a year or more.
---
Conclusion
Normally we take the price as a metric when deciding which is our top fitness equipment product but if you're looking for the best vertical climber overall then it's hard to get past the VersaClimber H/HP Consumer Model which is pricey but we think worth it if serious about your fitness at home.
There is very little middle ground but quite a few contenders for the best value vertical climber, the Ancheer Vertical Climber is, we believe, in the best of the rest category and for some more quality (and money), the Maxi XL-2000 is the only vertical climber that has adjustable variable tension.