You've probably heard all the fuss about vertical climbers and would like to know which is the most effective.
In this article, we are going head to head, MaxiClimber vs Versaclimber, and see which is the best vertical climber for your home fitness routine in 2023.
We will be comparing 2 specific models as they are the machines from each company aimed at a similar market. Both exercise machines are premium products for the home fitness market.
This article includes affiliate links. If you choose to purchase any of the products discussed in this article, we may receive a small commission at no extra cost to you.
---
Comparing MaxiClimber vs Versaclimber
We have chosen specific models of vertical climbers to compare; the MaxiClimber XL-2000 and the Versaclimber H/HP. We'll be delving into more details later but first.
---
Some additional good and bad – MaxiClimber XL-2000
Easy to move about
Has a mechanism for leveling the base
The manual is not great
To change the console battery is fiddly. Need to pry open the plastic monitor box
Minimum height 4′ 11"
Pedals are a weak spot
Some additional good and bad – Versaclimber H/HP
Support is excellent
A person's height is not an issue with adjustable step height and…
…3 adjustable handle positions
Is significantly more expensive
Not so easy to relocate
We chose these 2 vertical climber models as they were as close to apples vs. apples as there were. The MaxiClimber XL-2000 is the premium version. Their other main product is the Classic which is cheap – and that's the problem.
Generally, Versaclimbers' market is more for the elite athlete but of their 2 products for the home market, the H/HP is most similar to the MaxiClimber XL-2000.
The other model in the Versaclimber stable, the Sport, has more bells and whistles but a hefty price tag. It also has unique features like the option to fix it directly to a wall – ideal for home gym builders.
The Versaclimber H/HP has a little more prominence since Lebron James used it in his fitness routine. The company is older and it was the inventor of this form of indoor vertical climber equipment.
Their products are more interactive. The Versaclimber has more versatility enabled by the big range of adjustable step heights – 1 to 20. It doesn't have adjustable resistance.
MaxiClimber XL-2000 is a newcomer to the market initially with a big TV marketing push. Still considered not to have as great a technological edge as the Versaclimber H/HP, even though it has a hydraulic system of resistance, 12 levels. It doesn't have an adjustable step range.
That said, there are reasons why these two vertical climbers rank high in the industry. In fact, consumers may find that these are two of the best vertical climber options out there, making it tough to distinguish one from the other. We'll take a closer look at them below.
MaxiClimber and Versaclimber Features Face to Face
It's one thing to discuss the pros and cons of these two vertical climbers, but we need to get a little more specific than that. So let's take a look at a few of the MaxiClimber XL-2000 and Versaclimber H/HP's critical features.
Interactiveness
Almost everything nowadays comes with an app making the experience more interactive, especially with exercise equipment.
The MaxiClimber XL does have an app with MaxiClimber-produced workouts that you can use through a mobile device which you can prop on the inbuilt holder.
The Versaclimber H/HP has a total of 16 program options across 3 modes of use built into the machine. One of the modes is "race" where you battle against other virtual vertical climber users.
Resistance Levels
The MaxiClimber XL has 12 resistance levels, while the Versaclimber H/HP has only one fixed resistance level.
The Versaclimber H/HP makes up for so little resistance by having 20 variable step heights which enable you to target different muscles and a variety of modes.
Your action on these vertical climbers can be true stepping, walking, running or simulated rock climbing. There are also in-built exercise programs that utilize these modes.
The MaxiClimber resistance can't be adjusted whilst working out.
Although extra adjustable resistance can give you a more intense workout with vertical climbers more resistance, unlike other fitness equipment, will actually make the exercise easier as you are supporting more body weight.
This is good if you need a lighter workout – especially when starting on a fitness program but anyone with good cardio fitness will want to use less.
Exercise Programs
If you want a vertical climber with various exercise programs, the Versaclimber H/HP has 16 programs in total across 3 modes and a 4th only useful if you purchase the heart monitor.
The console helps keep track of multiple metrics with engaging visuals for a more fun workout.
The MaxiClimber XL, too has a console with normal readouts like steps, duration, calories burned and so on on but no in-built programs.
Instead, there is a device holder, in which you can place your smart device with a prearranged plan of attack. Actually, MaxiClimber does provide an app that has various workouts to go through.
Function
When you use either the MaxiClimber XL or Versaclimber H/HP vertical climbers, you're performing low-impact exercise, so you're not impacting your knees or other joints.
Putting little stress on those joints makes for a much more comfortable exercise session, allowing you to go farther and burn more calories per session.
On that note, both vertical climbers are excellent at providing a platform to work out hard and burn calories by the bucket full, if that's your goal, and do it with little stress on the joints.
Great for those recovering from injury and wanting to maintain their fitness.
Also, great for us older fitness enthusiasts who like our fitness equipment low-impact and want to work hard without jumping around too much affecting the knees, hips, ankles, back… – oh no the list is getting longer!
Footprint & Size
The MaxiClimber XL is a lot less tall at 6ft than the Versaclimber H/HP, clocking in at 7ft 6″.
The MaxiClimber footprint is 46″ x 21″. The Versaclimber H/HP footprint is 36″ x 44″.
Floor area is really not the issue when it comes to asking the question, how much space do I need?
Both machine's footprint is similar and small. Great for small apartments or rooms.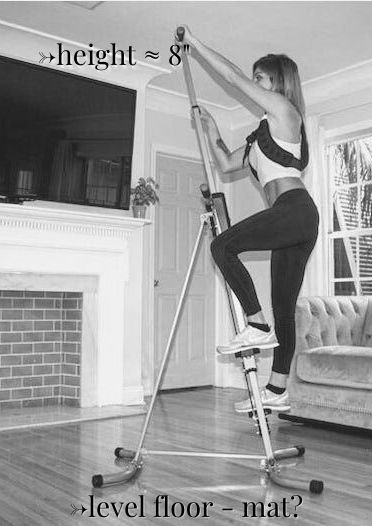 The main problem may be the height and on the surface, the MaxiClimber is the winner. However, the maximum height of the MaxiClimber increases when you are actively using the machine due to its extending handles – up to 7′ 9″.
The Versaclimber design is different so the height when assembled doesn't change.
Effectively the height required in a room is similar in both cases but I would allow for at around 8ft in both cases.
For storing your vertical climbers, when not in use, the MaxiClimber comes out on top.
Adaptability & Scope
You can use both the MaxiClimber XL and Versaclimber H/HP's handle grips to exercise your arms. However, if your upper body gets tired or you just want to exercise your legs, both machines have lower-level handles to hold onto.
With both machines, you are able to hold the handles underneath or over which adds another dimension to a workout. It helps with delivering a full-body workout.
The resistance on the MaxiClimber XL only affects the legs – there is no additional resistance for the arms on either vertical climber – but they do get worked. 😀
This is a full-body workout although the emphasis is on the mid to lower body.
Comfort of Use
Both the MaxiClimber XL and Versaclimber H/HP are comfortable to use since they perform the same function. The question becomes whether they are quiet enough for early workouts and smooth enough to create easy workouts.
The Versaclimber H/HP has plastic-coated cables to reduce noise and slow down wear and tear. The MaxiClimber XL has a similar setup, although you might sometimes need lubrication to keep it in peak condition.
Both vertical climbers, the MaxiClimber XL and Versaclimber H/HP have 360-degree rotating foot pedals and strong climbing handles.
However, the Versaclimber H/HP has better-padded handles with 3 different settings.
And both vertical climbers have aircraft-grade aluminum frame which is very durable.
The Versaclimber has an aluminum frame with a steel infrastructure which could save you money over time since you're able to make the most of a high-priced machine.
This makes the H/HP a heavier machine at 65 lbs whilst the XL is around 48 lbs. Both machines have good built-in rollers to relocate the machine easily.
Intensity and Calories Burned
If you're looking for an intense workout, the Versaclimber H/HP claims to burn four times more calories than a regular treadmill exercise with a research paper to back up the claim.
The MaxiClimber XL states to burn about 500 calories more with regular exercise, which is a pretty good claim as well.
In all honesty, the claims should be taken with a modicum of salt as it is always going to be mostly dependent on an individual's persistence and will to want to make a change by exercising at the right intensity but more importantly, regularly.
Exercise Time
According to the MaxiClimber XL website, you only need to use the MaxiClimber XL for about 10 minutes three times a week. The Versaclimber H/HP recommends getting 20 minutes of exercise three times a week.
Either one promises to get good results while exercising in short bursts or the method, High Intensity Interval Training (HIIT).
Additional feature – Versaclimber H/HP
The Heart Rate Monitoring and Display function is built-in but you'll need to have a monitor. You can observe how your heart rate reaches its peak during exercise, adjusting your intensity to suit your unique fitness needs. (The HP model is the one with the heart monitor.)
The Winner for the Best Vertical Climber Title: MaxiClimber vs Versaclimber
Both the MaxiClimber XL and Versaclimber H/HP suit most people who want to get fit, stretch their cardio and strength limits or burn calories.
The MaxiClimber XL is probably better for those starting out. We like the adjustable resistance levels, especially for focusing more on strength training. It is a good deal cheaper than its competitor.
Overall, we love and favor the Versaclimber H/HP with its superior build and features like the 20 adjustable step placements and built-in programs. Best for cardiovascular fitness. A vertical climber made in the U.S.A.