Picking through quality sports shoes has been great fun and we have come up with some of the best shoes for treadmill walking and running split into 5 top women's and 5 top men's shoes.
Our top fitness shoes were the ASICS Women's Gel-Venture 8 and the New Balance Men's 990V4.
Whether you go to the gym or have a treadmill at home using one for fitness has all many health benefits but with less stress on the joints than outdoor walking or running, more of that and other treadmill shoe related stuff later.
Either way, you need good quality sports shoes. Our shoes reviews are, for women…
and men…
---
Best Women's Shoes for the Treadmill
I have been a fan of ASICS for many years as their trainers have a knack for fitting well and being comfortable the moment you begin to run or walk in them. ASICS GEL technology, the cushioning is one of the best.
The uppers are synthetic materials and the toe bumper is stitched down to better protect the toe.
The outsole has high-abrasion rubber and reverse lugs for extra traction.
The familiar Rearfoot GEL cushioning absorbs shock on the strike for overall foot comfort and to reduce the impact on joints.
The removable sock liner lets you insert custom orthotics if required.
Reviewers found these Asics Gel trainers to be both comfortable for walking and running and firm cushioning, ideal for treadmill exercise.
The ASICS Gel-Venture 8 is a versatile shoe with neutral to under-pronation for walking, running, treadmill use, outdoors and, as many do, for working at jobs where people are on their feet for hours. The rugged outsoles make them suitable for hiking too.
At 9 oz, they are not the lightest shoe which means they have more stability than many others.
It also means they are not super flexible (between heel and toe) so I wouldn't recommend them for elite athletes.
Pros:
Great cushioning and stability
Comfortable for a range of foot types off the peg
Suitable for the heavier frame
Comes in 18 different colors
Reasonable price
Cons:
---
Brooks manage to improve this series of trainers with every new model and the Ghost 14 is no exception. And it is with their Brook's brand of BioMoGo DNA cushioning & DNA LOFT responsiveness which works together to produce the feel and comfort. Sounds like the typical techno mumbo jumbo that shoe (and others) brands like to bandy about.
However, the result is excellent and offer more cushioning than previous Brooks Ghost models.
To my eyes, some Brooks and New Balance sneakers have had a problem with the appearance and have looked a bit clunky but this has changed with the Ghost 14. I know it's trivial and I wouldn't normally mention it but these shoes look good.
It's partly the light touch with the mesh upper with 3D Print synthetic overlays for a tight and flexible fit.
They have managed to scrape off a bit of weight off the 12s and at 9oz for a 8.5M not especially light but great for treadmill walking or running with stability and grip.
The Brooks Ghost 14 is built for neutral support, that is neither over or under pronation and medium or higher arches.
I like the chunky outsole with its integrated system of shock absorbers giving a smooth heel to toe transition and again good for grip and stability on the treadmill.
The midsole drop is 12mm promoting heel strike, that is the heel to toe offset. A higher 'drop' promotes striking the ground with the heel (as opposed to midsole) so heel cushioning needs to be good. And of course, it is very good.
Pros:
Great cushioning and stability
The sock liner is removable for your own inserts.
Stylish
Tend not to need 'wearing in'
Cons:
---
Saucony is another great name in sneakers and trainers and has been making running shoes since 1898. They have various awards for their shoes since 1977.
They are known for fitness shoe designs that fit well from the moment they're put on.

And they have their own particular shoe technology design when it comes to shoe cushioning and outsole stability, Versa foam and Grid.
The Cohesion 14 an upgrade to the Cohesion 12 & 13 is made from textile and synthetic material with a durable rubber outsole and breathable uppers.
The insoles are removable for prescriptive orthotics.
The shaft measures approximately low-top from the arch and the heel to midsole offset is 12mm promoting neutral pronation (heel 29mm and midsole 17mm.
This Saucony model weighs in at a lightweight 7.7oz for size 9.
Pros:
Great cushioning and stability
Lightweight shoe
Supportive upper overlays
Good toe room
Cons:
Not waterproof or water-resistant – who needs it on a treadmill
---
Ryka was not a name I knew well but they have made a hit with this women walking shoe. In fact, Ryka only makes women's shoes so it's a 'made for women fit' mantra that they follow.

As you have probably figured out there aren't specific training shoes made for treadmill specific workouts – let's face it, it would be a limited market. But many shoes can be used for walking and running on a treadmill or outside on various terrains.
The Ryka Devotion XT has a trick up its sleeve and with an inclusion of a pivot point in the outsole it can be doubled up as perfect footwear for any activity that demands some rotation, not ballet, but Zumba, Jazzercise, etc..
Most of the cross-trainer shoe technology occurs in the outside and especially in the midsole area and shoe design brands experiment with different compositions and densities of EVA (ethylene vinyl acetate) to achieve the required results.
Ryka's has their own proprietary name for their cushioning, support and shock absorption, Re-Zorb, which works in conjunction with the Pivot Point for that extra feature.
These ladies shoes are made from textile and synthetic material with rubber outsoles that are oil and slip resistant.
Breathable upper has direct attachments to the guts of the shoe providing good support laterally.
There is an "antimicrobial ortholite footbed" but, to be honest, I haven't a clue what that means although it might suggest some kind of coating.
The shaft measures approximately low-top from the arch and the weight comes in at 8.7oz for a size 8.5.
Pros:
Great cushioning and stability
Designed with the woman's foot in mind
Great for treadmill work and studio classes
Cons:
Not recommended for serious hiking
---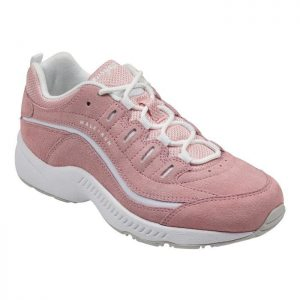 Easy Spirit is another brand who only market shoes in all their varieties for women making them able to know all about luxurious footwear.
I love these shoes for the way they look and the fact they're suede although you can get ordinary leather ones too.
But then you discover that they are really comfortable as soon as you put them on. And then not only do they look good they are designed for walking and light running.
So treadmill workouts would be fine but they aren't suitable for elite running and serious outdoor hiking.
The upper material is 100% leather and the outsole is a flexible rubber and the lining synthetic.
This Easy Spirit walking shoe has a flexible sole featuring a padded collar and cushioned foam sock liner.
It's thickly padded lining and insole will give that extra support on the treadmill or mall walking.
Pros:
Great comfort features
Very good value
Stylish
Cons:
Run slightly wide
Need to take care of the surface, it being leather
---
Best Men's Shoes for the Treadmill
New Balance has been going for over 100 years and I remember (just) my first pair of New Balance 990s. I felt at the time I needed running shoes with solid support and cushioning. My miles were going up but my weight wasn't coming down sufficiently. This shoe is a classic.

There is something about comfort and luxury that go together and comes out leather. Sometimes you just can't beat a leather finish.
And for a bonus, these New Balance running shoes are made in the USA.
There is a newer version of the 990 but I'm sticking with this one as it's cheaper and the difference between the 2 is minimal.
In fact, unless you want the American flag on the sneaker's tongue reflective viewed from any angle or the outer mesh in a different place or you were annoyed with the bits around the N logo, which are now gone then I would stick with the V4.
The 990v4 is not a lightweight shoe, it's around 14oz for a size 9 but has both terrific cushioning and stability especially for the heavier runner, walker treadmill user.
The cushioning and durability is again centered around New Balance's midsole technology which is trademarked as ENCAP and the dual density collar foam.
The upper is a combination of breathable mesh and supporting pig suede overlays, the outsole is blown rubber.
This is another versatile shoe as demonstrated by the (huge) number of positive reviewers who ranged from seniors with painful feet problems to younger 50 miles a week runners, all extolling the virtues of the NB 990s comfort.
Pros:
Made in the USA
Proven quality & comfort
Excellent cushioning
Superb stability
Cons:
---
ASICS is a great name in running shoes and has been designing and making trainers since 1949 where the company was founded in Japan. America loved the first ASICS when they were introduced in 1977.
Something I found interesting was that ASICS is an acronym for "A Sound Mind in a Sound Body" – nicely typically Japanese. In Japan, ASICS has a huge research facility and one of their mainstays of testing is, of course, on treadmills.
Standards are high and one of their goals is simply to develop shoes with a perfect fit.
I have found over many years that they have succeeded and the Gel-Kayano 28 is a good example.
The heel has been beefed up with their GEL technology and gives more shock absorption on impact especially for runners. Although the treadmill for running has inherent bounce you still need qualities of the shoe to minimize the repetitive nature of the foot strike.
And talking of bounce ASICS have come up with what they call FlyteFoam, a midsole lightweight foam that gives a feeling of spring in the Gel-Kayano 28 when the foot is transitioning through to the toe.
The EVA insole (sock liner) gives even more rebound and cushioning.
There is also a layer of firmer foam (Dynamic Duomax) on the inside of the heel to prevent excessive inward roll of the foot in motion. This is perfect for the extra stability you need whilst running on treadmills and is perfect for those who tend to overpronate.
The textured fabric mesh upper provides support and with other weight-saving materials, the shoe is still quite a hefty 11oz.
Heel Height: 22 mm. Forefoot Height: 12 mm.
Sizes appear to be a bit complicated with a 10 possibly being
AA/10 2A/10 N=Narrow, 10/10 D/10 M=Medium, EE/10 2E/10 W=Wide, 4E/10 EEEE/10 XW=Extra Wide.
Pros:
Great cushioning and stability
Looks good
Extensive design history
Good for overpronators
Cons:
---
Brooks started in 1914 with ballet shoes but went to make all sorts of sports shoes. Then, in the early 1970s running got big after Frank Shorter won the 1972 Olympic Gold for the Marathon.
This version of Brooks Ghost is a shoe that does all the important things well, stability, cushioning and support. For this reason, it has great versatility and is suitable for all types of walking and running unless you are an ultra-marathoner or are after a barefoot type of running shoe.
The size 9 weighs in at 10oz, a tad lighter than it's predecessor.
Like its' model's predecessors, the Brooks Ghost 14 provides neutral support. The support and stability have been improved over the Ghost 11 & 12.
Brooks design for a smoother run, like so many other brands, is their technology, they call BioMoGo DNA, which has meant changes to the midsole area that attempts to adapt to the individual stride giving a feeling of a soft landing and responsive, smooth heel to toe transition.
The smooth ride is further enhanced with the 'Segmented Crash Pad' which is an integrated system of shock absorbers in the heel end of the outsole.
The new feature of the 3D printed upper layer stretches over the body securely for a tight fit giving good support.

Some reviewers of this product loved the Brooks Ghost 14 for walking as much as running and would be ideal for treadmill workouts.
For the runner, the shoe has flex grooves in the outsole to give that flexibility in the follow through of the stride and imitating the way the foot actually flexes. For walkers, though there is enough support and stability with the cushioning kicking in at slower paces making it comfortable on the treadmill or road.
I've always thought Brooks sneakers look like running shoes but since the Ghost 12 they have become smarter and this black version particularly so.
Pros:
Great cushioning and stability
Versatile shoe – running, walking, treadmill, road, etc.
Great overall comfort
Cons:
---
Extra attention has gone into the design of the middle of the Air Max Torch 4 shoe, something Nike has termed Flywire technology. It is a saddle of more dense material that wraps around the midfoot area and provides added support.
It also acts as a stabilizing influence on the heel giving you the feeling of confidence running or walking on the treadmill.
The iconic Max Air 'window' visible at the heel in Nike's trainers since 1987 provides the cushioning and impact protection yet giving the undoubtedly responsive bounce back.
The rubber outsole has an interesting tread, not deep and multi-faceted like many shoes but directional and finer giving excellent indoor surface traction which is especially useful for treadmill walking or running.
The fabric components are nicely finished with comfort in mind. The tongue and collar are padded and the inner breathable material has no seams to irritate the foot which is especially useful if you don't wear socks.
Other design touches include a heel pull tab and skins at the toe to provide support and durability.
Pros:
Superb comfort
Pretty reasonable price
Iconic Air Max for lightweight cushioning
Firm support
Cons:
Not as flexible in the midsole as some running shoes
No wides
---
Sketchers don't really have a history of sports shoe, they have after all been going since 1992 and their first footwear was a logger boot. Skechers wouldn't necessarily be the first choice running shoe for an elite athlete… or is that being snobbish?
However the retro sneakers that they developed were well received and today many people choose them for comfort, fit and style with a piece of the walking and running shoe market too.
This model is a classic athletic trainer with the Skecher signature component, the air cooled memory foam insole. And the M Fit Air shoe has included a signature innovation from Nike, the visible air pockets on the heels giving extra comfort and cushioning. Ideal for walking or running on a continuous treadmill platform.
The upper has a layer of fitted breathable mesh fabric and is made from leather with reinforcing overlays at the heel, sides and toe for additional durability.
There are some nice touches of detailing which you would expect on a more expensive shoe such as the stitching, rich lining, padded collar and tongue, etc..
The outsole tread is not my favorite as its design lacks a little when it comes to flexibility but the grip is good, although suction-like on some surfaces. Perfect for treadmill walking or jogging though.
Many reviewers raved about the comfort of the Skechers M. Fit Air especially the memory foam insole and the general support of the shoe.
Weight: 10 oz. per shoe in a men's size 9
Pros:
Good price
Comfortable memory foam
Nice leather outer construction
Cons:
Air pocket will wear eventually
Not as flexible outsole as some
---
Do you Need Shoes on a Treadmill?
Yes. Is the simple answer. Running barefoot although having many advocates I would suggest is only for the lightest of frames and the strongest of ankle and knee joints.
Also for those who understand their foot strike as has been examined in recent papers published regarding barefoot vs shoe running.
Running and walking shoes aren't just for protection from the elements of outdoor terrain.
The feet are complex structures and need to be protected. As well as 28 bones there are over 100 muscles, ligaments and tendons in the foot giving balance and mobility.
Barefoot running shoes are a whole different topic and the shoes suitable for treadmills that we've reviewed here don't cover any very lightweight trainers.
I'm sticking with shoes for the treadmill and the outdoors.
Do you need a treadmill? Check out our thoughts on the right treadmill for you if you are a big guy/gal looking to lose weight.
Treadmill Running & Walking vs Outdoor Terrain
Whether you're running or walking on a treadmill and whatever shoes you choose the feel, the sensation of moving across the ground outside under your own steam is different.
First of all the ground is moving beneath your very feet with treadmill exercise so you're forced to go at the pace set. Although don't think that all, or some of the work is being done for you. There is equally efficient VO2 take up on a treadmill as there is running outside.
Walking or running on the treadmill and going at the pace you set means that the body's action and the point of contact on the treadmill surface, remain almost the same so the stress on ankles and knees is a repetitive one.
Walking or running outdoors over different terrains, however, means that the point of contact varies and anterior muscles come in to play around the knee and ankle as you make micro-adjustments with feet placement.
These adjustments mean that stress is applied in a non-repetitive way resulting in less chance of wear and tear on the joints unlike exercising on a treadmill which can be detrimental to the joints.
This may not be self-evident for walkers on a treadmill but as you would imagine it naturally applies to runners on treadmills as well and underlines the need for comfortable, stable and well-cushioned shoes.
The treadmill belt has 'give', this can cause some people to feel unstable especially new treadmill users. An additional cause of a stumble or two may be the extra heel cushioning and the miscalculation between where you think your feet are striking the treadmill surface.
By and large, running and walking shoes for the treadmill can directly be transferable to the outdoors.
If most of the activity is on a treadmill then it's best to look at the benefits that some training shoes have over others. You don't want a low profile, lightweight racing shoe if you're going to be doing steady mileage on a treadmill.
Differences Between Walking and Running Shoes
Generally speaking, a good quality running shoe is perfectly fine for fitness walking. As long as there is comfort, stability and adequate cushioning. Walking for fitness is not to be taken lightly as a form of exercise. It's an enjoyable way of maintaining fitness, with loads of health benefits and the footwear should be taken seriously too.
Sneakers sold as walking shoes tend to be more stiff, so less flexibility in the outsole. This can be easily tested by holding the toe and heel and flexing. The bending should show little resistance in a running shoe whereas there'll be little bend in a walker.
Less cushioning is required at the heel end whilst walking as there is 70% less impact on the body.
Hiking shoes, in particular, can be heavy otherwise most good fitness, walking and running shoes these days are very light and a couple of ounces, either way, isn't going to make a lot of difference.
The Composition of Walking and Running Shoes
Running and walking shoes have 3 main areas of construction, from bottom to top, the uppers, midsole and outsole.
Training shoes are made of a variety of man-made materials, many of which are proprietary to the brand of shoes and are meaningful only when there are benefits associated with the shoe part and the user.
Uppers
The fitness shoe provides an outer layer of protection. Running shoes should provide more protection due to the more rigorous activity than walking on a treadmill and especially in the great outdoors.
The uppers need to be of durable material and be mesh-like to let the foot breathe. The parts can be stitched together although high end proprietary products are made in one piece without seams.
Midsole
The cushioning heart of the running shoe is the midsole. Brands have been coming up with their own form of cushioning 'technology' for decades now but the base material is normally an EVA (Ethylene-Vinyl Acetate) foam providing a level of durability and spring back.
Most of the best shoe brands have their own proprietary midsole configuration made up of different 'posts' and layers which are designed to increase stability, support and comfort and in some cases counteract the effects of excessive roll in or out (pronation) of the foot in transition.
Outsole
This is the bottom outer surface of the shoe, the bit hitting the ground. It's where there is tread designed for traction and a given an amount of flexibility depending on grooves, lugs, reverse lugs, etc. which will give degrees of grip and stiffness whilst walking and running.
The outsole is made from a blend of durable compounds, usually bonded carbon rubber. Even stronger materials are used to reinforce stress points like the heel.
Carbon Rubber: The most durable (same material as tires).
Blown Rubber: Lighter, more flexible and more cushioned, but not as durable.
What to Look for in the Best Shoes for the Treadmill
Durability
Most half decent makes of running, walking, treadmill shoes are built to last although inevitably the material composites that make up the shock-absorbing properties will become less effective and should be the first point of failure. At this point, shoes should be replaced to avoid injury.
The lifespan of a shoe depends on many things like running or walking, the surface, a person's weight and gait and so on. It's generally recommended that running shoes should be changed every 400-500 miles.
But for runners and walkers, treadmill use or rocky terrain, keep an eye on the athletic shoe's condition, especially the midsole for cushioning and the wear on the outsole.
Support
As mentioned before the fitness shoe is worn to protect the complex and important structure of the foot. Feeling confident about the shoe's stability is important. A sprained ankle may sound trivial but torn ankle ligaments which is what it is can be very painful and put your fitness program back weeks.
Comfort & Size
Ideally, try the shoes on at a store to get the best fit where you can walk around or even run as many have a treadmill. Don't forget to wear the sort of socks you would wear if you were in training mode.
You can also be tested to find out how your feet interact with the ground when running or walking. (pronation & supination)
The 'b' is the standard or medium width for a woman's shoe. A 'c' is standard medium width for a man's shoe. The shoes get wider as you go farther in the alphabet. A regular wide shoe is a 'd.'
Stability
Uneven wear on the outsole of your regular or fitness shoe is a good sign of a problem with the gait like over-pronation, an exaggerated inward rolling of the foot as it hits the ground and propels you forward, or under pronation (supination), an exaggerated outward rolling of the foot.
For further information on the best shoes for overpronation either running or walking, men or women we have covered it.
Both issues can be corrected and shoe brands often have motion control support which means shoes have a different material make-up in the center of the midsole. Otherwise, prescription orthotics could be used and often sports shoes have a removable sock liner for this purpose.
Last Thoughts on the Best Shoes for Treadmill Walking or Running
One thing to be aware of when using a treadmill is the repetitive nature of the walking or running action.
The foot strike and transition is almost the same at every stride so the same muscles, ligaments and tendons are being used but less so the anterior muscles around the knee and ankle as you don't make micro-adjustments as you walk or run on a treadmill.
This means that there is more stress on the knees and ankle joints so for anyone using a treadmill for fitness it is important to wear shoes that give superior stability, cushioning and support.
We believe the woman's shoe for the treadmill that best offers these qualities is the ASICS Women's Gel-Venture 8 running shoes and for the men's it's the New Balance 990V4 shoe.