If you overpronate when you walk or run, just owning well-fitting footwear isn't sufficient. To prevent injury and to reap the rewards from your exercise you need shoes helpful to your personal gait. The best shoes for overpronation are the most effective solution.
We've researched a lot and found…
The 3 best running shoes for women who overpronate
ASICS Women's Gel-Kayano 25
Brooks Women's Ariel '18
Saucony Women's Guide Iso 2
The top 3 running shoes for men who overpronate
New Balance Men's 990v5
ASICS Men's Gel-Kayano 26
Nike Men's Air Zoom Structure 22
The top 3 walking shoes for women who overpronate
Brooks Women's Addiction Walker
New Balance w940v3 Women's
Merrell Women's Siren Edge Hiker
The top 3 walking shoes for men who overpronate
Brooks Men's Addiction Walker
New Balance Men's MW877 Walking Shoe
Rockport Men's We are Rockin Chranson
What Is Pronation?
Pronation refers to the natural landing of the foot when we run and walk. People display one of three types of motion, neutral (normal), overpronation (hyper-pronation) or underpronation (supination).
As we push into the floor during walking, stress is placed on the foot which passes upward into the lower and upper leg. Both overpronation and underpronation can accentuate these pressures leading to injury or pain.
Overpronation
With each step, the ankle rolls excessively inward and downward continuing to turn when the toes should be pushing off for the next step. You often see it in people with flat feet.
These elevated rotations lead the tibia (shinbone) to also over-rotate which can cause anterior cruciate ligament disorders and shin splints.
Underpronation (Supination)
When walking, underpronation is a rolling motion of the ankle to the outside edge of the foot.
You see supination in people with a firm and high arch that doesn't flatten sufficiently during strides.
Choosing the Right Shoes for Running and Walking – What to Consider?
Selecting the correct footwear for overpronation means:
Less chance of developing an injury.
More comfortable walking and running.
Improved gait.
Even wear and tear to your shoes so replacing them less.
Here are some factors to consider:
Could I Run or Walk Barefoot?
A theory exists that running and walking barefoot is a more natural process, encouraging you to land midfoot with little rolling (as otherwise, it's painful).
Shoes may influence us to move in a more unnatural manner inducing overpronation.
But I wouldn't recommend it.
It may suit younger and lighter fitness enthusiasts but isn't ideal for the more mature runner or walker. Additionally, if you're like me, you don't live in an area where the sidewalks are free from debris and potentially injury-inducing trash.
Clinical research also explains that running barefoot provides few benefits and requires a long time to adapt, creating more of a chance for injury.
The shoe's offset or heel-to-toe drop is the difference between the height of the heel and the forefoot when flat on the floor. In the shoe's specifications, you might see the heel and forefoot stack height. The difference is the offset.
A barefoot shoe has zero offset and provides for a more natural gait. However, the stress of the impact from running has to transmit somewhere in the body.
A bigger offset from heel to toe generally means less stress impact to the foot, ankle and calf whilst the knees and hips could be affected. The reverse is true of a lower offset shoe.
With that being said it's a decision for the individual. A midrange figure is probably the best choice if you're not an elite athlete, which means around 4 – 10mm heel-to-toe drop.
The Best Shoes for Overpronation & Stability
As overpronators don't strike the ground ideally, they have a higher risk of turning the ankle, losing footing and falling over. Thus, leading to torn ligaments or sprains.
Unfortunately, I have sprained my ankles on many occasions. I remember once, running through woods where tree roots were hidden just below a layer of dead leaves so I was carefully looking down to see where I was going.
Even with care, I managed to hit a root and "turn" an ankle. But because I was looking down I actually saw my foot bend over 90 degrees. That hurt!
And we call it a sprain but in fact, the reality is that it's torn ligaments and often you can be unable to even walk let alone run for weeks if not months depending on the severity of the tears.
Walking or running over rough or unstable terrain, increases the risk of injury so be careful out there. Although there can be dangers indoors too and the right shoes for running or walking on treadmills are also important.
The best shoes for overpronation may include features such as a bespoke midsole or crash-pad to enhance stability.
Support
Some of the best shoes for overpronation incorporate a heel counter. A plastic insert that reinforces the heel cup of a shoe increasing support.
An effective counter will "lock" the foot, anchoring it to the midsole reducing overpronation.
Motion Control
For more severe overpronation consider footwear that includes motion control.
Also known as high-stability control these shoes hold the foot tightly in place with the heel counter and often with a heel wedge. Typically, shoes for overpronation feature a high and more rigid heel with a relatively straight form.
It may result in a heavier shoe but provides greater support. The midsole is also usually firm.
Arch Support
A strong arch support can inhibit the inward rolling motion of the ankle lessening the chance of injury and increasing comfort in the stride.
Effective Cushioning
The best shoes for overpronation will incorporate sufficiently, yet firm cushioning, providing support while reducing knee-damaging impact.
Toe Space
The optimum shape of the toe box depends upon your feet's size and width.
Men and women with wide feet should look at square or rounded toe forefoots and those with narrow feet can usually fit into a more pointed toe box.
Durability and Uneven Wear
Finally, the best shoes for overpronation should be durable.
If made from substandard materials, even with features designed to reduce overpronation, the footwear could wear unevenly. Typically, inducing the "wedge" appearance of the heel.
Running or walking in shoes that are worn will increase the risk of injury and do little to improve your gait.
Furthermore, the faster they wear the sooner you'll be shelling out for a new pair of shoes.
The Best Shoes for Men and Women Who Overpronate
Below are my picks of the best shoes for overpronation. While the running shoes can also be used as walking shoes this doesn't normally apply the other way round.
The Top 3 Running Shoes for Women Who Overpronate
In my opinion, the best women's shoes for overpronation.
Substantial cushioning in the Gel-Kayano 25 provides for a comfortable run and gives an extra spring to your steps with a powerful "bounce-back" feature. Furthermore, the manufacturer indicates that the EVA cushion is 55 percent lighter than standard useful for those who struggle with a heavier shoe.

The footwear gives stability with its proprietary motion control Heel Clutching System. Additionally, a mesh upper enhances breathability.
Guidance line technology ensures that your gait is as close to neutral as possible, reducing the risk of injury and lowering wear.
Weight: 9.8 oz
Offset: 10mm
Pros:
Lace-up closing for a secure fit
Gel cushioning system
Lightweight
Cons:
Color options are limited
---
Possibly one of the best shoes for overpronation for women with a broader foot as it features a spacious toe box.

The sole incorporates a diagonal rollbar guiding your foot into a normal pronation movement with every step. Furthermore, an external heel counter delivers upper ankle motion support.
A durable heavily-treaded rubber sole promotes uniform wear even on tough terrain.
Weight: 11.8oz
Offset: 12mm
Pros:
Wide range of sizes
Available in a choice of colors
Heavily cushioned
Breathable mesh upper to improve airflow and comfort
Cons:
The mesh can get caught and tear
---
With its impressive three-tone appearance these could be the best shoes for overpronation for women who demand serious "sidewalk style."

The ethos behind this shoe is comfort with stability.
The cushioning is offset by 8mm providing a more natural and comfortable foot base improving balance and reducing overpronation. The bespoke Isofit design means that the shoe adapts to the shape and motion of your foot giving enhanced stability and support.
A Tri-flex sole disperses the force of each step over a large area lessening calf and knee impact and promoting a more enjoyable run.
Weight 9.0 oz
Heel Stack Height: 27mm
Forefoot Stack Height: 19mm
Pros:
Flexible yet supportive arch
Contoured footbed for comfort
Suitable for both track and road running
Cons:
Only suitable for moderate overpronation
Appearance may be too dramatic for more conservative runners
---
The Top 3 Running Shoes for Men Who Overpronate
For men who are concerned about provenance, these may be the best shoes for overpronation. Since they first hit the market in 1982 they've been proudly manufactured in the USA.

Made from pig-suede, the word that many users describe these shoes is durability. This animal upper combined with its heavy-duty sole should mean even extended use doesn't lead to heel wedging.
An Ortholite cushion insert adds additional support around the midsole area.
This is a heavier shoe than others we've looked at. In my early days of running, I was always aware that I was a heavier runner and so looked for the shoe with the most cushioning and I stumbled on the 1300.
Weight: 13.7 oz
Offset: 12mm
Pros:
One of the best everyday shoes for overpronation as well as running
Breathable natural suede and synthetic mesh
Solid heel and ankle support
Cons:
---
Possibly one of the best stability shoes for overpronation.
This is because the manufacturers have designed a shoe that works to fit the foot snugly while allowing for an immense range of movement. This aspect complements the ingenious IGS (Impact Guidance System) Technology which encourages a more natural gait from heel to toe.
The soles incorporate high abrasion rubber, meaning they're hard-wearing. Furthermore, they extend over the upper in critical areas acting as "fenders" on extreme ground conditions.
Weight: 11.1 oz
Heel height: 22 mm
Forefoot height: 12 mm
Pros:
Rear and front gel cushioning
Available in multiple colors
Large toe box
Cons:
---
For men with non-standard foot shapes, this shoe could be the right choice. Flywire (elasticated connectors) join the eyelets and laces, providing support and stability while molding the shoe to your foot's contours.
The proprietary Nike Zoom Air unit at the forefoot elevates cushioning while promoting a normal pronation toe push-off.
The extensive mesh upper delivers significant ventilation meaning this shoe will provide breathability.
Weight: 11.5oz
Offset: 10mm (12mm forefoot; 22mm heel)
Pros:
Understated appearance suitable as an everyday shoe
Available in 14 colors or designs
Great for flat feet
Cons:
Lack of a substantial heel counter
---
The Top 3 Walking Shoes for Women Who Overpronate
In my opinion, the best female walking shoes for overpronation.
This footwear could be ideal for women with low arches offering support to help correct overpronation.
Including energy-returning bespoke midsole cushioning that'll suit those pounding the hard sidewalks every day. Furthermore, the leather upper means this is a shoe which should last even in treacherous city streets.
Strengthened and high rear quarters and heel may deliver substantial motion support.
Pros:
The comfort of a running shoe but with a walking design
Large toe box
100 percent human-made
Cons:
---
While primarily for running this will still function as one of the best shoes for overpronation when walking.
With its modern and chic appearance, it may suit ladies who want more style than traditional walking shoes provide.
The proprietary Abzorb full-shoe-length midsole delivers extensive cushioning and "spring-back" providing a bounce-giving stride.
Additionally, a center beam distributes pressure equally throughout the footwear. Both increasing stability and encouraging even wear and tear.
Weight: 11.3 oz
Offset: 10mm
Pros:
100 percent textile—no animal products
Substantial rubber sole
Designed for flexibility
Cons:
---
If you prefer the challenge of walking in nature as opposed to city sidewalks these could be the best shoes for overpronation when it comes to hiking.

An air cushion in the heel absorbs shock and stress while heightening stability whatever the terrain. Furthermore, a deeply-treaded Vibram rubber sole provides additional comfort while being durable enough to withstand the great outdoors.
Breathable mesh lining and organic odor control mean these shoes will stay fresh.
Weight: 20 oz
Pros:
Distinctive "outdoor" style
Molded nylon arch
Practical heel pull-on loop
Cons:
May not suit those requiring a solid heel counter
Little heavy
---
The Top 3 Walking Shoes for Men Who Overpronate
I believe these could be the best shoes for overpronation for men looking for everyday footwear.

The 100-percent nubuck leather upper means this is a shoe that will both be durable yet flexible. Furthermore, the rubber outsole should reduce heel deterioration and is non-slip to protect against slippery sidewalks.
For men with low to medium arches, this footwear includes additional support in the insole to add stability to your gait.
Weight: 13.7 oz
Offset: 12mm
Pros:
Diagonal rollbar provides strength at the medial arch improving neutral pronation
Wide toe box
Also available in suede
Cons:
Due to design ordering, half-a-size bigger may be beneficial
---
The company behind this shoe has incorporated its bespoke Walking Path Strike technology—meaning that every stride induces heightened stability to your walk.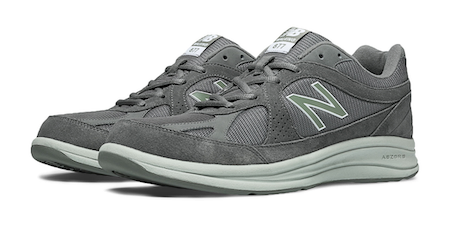 Extensive Abzorb midsole cushioning suggests that even walking on concrete your feet shouldn't fatigue. Additionally, a padded tongue, collar and heel support increases comfort.
A semi-squared toe box should make this footwear appealing to those with a wider foot.
Weight: 12 oz
Offset: 11mm
Pros:
Made in the USA
Breathable mesh
Seamless logos
Cons:
---
I feel these could be the best shoes for overpronation for men with larger feet as this footwear is available in both standard and wide fittings.

Furthermore, if you don't like higher-sided shoes, these could be ideal. Their low-profile structure makes them appear more like a classic Oxford than a sneaker.
The biomechanical design of the shoe's outsoles improves your gait counteracting the effect of overpronation. Additionally, the flexible leather and synthetic construction mean the shoes can move in all directions adding support and comfort.
Finally, a latex footbed makes walking pleasurable and lowers fatigue.
Pros:
Requires no breaking-in
Mesh lining for breathability
Available in brown and black
Cons:
Lower profile means less motion control.
---
Best Shoes for Overpronation Conclusion
There are two stand-out products for me in this Best Shoes for Overpronation article.
For women, my favorite is the Asics Gel-Kayano 25.
With bounce-back cushioning, light construction and heel-clutching feature it's the ideal choice for either running or walking.
For the men, my choice is the New Balance Men's 990v5.
It possesses impressive durability from the leather upper and heavy-duty sole. Yet, this strength doesn't compromise comfort having fatigue-reducing cushioning.
Make no mistake all the footwear I reviewed in this article are the best examples on the market for overpronation. But the ASICS and the New Balance hit all the requirements of the ultimate fitness shoes.