If you go to any commercial gym or even somebody's garage gym there will be some pieces of strength training equipment that you'll always come across. With good reason. Along with weights and probably a bench, there'll be at least one barbell, but maybe a selection. Barbells are a fundamental component of a good strength training program and offer a wide range of workout possibilities.
The best barbells are made of high-quality materials, they're simple to use and with proper instruction allow you to make significant steps forward in your strength. Gains that you might not have thought possible.
Disclaimer: This article contains affiliate links, if you choose to purchase any of the products discussed, we may receive a small commission which does not affect the purchase price.
In a rush to choose one? Starting with our favorite, these are our top picks:
The Best Barbells for Home Strength and Cardio Training
As always with our research, we have included value for money as a selection criterion in deciding our top 5 best barbells. You can spend $1000 or more on a commercial grade, certified by the IWC, barbell but we're looking at top quality bars that will suit most people's requirements. Let's get cracking:
This high-performance bar provides moderate flexibility suitable for Olympic-style weightlifting and other activities particularly CrossFit.
The brass-alloy bushings are durable and should produce a quality spin. It doesn't stop there, as the other specifications make this 700-pound capacity bar top notch.
The coating material on the shaft is a black manganese phosphate, limiting corrosion overtime and protecting your hands from abrasion. Furthermore, there's medium-depth knurling along with a tacky-grip coating to give you a feeling of extra safety.
Dual markings within the knurling provide you with guides for different movements. It's especially helpful for beginners looking to perfect their form.
Another benefit is that the manufacturer offers a set of weight plates for easy purchasing. If you don't have your own already, this could make life a lot easier.
Pros:
Dual knurling marks provide guidance.
High-quality materials for durability.
Can throw some weight plates in with your purchase.
Self-lubricating bushings help extend shelf-life.
Cons:
The coating requires extra attention to maintain.
---
This Body-Solid barbell weighs 44 pounds and comes in at seven-feet long, available in two colors, either black or chrome. The bar has a 600-pound capacity and features a black oxide finish, which offers some resistance to corrosion including rusting and chipping.
The lightly knurled grip offers a secure hold without being too aggressive. I prefer the lighter touch knurling but then again I'm not a heavy weightlifter.
It's worth noting that this barbell has bolts, which hold the sleeve onto the shaft, as opposed to an end cap. While this doesn't necessarily indicate poor quality, it does require some upkeep.
You should make certain to check the bolts often to make sure they aren't loose. A malfunction with these fastenings could be dangerous.
Body-Solid offers a slew of accessories that match this equipment including a bar pad when you need some extra cushioning.
Pros:
Value for money
It's a basic bar with two color options.
Fits Olympic weightlifting plates.
Accessories can be purchased separately.
Cons:
The bolt fasteners must be looked after.
---
This heavy-duty 86-inch barbell is constructed from cold-rolled steel with a chrome finish offering durability exactly where you need it. The material also indicates that it's rust-resistant, so that shouldn't be an issue here. On its own, it weighs 45 pounds and has a 700-pound weight capacity.
The diamond knurling provides sufficient grip, covering eight inches in the center and 16 inches on both ends. Are you looking to squat your heart out? This bar might fit the bill, but make sure to cover your back to avoid discomfort.
This bar is suitable for Olympic plates, so feel free to throw it overhead and drop it back down again with a roar. Do this safely, please!
The company claims it's designed to be balanced and long-lasting. Balanced, yes but long-lasting we don't know but according to many reviews, it has been rust-free even when kept outside.
One could consider this a basic bar suitable for newbies and more serious lifters alike, although probably not for serious powerlifters.
Pros:
Fits Olympic weightlifting plates.
Plenty of knurling for grip.
Cold-rolled steel means it's long-lasting.
Cons:
Chrome finish may flake over time.
---
This barbell is claimed by the company Rep Fitness to not be suitable for Olympic weightlifting. This means it's more suited to the simpler movements of powerlifting like deadlifts especially as the sleeves don't move freely around the shaft as they are bolted.
But it is an Olympic-style barbell and supports Olympic plates with its two-inch sleeves, the correct dimensions.
The bar itself weighs 44 pounds, has a 700-pound weight capacity and sports medium-depth knurling offering sufficient grip.
The barbell has dual markings and center knurling as you would find on a standard bar. Looking to squat? Make sure your upper back is protected here by a shirt if the knurling digs in.
The bolted sleeve attachments may require your attention from time to time to ensure they aren't coming loose.
This barbell is clearly designed as an Olympic-style beginners piece of workout equipment for home but is also ideal for Crossfit activities
A one-year warranty comes with this product, should anything go wrong during this time.
Pros:
Dual and central knurling.
The zinc coating prevents rust-buildup.
A one-year warranty is included.
Fits Olympic weightlifting plates.
Many praise the company's customer service.
Cons:
You'll have to watch out for bolts coming loose.
No end cap
---
Rogue Fitness brings us the best hybrid barbell complete with a black zinc coating along the shaft. The silver zinc coating on the sleeves provides additional protection from corrosion. It weighs in at 44 pounds.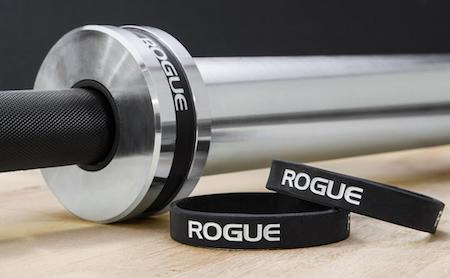 It's made from 190 PSI steel, which indicates that it can handle very heavy loads without breaking or wearing down. Furthermore, self-lubricating composite bushings lessen any friction and provide optimal spin.
The dual knurling marks make it suitable for both Olympic and powerlifting. People starting out weightlifting or using it as part of a strength training program will be solely concerned about the powerlifting movements such as squats and deadlifts.
If you get hooked on weightlifting as an activity and venture into the technical aspects of the sport this barbell will do just as well.
Are you keen on buying products only manufactured in the United States? I am and I love the ethos of Rogue the manufacturer which is often not easy to claim as companies are just distributing stuff that they've shipped in. Rogue try to source and make everything locally, in Ohio. Anyway, that's my rant over for the day.
In case something goes wrong, the company offers a limited lifetime warranty, but be sure to read the stipulations before assuming you're totally covered.
For those with smaller hands or for the petite ladies out there, Rogue also carries a bar for you called the Bella Bar. The quality is on par with the one listed above, but it's smaller overall including its weight and diameter. This makes it more manageable for those among us that may struggle with a regular barbell.
Pros:
Made in the USA.
190 PSI steel indicates it's a durable unit.
The company offers a lifetime warranty.
Self-lubricating bushings help extend shelf life.
Cons:
Most pricey (although still competitive).
---
Why Choose a Barbell for Your Home Workouts?
Barbells are a great tool for resistance training and provide a stable base that allows for heavy lifting. The barbell alone provides a useful tool because of it's weight otherwise you choose your weights and secure them on both sides.
They don't only aid in muscle gains either, nor are they reserved for those looking to become shredded beasts.
Resistance training with the help of a barbell can raise your resting metabolic rate, cognitive abilities and walking speed, among other benefits. The best general barbell is suitable for the more novice health-conscious individuals among us as well as the "ripped perfect body" wannabes that are normally associated with the clean and jerk.
Some key workouts you can partake in with a barbell include squats, deadlifts, bench presses and more.
Anatomy of a Barbell
For those not familiar with them, barbells look pretty straight forward even though the very best competition barbells can set you back a lot. But, as with many things in life, the closer you look, the more details you'll find. The key components of a barbell include the:
Shaft
Knurling
Sleeves
Markings
Shaft
This is the bar itself. The shaft comes in different materials with a variety of coatings like black oxide, zinc, chrome and black manganese phosphate.
Black oxide is a budget-friendly finish that falls in the middle range for efficacy in stopping rust. One of the advantages here is that it has a "naked" feel to it, meaning the grip is easy to maintain.
A zinc coating, on the other hand, is more costly but a better barrier against oxidation and corrosion. It requires less maintenance, but the grip isn't as strong.
Chrome bars are higher end and the most effective at rust prevention. This material requires little maintenance on your end. The downside is that it doesn't chalk as well as a bare bar, meaning the grip can be hard for someone new to lifting to manage.
Black manganese phosphate coating is popular because it adds strength to the bar itself and is wear-resistant. It's less expensive than chrome and many of the best all-purpose barbells sport this finish.
Knurling
Barbells have a crosshatch pattern called knurling etched into the surface to create grip. The depth and width of the lines affect the level of grip you get and also give an indication of the balanced position; so where to put your hands.
Your barbell may be knurled and dual-marked, single marked or come with no markings at all.
Those with smaller hands should stick to a rougher texture to achieve a better grip. Some barbells can have significant gnarly knurling (couldn't resist it)  and can be abrasive on the skin.
If you find you're using a barbell with a central knurl it's purpose is for more extreme lifting and doesn't do much for the average guy or gal doing squats so wear a shirt to give your back some protection from the discomfort.
Sleeves
The sleeves are on either end of the shaft and this is where your weight plates land. An important part of the sleeve is the circular connecting pieces that you slide your weights into when you're setting up to lift.
These pieces are what allows your sleeve to spin. The better the spin, the less friction that comes with the movement. This probably won't be a concern for anyone starting out but down the line, you might get into the world of weightlifting.
The necessity for a free spin motion is needed for certain compound moves like the clean and press where your hands, wrists and arms are rotating in the opposite direction to the bar. Any resistance or friction between the bar and sleeve could damage the wrists.
There are two types of connecting mechanisms, bushings or ball bearings. The former is more cost-effective, better at handling lower weights and is suitable for home use. For our reviews, we have chosen the bushings.
Types of Barbells
There are many different barbells for different movements. Or rather different bars anyway like the EZ curl, barrel, log barbell and so on. But we're sticking to the traditional simple straight barbell found in all gyms. There are different sized barbells for men, women and juniors. The approximate sizes, weight and dimensions are typically for
Men: weight 45 pounds, shaft diameter 1.15 inches and length 7 feet.
Women: weight 32 pounds, shaft diameter 1 inch and length 6.5 feet.
Junior: weight 22 pounds, shaft diameter 1 inch and length 5.5 feet.
Olympic & Power Barbells
The Olympic weightlifting (or just weightlifting) bar is designed for the 2 main lifts in the Olympic event, the snatch and the clean and jerk.  The movements with these bars are more complex than the other type used in power activities such as deadlifts. The power bar is stiffer and handles more weight.
The knurling and the positioning of the marks are distinct to each type and relate to the legal placements of the hands in competition events and the grip that is afforded.
Do you already have weight plates at home? Pay extra attention to the diameter of the barbell sleeves. The Olympic-style plates have a two-inch hole in them, while the power bar may vary in size.
Hybrid or Multipurpose Bar
The design has been modified slightly for general use, for new lifters and for the increasingly popular Crossfit activity. Manufacturers of barbells have marketed this hybrid which is based on the Olympic bar with essentially the middle knurling removed which is unnecessary and not at all comfortable for squats during a Crossfit type of activity.
They may have markings for both Olympic-style lifting and powerlifting methods.
Only high-end Olympic bars use bearings in the sleeve. These hybrid or dual marked bars use bushings which are more economical and make for a great all-around barbell for home workouts.
---
Time to Lift
That's it. The best barbells suited for home use isn't that tricky. There are a few differences between them but we have largely gone for quality, long lasting and a reasonable price.
Barbells made from high-quality materials ensure they'll last you a while and stay protected from corrosion. Details like the knurling should be kept in mind, both for beginners and more serious lifters.
Our marginal favorite overall has to be the XMark Lumberjack 7′ Olympic Bar.
We hope you're ready to reap the benefits of resistance training with one of the best barbells on our list. Let us know how you get on.