I love my fitness leggings! Anyone else?
Leggings are comfortable and versatile clothes. However, wearing an unsuitable pair for squats or any similar form of physical activity could be embarrassing.
The best squat-proof leggings should enhance your fitness routine. Not only do they make you look great, but they should provide comfort, support, and, yes, a feeling of confidence.
And whether as yoga leggings or gym pants they should remain opaque and hide underwear or whatever is under the underwear when the underwear is not there. 🙂
This article includes affiliate links. If you choose to purchase any of the products we have discussed in this article, we may receive a small commission.
While the Lingswallow High Waist Leggings is my winner, these are my five best squat-proof leggings:
The Best Squat-Proof Leggings Reviews
These leggings are my favorite overall. Its elegant black should match all workout tops and promote an elongated shape. If black is too classic, it's also available in 20 other shades.

They come with a single inner pouch for small items. Also, the two outside pockets are large enough to place a phone. Even so, some found the fabric too weak for large cell phones.
As for efficiency and comfort, users love the flexible 4-way stretch material. Along with soft threads and strong stitches, these features make a comfy and durable legging. That's always important to me when choosing my leggings!
Whether worn as yoga leggings or for a severe HIIT workout the Lingswallow pants are just the job.
Specs: 
| | |
| --- | --- |
| Sizes | X-Small to XX-Large. |
| Material(s) | Not indicated. |
Pros:
Non see-through fabric.
Interlock weave.
4-way stretch.
Soft threads.
Moisture-wicking.
30-day guarantee.
Three pockets.
Available in 20 colors.
Cons:
Outside pockets can be a bit weak for large phones.
---
Cellulite doesn't only show through the skin, but also through your leggings. These pants should hide the "orange-peel effect" under its textured material.

Plus, it compresses, contours and accentuates your shape for the best looks. Some reviewers expected a greater lifting effect, though.
While they can be too revealing for some users, we love the style and appreciate the materials' elasticity and breathability.
Specs: 
| | |
| --- | --- |
| Sizes | Small to XX-Large |
| Material(s) | Polyamide (92%), Spandex (8%) |
Pros:
Textured material.
Design prevents the legging from sliding.
4-way stretch.
Opaque fabric.
Butt-lifting and contouring effect.
Strong compression.
Breathable material.
High elasticity.
Available in 15 colors.
Cons:
Some reviewers find them too showy.
Could have a more lifting effect.
---
If you're looking for budget-friendly leggings that won't show more than needed, this model is worth checking out.

I'm all for high-quality and affordable leggings, and this one is the lowest on my list. Nevertheless, it contains the stretch required for a comfortable fit, especially in those squats.
They do lack inner pockets, which many would like included. Yet, the two, deep outside ones should fit your keys or an iPod.
Just keep in mind when ordering that these leggings can fit smaller than expected.
Specs: 
| | |
| --- | --- |
| Sizes | X-Small to 3X-Large |
| Material(s) | Nylon (75%), spandex (25%) |
Pros:
Available in 15 colors.
Large range of sizes.
Budget-friendly.
Smooth seams.
Moisture-wicking.
Butt-lifting.
4-way stretch.
Non see-through.
Two deep outside pockets.
30-day money-back guarantee.
Cons:
Fit smaller than expected.
Maybe inner pockets are preferred.
---
I wish I stumbled across this pair when I was looking to drop some pounds. At least they would have given me a boost for any initial weight loss through perspiring.

Although there's little clinical evidence, neoprene creates a sauna effect, increasing body temperature and sweating. The inner polyester dries quickly to help you remain dry while squatting.
Like us, other reviewers found them a little less elastic than other models, although they are squat-proof.
I love the style and combination of black fabric and neon green lines although color choices is a little lacking.
Specs: 
| | |
| --- | --- |
| Sizes | Small to 3X-Large |
| Material(s) | Neoprene and polyester |
Pros:
High-compression pants which encourages sweating.
Modern and stylish colored lines.
Squat-proof of course.
Strong stitches.
Built-in right side pocket.
Elastic waistband for a secure fit.
Mixture-wicking inner fabric.
Cons:
Only available in two colors.
Less stretchy than regular leggings.
---
If you're picky in terms of style and colors, you should find a suitable pair among these 44 models. They're fashionable and come in a broad range of shades. From gray leggings through to black and everything in between.
Plus, they contour and lift the butt to give it the best shape, while supporting you in those deep squats.

They're also moisture-wicking and include tiny holes for optimum breathability.
Not all colors come with the same opacity which negates the "squat-proof" part of this review. However, they are so stylish and cute we had to include them and in fairness, black and the dark colors are not see-through.
For yellow, pink and similar a home workout might be a better choice with just the partner lingering around with interest.
On top of this, some users recommend sizing up to prevent the material from overstretching. "SIZE UP if you have a big bum so the fabric won't stretch out".
Specs: 
| | |
| --- | --- |
| Sizes | Small to X-Large |
| Material(s) | Not indicated |
Pros:
Available in 44 colors.
Non see-through.
Highly breathable.
Moisture-wicking.
Seamless legging.
Prevent material-shafting.
Lifting and contouring effect.
Cons:
Some colors can be a little see-through.
True to size isn't always the best option.
---
Squat-Proof Leggings?
When we talk about squat-proof leggings we all know what we mean.
The thinning of essential material where it is most needed when doing the most extreme of thigh and glute exercise that stretches sinew, skin and man-made covering to the max.
Although the same predicament of showing all to all can occur even without any movement often depending on the size of leggings (small), color of leggings (light) and the size of bottom (big).
Squats! And what of the favored exercise for increasing and strengthening the bum muscles?
There is no doubt that there are many benefits to doing squats regularly especially if done correctly.
And on the subject of leg strengthening exercises check out our articles on the benefits of using a machine and more accessible alternatives to the leg press.
Selecting the Best Squat-Proof Leggings
While I may be sporty and love shopping for leggings, I know that many women don't.
So, I've put this quick, little guide together to show you what features to look for:
Opacity
While other features relate to comfort, durability or preference, being non see-through is a necessary characteristic for the best squat-proof leggings.
Even though it isn't as critical when working out at home, it becomes a deal-breaker when you're out and about or when doing something like a yoga class.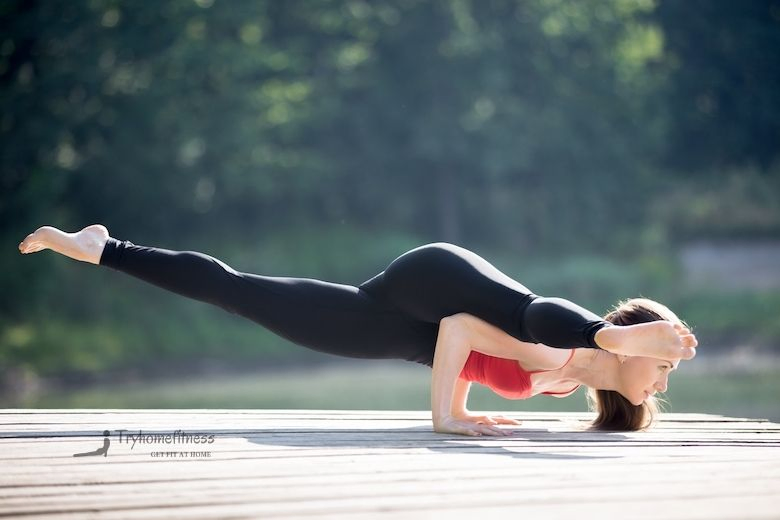 When squatting, the material over and around the butt area stretches. When it becomes too thin, your behind can display more than you wished. Opaque leggings should avoid any embarrassment.
As an additional layer of protection, avoid choosing gym leggings that are too tight. This will overstretch the material, even in a standing position.
Type
Choose the type of leggings that'll boost your self-confidence:
Compression: Tighter to keep loose ends from jiggling.
High rise leggings: Prevents the 'muffin top' effect.
Low rise leggings: To show off your excellent flat tummy.
Butt-lifting and contouring: Gives your backside a rounder and more supported shape.
Anti-cellulite: Hides the 'orange peel' appearance.
Leaner look: Prefer black leggings with the least amount of seams. Ankle models also make us look longer, compared to capris style.
Weight loss: Induce sweating – only for short-term gain of course.
Elasticity
Elasticity puts less pressure on the seams, which are often the first parts of women's leggings to give up. Stretchy gym pants are also more comfortable to wear and less difficult to size.
Fabrics allowing a 4-way stretch—such as spandex—make the best squat-proof leggings.
Comfort
Leggins should fit like a second skin and shouldn't be itchy and irritating. Many women find seamless leggings to be more comfortable as there is less material movement.
Pants using soft threads and stretchy material make for the best squat-proof leggings. They'll follow you in your squats' movements and are less likely to move.
Not just for doing squats in, of course, but any physical activity is better with comfortable sport leggings.
Breathability
Sweat marks can sometimes be just as awkward as see-through leggings. Thick leggings may be more suitable and definitely warmer for those cold workout mornings although less breathable.
To avoid moisture marks, choose leggings with breathable and moisture-wicking materials—such as polyester, polyamide and nylon. They should keep you dry and wick away extra sweat.
For the most intense workouts, select leggings with tiny holes. They allow optimum airflow and ventilation.
Pockets
If you're planning to wear your leggings outdoors, pockets can be extremely handy. Keys, iPod, or a credit card can all be secure in the tiny inner pocket. Some models even include large outer pockets large enough to place a phone.
Summary
The best workout leggings for women shouldn't show what's happening underneath. With wear or whilst at full stretch they should be opaque even the pink leggings. They should also be comfortable, elastic and allow excellent breathability.
For me, the Lingswallow High Waist Leggings take the crown. The leggings are extremely elegant, and the black elongates the legs. They aren't see-through when working out to the max and these leggings offer a 4-way stretch for comfort.