After searching high and low we found that of all the best gym towels we chose there was one really good buy, a 2 pack of Fitness Gym Towels by Desired Body.
I like to use a towel at all times when working out and yes, mopping up the sweat on equipment is one use but wiping off body bits for comfort is important.
Another important factor, when sharing equipment is hygiene; I would like to see more people with the right gym towel. We'll come to that later and more besides but first, we have reviewed 5 of the best gym towels for quality and price, suitable for sweaty-type activities.
This pack of 2 gym towels is a microfiber composition of 85% Polyester, 15% Polyamide. The waffle weave design has a grey silky border with no tags or labels to scratch the skin. They feel like cotton and are very absorbent.
Each towel measures 44" x 16.5", a perfect size for covering a bench or even a good deal of a yoga mat but weigh only 5.3oz.
The length/width ratio, when used as a training towel, is ideal for hanging around your neck. There is no hanging loop.
Being a microfiber material the towel dries quickly discouraging bacteria formation and therefore reducing odors so there's no need to wash it after every workout session.
They are machine washable, recommended temperature no higher than 100f (40c) and should be air-dried.
---
These towels in a pack of 3 different sizes are microfiber with a composition of 80% polyester and 20% polyamide.
The sizes are large towel 50"x30", medium 30"x15" and small towel at 15"x15" so you can use each for different activities or perhaps the compact towel for wiping your sweaty face and the larger one for equipment.
The towel's textured surface is particularly non-slip useful when using on a yoga mat.
The set of towels comes with a mesh bag that has a hanging loop when space is at a premium like when hiking. The set weighs a total of 12oz.
These towels can absorb 3-4 times their weight and dry 10 times faster than regular cotton or terrycloth towels and dry very quickly.
The largest towel has an elastic band for secure folding and storage – handy for keeping all your things together like keys, wallet etc.
---
According to the Youphoria "Designed for World Travelers and Gym Enthusiasts."
The sports travel or gym towel is available in 3 sizes and many colors.
The towel most suited for gym use is 20″ x 40″, a good size for carrying it around the neck and it weighs 5oz.
Comes in a carry bag – packed size 2.5" x 6.5" and with quick-snap hang loop to make it easy to put it out to dry.
The other options are average bath towel size 28″ x 56″, packed 3″ x 7.5″ and weighing 8oz and 32″ x 72″, packed 3.25″ x 9.5″ weighing 12oz.
This microfiber towel is very thin, folds or rolls to a very small profile. It has a smoother texture than other microfiber towels, so lint free and also resists pilling.
These Youphoria microfiber towels don't soak up water as some other towels do however, as an activity towel that is not such a bad thing.
The Youphoria towels aren't coated with antimicrobial chemicals like others so they aren't going to irritate sensitive skin.
Washing is simple on a cold cycle and can go into a "not too hot" dryer or air dry for 20 minutes or so.
The seller is a small US company into yoga and the outdoors and according to other reviewers, the customer service is very good.
I love this "Tardis of towels" which the American company owners quoted as being an actual customer quote.
---
This Nicool sports towel is made from 100% cotton so if you like the more luxurious thick, soft feel of a natural fiber then I believe this is a good choice.
It is suitable as a sports towel, yoga, Pilates, running, cycling etc. but it's best for the gym and fitness workouts. The cotton towel is a nice size at 43" x 13.75" and is good for hanging around the neck and shoulders.
You can choose from 4 colors and as a 1 or 2 piece set.
The fabric is quite absorbent, enough anyway for fitness workouts and drys well although there is no anti-bacterial element so it's a good idea to wash them more often than you would a microfiber towel.
But hey, if it's only you that uses it… I tend to leave mine outside and air dry as soon as I've finished a workout session and then have a couple of fresh ones ready to go next time.
Unlike microfiber materials where the colors have a tendency to run this Nicool towel is colorfast.
---
The Yoga Jaci mat towel is marketed to be used for yoga but is perfect for anything that involves the need for a barrier between you and a mat.
The yoga mat towel is a microfiber product with 85% polyester and 15% polyamide making it durable and great at absorbing and wicking sweat.
It would also serve solely as a workout towel although the mat towel is perhaps a little big at 72" x 24" and the hand towel just a bit small at 24" x 15".
When rolled tightly, it's compact diameter is 2.5″ and weighs in at just 12oz.
Both sizes of Yoga Jaci's Yoga Mat Towel & Hand Towel are available in 5 non-toxic fade-resistant colors with reinforced edge stitching ensure longevity and durability.
Although there might be a slight fading after the first wash.
Machine wash with cold water and a mild detergent – dry in a dryer at a low temperature or air dry. Using fabric softener will lose some of the product's absorbency.
For any serious mat workout, to completely avoid bunching or slipping the mat needs a spray of water before putting the towel down although many happy reviewers found even this wasn't necessary.
Previous buyers on Amazon who reviewed, the Yoga Jaci Mat Towel gave over a 95% approval rating.
---
Do I Need a Gym Towel?
Whether you're working out at home or going to the gym, having a soft towel to wipe the hard-earned sweat off the face and hands is comforting and refreshing.
In fact, I like to have a fitness towel at hand whenever I exercise. You feel so much fresher.
If you are exercising in a shareable space like a gym or yoga class then there are more pressing reasons to carry a small towel with you. Especially if there is shared exercise equipment involved.
Maybe, for whatever reason, you're not a fan of going to the gym and prefer to do your fitness exercises at home.
But your friend goes there every week and points out all the benefits. You meet other like-minded people, you can join group classes, paying the membership motivates you and so on.
But, you say, and then list your negative points about going to the gym. As well as the now, all too obvious danger of the spread of the virus, Covid 19 you can add another scary objection that you may not have thought of.
It turns out that one overlooked danger of enjoying the collective pleasures of gym equipment and the locker room is a small matter of bacteria, some of the bad ones like Bacillus and MRSA.
MRSA is almost synonymous with hospitals but places where people gather and share equipment like gyms can be breeding grounds for bacteria.
Apart from the dangers of infection connected with sports activities where bodies are squelching together or locker room hygiene the Centers For Disease Control and Prevention advise using a suitable barrier between your skin and the equipment such as a gym towel.
Who would have thought that free weights had over 360 times the germs as a toilet seat?
Now we are not trying to put anyone off going to the gym, although we like to encourage fitness from home, but whether exercising from home or at the gym you can't beat using a good sports towel.
What Makes a Good Gym Towel
Size & weight
When exercising, a towel is a handy piece of equipment. But who wants to be carting a great bath towel around on an all-day hike? So the size and the weight of the gym towel or travel towel needs to be considered.
Towels during exercise are often carried around the neck for ease and to keep them away from bacterial infested equipment and because of that, a typical towel size would be about 3' x 1' and a reasonable weight of 5 or 6oz although that's going to depend on what the towel is made of.
Material absorbency
The towel we use to mop up the sweat needs to be absorbent. Having said that I consider myself a heavy sweater but it would have to be a really big workout to warrant a towel that sucks up half a gallon of water.
And if in a shared space you don't want to be using it as a mop for everyone else's sweat. It might be a good idea to have your best towel for your own sweat and the everyday one for anyone else's. If at a gym, they will provide their towels or toweling paper to wipe down equipment before you use it.
Anti-bacterial Properties – Odor Resistant
Microfiber gym towels are naturally antibacterial or antimicrobial as long as their minuscule fibers are the same size or smaller than the bacteria they're picking up, which is normally the case.
Cotton doesn't have the same qualities naturally but may have a coating to give the towel antibacterial properties.
Sports towels made from naturally processed bamboo have antibacterial and anti-fungal properties.
Having antibacterial properties mean the towels don't fester, drying quickly and aren't a breeding ground for bacteria and therefore are odor resistant too.
Durability
Ideally, you want to finish up your workout or get back from your trek with your damp, bacteria-filled gym towel and give it a hand wash or throw it with your compression top and trainers onto the washing pile. Whatever way, your towels are going to get a lot of wear so you want a pack of towels that lasts and doesn't lose their properties like comfort, absorption and antibacterial.
Comfort
The best gym towels are soft. It goes without saying. You don't want any abrasiveness wiping the sweat away, especially from the eyes.
Although many people prefer traditional cotton gym towels they can lose their fluffiness after regular washing and they generally take up more space and are heavier than the microfiber alternatives.
What is the Best Gym Towel Material
The best gym towels are generally a combination of natural and manmade materials. Towels used for gym workouts or any other physical activity are generally made from cotton, microfiber or even bamboo. Ooh bamboo towels – that sounds scratchy!
Cotton
We use cotton bath towels all the time and high-quality ones deliver a level of comfort and softness that is synonymous with luxury.
Among the best towels are Egyptian or Turkish cotton and the higher you go up in the luxury scale the bigger and fluffier they get.
Supima cotton is a superior brand that is grown and processed in the US, in fact, you can only buy true fabric made from Supima in the States or from licensees.
For working out at home keeping a fluffy cotton gym towel hanging somewhere convenient makes sense but as a travel towel, for instance, one that needs to be carried around in your bag along with a load of other stuff, not so.
Cotton is absorbent and durable and if you like the comfort of a cotton towel for the gym, I do, then you just need to wash it more often. Fabric items like towels have a standard measurement for their weight which is grams per square meter GSM.
A good option for a gym towel is one made with a low-ish gsm (300-400) which will be lightweight and quick-drying. The bigger the number the more premium the product so 600-900 GSM would be luxurious, thick and fluffy but take ages to dry and be huge and heavy.
What is a microfiber towel?
Microfiber products are made from polyester and polyamide (nylon) in about the ratio of 8:1 and the production process creates tiny fibers.
To be classed as microfiber it must be less than 1 denier – a human hair has a denier of 20. There are approximately 200,000 fibers in one square inch of a typical microfiber towel.
The best gym towels made from microfiber can be a blend with wool, cotton or viscose.
Microfiber can be made as a flat weave or split weave.
The split weave results in microfiber with a bigger surface area due to split threads and is most suitable for attracting small dirt particles and importantly bacteria. The larger surface area means that it is very absorbent.
As an aid to hygiene and reducing the spread of infectious diseases microfiber cleaning products have become invaluable.
The flat weave process results in a water repellent material but is used in clothing especially sports apparel.
Benefits of a microfiber fitness towel
Dries quickly giving less chance for bacteria growth. Can be treated with anti-bacterial chemicals
Absorbs water/sweat well
Non-abrasive with a soft feel
Certain quality microfiber towels often exude a warmth when pressure is applied
Lightweight but strong. Folds well, taking little space in the gym bag or backpack.
Hygienic
Lasts well if looked after
Potential downsides to microfiber
Washing can be important. Follow the washing instructions which contain a lot of X's but what I do is give them a quick hand wash in warm water
They are made of plastic
Gym towels made from bamboo?
It doesn't sound like a comfortable fabric to wipe your face with but bamboo gym towels could be just the thing to use due to some inherent properties of naturally produced bamboo fiber.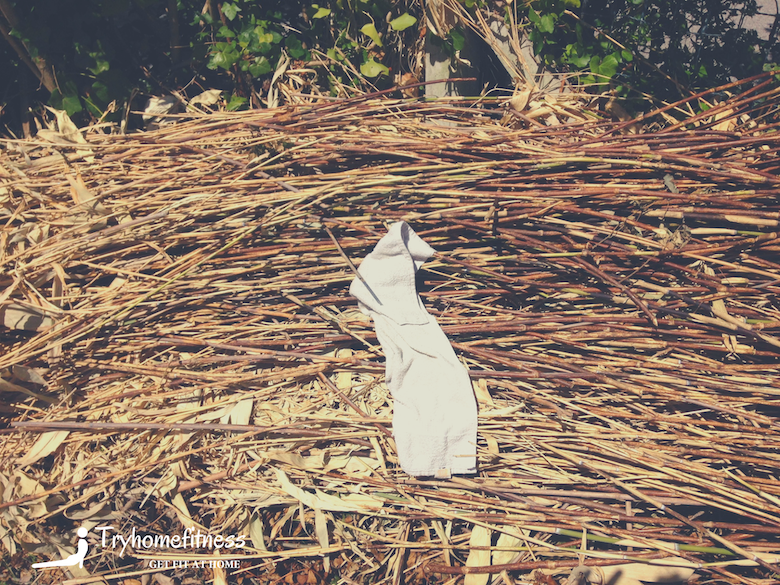 It has the potential to being an eco-friendly alternative as "the textile industry is a major pollutant in view of the high dependence on pesticides and chemical fertilizers and water".
The eco-friendly way of producing bamboo fibers that are spun into yarn is by mechanically smashing the woody parts of bamboo using the natural enzymes.
The other method is made by adding chemicals which effectively turn the produced yarn into Rayon.
It's not known for sure but using the chemical process may negate any of the natural antibacterial properties of the resulting bamboo fabric.
The Federal Trade Commission (FTC) has stated that unless a yarn is made directly with bamboo fiber or "mechanically processed bamboo" it must be called "rayon" or "rayon made from bamboo"
So what's good about towels made from bamboo fiber?
Bamboo has a unique antibacterial agent called "Bamboo Kun". This substance passes on the natural functions of anti-bacteria and deodorization.
The natural properties of Bamboo ensure the towel is quick-drying and anti-fungal, delaying the growth of bacteria and reducing the chance of foul odors developing.
The best gym towels made from bamboo fiber are hardwearing and totally biodegradable. They are also more absorbent than the best organic cotton towels, stay cleaner longer and have the softness you would expect from a towel.
The bamboo-derived fabric is easier to dye than cotton requiring less dye and is excellent at retaining the color.
There is little downside to naturally produced bamboo towel for sweat although they are not very easy to find and can be expensive.
If your concern is environmental and apparel labeling information is ambiguous ask the seller if the towel is made with "mechanically processed bamboo".
Conclusion
The best gym towels needs to be the right size, super absorbent and ideally with antibacterial and quick-drying properties. The one we liked the best was the microfiber Fitness Gym Towel by Desired Body.
Although we would have liked to have included a bamboo gym towel there weren't any that we thought fitted the bill. Maybe we'll update this review again soon.