As a fitness enthusiast, I love shopping for products of high quality to help improve my performance, look good and feel comfortable.
In addition, it is important to consider the durability of your products for peace of mind. In this Wolaco review, we take a deeper look at their products, alongside their suitability for fitness enthusiasts.
Company Overview
WOLACO is an acronym for Way of Life Athletic Company, which means that this company targets individuals who are actively involved in sport and workouts most days.
WOLACO thrives in making workout and compression gear for people passionate about bettering their physical and mental capabilities.
By design, the brand does not have an extensive collection. Consequently, every new item is perfectly vetted and tested with each new release.
Currently based in New York, the company places focus on quality and designing durable pieces. Additionally, they pride themselves in comfortable gear, ensuring athletes worry less about uncomfortable and restricting equipment.
What Kind of Products Do They Make?
After their first award-winning product the North Moore Short, Wolaco has concentrated on tights, tops, hoodies for women as well as men.
See below for details about the main WOLACO products.
Fulton Length Compression Tights
Compression shorts are increasingly becoming a must-have for sports maniacs around the world.
The compression tights by WOLACO comprise a proper and thick two-inch waistband that does not succumb to pressure regardless of the activity you are undertaking.
Moreover, the tights have two water-resistant pockets.
WOLACO Warren Shorts
An inappropriate working pair of shorts will most likely put a strain on your workout experience. On the other hand, a fitting pair of working shorts increases your confidence and enhances your exercise session. One of the most impressive features of the Warren shorts is the fabric.
Compared to other premium workout shorts, warren shorts have higher sweat-retention capabilities and offer way more four-way stretch.
About its pockets, the shorts contain sweatproof side pockets with a stormproof zipper. Besides the zipper, the pockets inside the fabric are fully waterproof.
WOLACO Highline Hoodie
Highline hoodie 5.0 is another superior quality material from WOLACO.
Besides having a flattering cut for your chest and shoulders, it is a slim-fit design through the torso.
Like the warren shorts, this hoodie is made of elastane and Micronylon blend, giving it the same lightweight and sweat-wicking qualities.
Another upside of these hoodies is that both the hood and pockets contain a nylon lining. This feature acts as an excellent heat trap whenever it is cold outside.
Why Should I Consider WOLACO?
Here are reasons for you to probably partner with WOLACO for your sports gear.
Prices
WOLACO's prices are a little higher than you may expect from other popular athletic companies. However, this reflects in the quality of their products.
In fact, after using it, you will discover it is worth paying a slight premium over buying slightly less expensive things from more mainstream brands that wear out rapidly.
Comfort
These items are cozy, from the sleek material to the excellent thick waistband. They fit nicely, and you can tell they went for higher-quality materials over less expensive alternatives.
Unlike their competition, WOLACO products are ideal and top-notch.
Quality
The most impressive feature of WOLACO products is their quality. They only use materials that are durable and superior.
Shopping for gear every often can put a strain on your budget. It is wise to consider WOLACO products that are noteworthy and within your pocket reach.
These products are sure to last for a long time, giving you a satisfactory experience while exercising.
Specialization
Unlike other companies, WOLACO prides itself on specialization. Their focus is on a smaller number of products.
This strategy allows them to generate high-quality goods for fitness fanatics. The same does not apply to companies that produce multiple products all year round that happen to be of lower quality.
Credibility
WOLACO receives acknowledgments and favors from professional athletes due to their focus on quality. Various reviews, online magazines, and multiple consumers support this company. Its strong suits comprise reliability, quality, and comfort, synonymous with all WOLACO products.
WOLACO Reviews
"These are, without a doubt, the most fantastic compression shorts I've ever worn, especially for running. I'm a runner who just finished my first marathon, the New York City Marathon, in these compression shorts."
"In your running shorts, some pockets are helpful. When the most basic inquiries are met with simple answers, brilliant ideas emerge."
"I don't exercise with a phone, but I do carry keys, a MetroCard, my driver's license (much to my girlfriend's chagrin), and, of course, a bag of energy gels. All of the stuff fits nicely into both pockets with plenty of ample space and does not obstruct my movement."
Features and Benefits
It is no secret that WOLACO products are worth trying for every fitness enthusiast. Here are some reasons why the brand continues gaining prominence and stands out from the rest.
Pockets
Compression tights and shorts from WOLACO include two large pockets in a medium weight appropriate for chilly to warm weather.
These shorts are well-ventilated, feature a comfortable band, and are reasonably priced. The pockets are lovely, although they're a little tight for larger phones.
Wolaco's pockets are sweat and water-resistant, distinguishing them from the competition. Even if you're sweating profusely, your phone, music player, cash, and keys will stay dry in this case.
Waistband
The waistband on both the shorts and the tights is broad and constructed of a soft, elastic solid material that retains its shape even after several years.
This elasticity will maintain the compression tights or shorts in place without creating skin discomfort or friction, even with a phone, keys, money, and sweat from a strenuous workout.
Durability
You will notice that the cloth is thicker and more durable when wearing these shorts or tights.
I've been wearing the North Moore for around 2 years and there is no discernable loss of support or elasticity.
Despite the thicker material, they don't feel heavy, and they have ample room for air circulation to keep you cool.
Since these shorts aren't see-through and do not tear easily, you may run or play basketball without feeling self-conscious in them.
The fabric absorbs moisture from your skin, keeping you dry, whereas the shorts or tights don't become bulky, even after a vigorous workout.
Reinforced Stitching
The compression shorts and tights have reinforced stitching for extra support. They will keep their shape even after multiple washing.
There is also a 1″ cuff to prevent any riding up.
Ultimately, WOLACO is a fantastic new activewear company that is certainly worth checking out whether for men or women.
Conclusion
---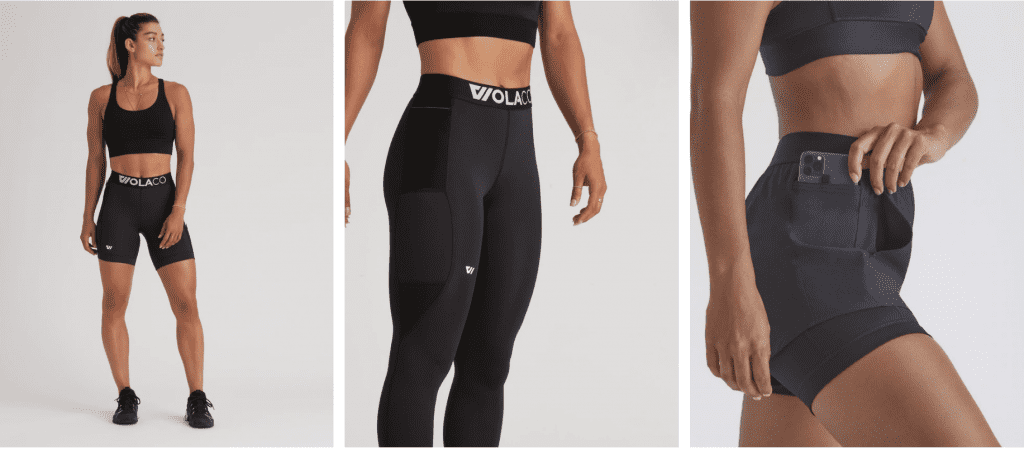 They're also risk-free to test out because they provide free shipping and returns on orders in the US.
The quality is excellent; while they don't have as extensive a range as other fitness brands, they have all the essentials required by any fitness fanatic. I'm a fan.
---
Check these articles for more on squat-proof leggings
CrossFit Shorts for Men and Shorts for Women