We love anything that makes that morning workout routine more bearable. So what's not to like about a treadmill with entertainment? We put together a complete guide and have reviewed 5 of the best treadmills with tv and internet.
This article includes affiliate links. If you choose to purchase any of the products we have discussed in this article, we may receive a small commission at no extra cost to you.
These were the 5 treadmills "with tv screen" we reviewed.
We realized that these days getting hold of a true treadmill with tv directly attached was very hard to find.
Models that existed are now unavailable or they are simply not being made anymore. And some options that were available, well, they're not that great, to be honest. And they're expensive.
These days, the better treadmills have an HD touch screen that can use wi-fi and Bluetooth for internet and device connectivity.
This can mean that depending on the software used and whether admin access is available (or hackable) downloads like the Netflix app or other streaming services are accessed with whatever system is inbuilt.
Home treadmills have always been a popular workout for the seasoned exercise junkie. They are also a good option if you're just starting out on a fitness journey.
Whether running, jogging or brisk walking, treadmills offer major cardiovascular benefits. They also help to strengthen your legs and tone your core.
Our outstanding top "treadmill with tv" is the NordicTrack T Series.
The other options we'll be looking at are below for possible true treadmill with tv screen options.
The Best Treadmills with TV and Internet
As you can gather from our original list above, treadmills are in high demand and low supply especially those with a tv screen. Besides, for a true treadmill with tv option, older models of original manufacturers may be the only answer.
But that comes at a cost as most of the earlier treadmills with tv screens built-in or as an optional installation were commercial-grade machines. At least that meant they are often robust and durable with a lot of functionality.
One of the standout makers of treadmills with tv screens was Star Trac and their models are still going strong. Many have a tv option and one actually comes with an integrated tv.
You can find a comparison chart of available Star Trac treadmills, but after a complete "remanufactured" they are still not cheap but do come with a true tv screen.
Let's get on with some reviews of treadmills with "viewing options" so you can start comparing the top treadmills that have screens, internet connectivity and virtual reality training programs.
All of these treadmills include a lot of the points we've discussed below so take a look and see if any of them will work for you.
The NordicTrack T Series treadmill comes with a ten-inch color touch screen containing one year of iFit membership. It has a 3.5 chip drive and a 20" x 60" walking belt.
You can control the workout intensity. Control the speed between 0-12 miles per hour and adjust the incline or decline as well.
The treadmill comes with a built-in workout fan, pulse monitor, and 300-pound weight capacity.
For NordicTrack, you get a lifetime frame and motor warranty and a five year for parts. You also get a two-year labor warranty.
Specifications:
300-pound capacity
20" x 60" tread belt
Weight: 254 pounds
What customers are saying:
"One customer says that this treadmill is the best they've ever had. They appreciate that it's lightweight and they love the built-in speaker and fan. The treadmill also features a hydraulic fold-up option which saves space. It needs very little effort to lift the heavy base into the machine's folded position".
The primary issue that many customers have with this treadmill is with the iFit membership. It is, as advertised, free for 1 year but to activate you'll need to hand over credit card details. This can be cancelled at a later date if you don't want iFit.
Most people love the virtual experience of running or walking all over the world with first-class trainers though, so it may be worth accepting the free year membership and see how you get on. Otherwise, it all works fine without signing up for iFit.
Like other reviewers, we thought this was at least one of the best treadmills with tv on the market.
Pros:
Hydraulic fold up
Great software option
Lightweight
Live training
Tracking
Cons:
---
This treadmill features a 10-inch HD color touch screen with a full-color touch display – that should fulfill your tv screen requirements.
The treadmill is iFit compatible, and you can power it with your Android phone.
The FreeMotion treadmill has a 0-12 mile per hour speed with one-step controls. You can control the steep 30% incline and -3% decline with your foot. It also contains around 40 workout apps.
The treadmill has a lifetime frame warranty and motor warranty. It also has a five-year parts warranty with a two-year labor warranty.
Specifications:
400-pound capacity
22" x 60" tread belt
Dimensions: 77" x 22" x 57"
Weight: 296 pounds
You would want it to be the best treadmill with tv available. It is, admittedly, quite expensive.
Pros:
Huge 30% incline plus -3% decline
Durable
Commercial grade steel frame
Good price
Cons:
Reported issues with shipping
Treadmill is a little noisy
---
Next, we have this treadmill with a 10-inch internet-connected touch screen. You can download workouts and follow them directly on the screen. View things like speed, distance, burned calories, and heart rate.
The NordicTrack C 1750 treadmill comes with a more significant motor case, which is known to limit vibration and noise. It also has two-inch exterior speakers and plug-ins for your smartphone.
Specifications:
Five-year parts warranty
Two-year labor warranty
Dimensions: 78.3" x 25.8" x 56.3"
Weight: 222 pounds
What customers are saying:
"Many customers love the features of this treadmill, and they believe that the concept and design are well thought out. The main problem they have comes with the reliability of the treadmill. Some reviewers state that their treadmill had faults too soon after purchase"
Pros:
Lightweight
Packed with features
Runs quietly
Cons:
Possible reliability issues
---
The ProForm 600i offers a 10-inch touch screen with 0-10 mile per hour compatibility. It comes with 50 different preset workouts and a pulse rate grip.
The Proform 6000i treadmill has a 300-pound weight limit and a lifetime frame and motor warranty.
Specifications:
18" x 55" belt
Weight: 210 pounds
What customers are saying:
"Customers love the padded belt on this treadmill; they say that it makes it easier to walk or run for long periods. This one also comes with SpaceSaver design that makes it easy for you to fold up the treadmill and wheel it out of the way"
Pros:
Easy to fold up
Durable design
Built-in speaker
Cons:
Difficult to set up iFit membership
*Not available on Amazon currently but a good price on Best Buy
---
Our last option has a seven-inch color touchscreen with a 'SpaceSaver' design. It comes with a workout fan, tablet holder, and 2.5-inch rollers to help with storage. You have a 300-pound weight capacity on this one and the belt is 22" x 60".

With the ProForm treadmill, you also get the heart rate checker so you can determine how your body is reacting to the workout routine.
This treadmill also features a larger motor to provide you with a smooth walk that's free from vibration and excessive noise.
It's the best treadmill for a smooth action.
Specifications:
Dimensions: 85" x 35" x 16.5"
Weight: 278 pounds
3-15% incline range
Pros:
Affordable
Durable
Strong motor
Cons:
Reported computer failure issues
Customer service could be better
---
How to Choose a Treadmill with TV Screen and Internet
Before you start shopping, you want to pay attention to a few different factors. A treadmill is not a small investment, and it's something you may use for the rest of your life. You want to get it right the first time.
Let's take a look at some of our best buying tips for treadmill shopping.
Look at Your Space
Something that a lot of shoppers often overlook is where they plan on putting the treadmill once they buy it.
Make sure you measure the space correctly and compare that against any treadmills you look at online. Take a look at folding treadmills if you're tight on space.
And check out our article on under bed treadmills for really compact machines.
You can fold it down during your workouts and slide it back up when the exercise is over. Some even slide under a bed but they often come with far fewer features, especially the ones we are looking for in an internet connected treadmill.
Also, keep in mind the location of your treadmill. If you live in a place with cold winters, the garage may not be the best location, as the cold may be a demotivating factor.
You want to put it somewhere convenient, but not intrusive.
Choose Your Type
There are a few different types of treadmills. In this section, we're looking at four of them.
Manual Treadmills
We've reviewed the best 5 manual treadmills. The main upside to a manual treadmill is it not requiring electricity. Any tv access with this option is going to be purely watching on the one you have in front of you independent of the treadmill.
Still, a tv screen conveniently fixed with brackets on a wall is not a bad idea.
When you walk or run across the belt, it's your action that moves the treadmill. The greatest thing that inexperienced runners may enjoy about manual treadmills is the safety factor.
The belt on the treadmill doesn't move unless you run on it, so there is no chance of falling off. These treadmills generally come with padded handles and a durable belt, so they are beginner-friendly.
Treadmills with electric motors
These treadmills use electricity to power the belt, so there is a small danger element.
They are more durable but bulkier. These are not meant to move around too much. Electric treadmills are usually a permanent fixture in your home although there are folded treadmills that enable you to stow them away after use.
Hybrid treadmills
Hybrid machines combine the elements of a treadmill with the components of an elliptical, stair-climber, or even a stationary bike. If you're looking for variability in your workouts, you might want to consider this type of treadmill.
With the added features comes an extra cost as well but if you're someone who may get bored with the same exercise all the time, this type is a good choice.
Did I mention these machines are expensive?
Medical Treadmills
This type of treadmill is common in physical therapy and gyms. They are designed to work alongside a piece of medical equipment that might track heart rate and structural factors.
Doctors use these treadmills to help identify health issues with patients and for patient rehabilitation.
Features to Look for in Your Treadmill
Treadmills vary tremendously in the features they offer. Some of the features are to improve the exercise experience, while some of them exist to make exercising easier. When you're looking into functions, you want to think about luxury versus necessity.
Here are some of the most common features you'll find on treadmills:
Automated Incline
Some machines allow you to control the level of incline, or it can be automated in with workout programs. This option gives an added dimension to your treadmill workout.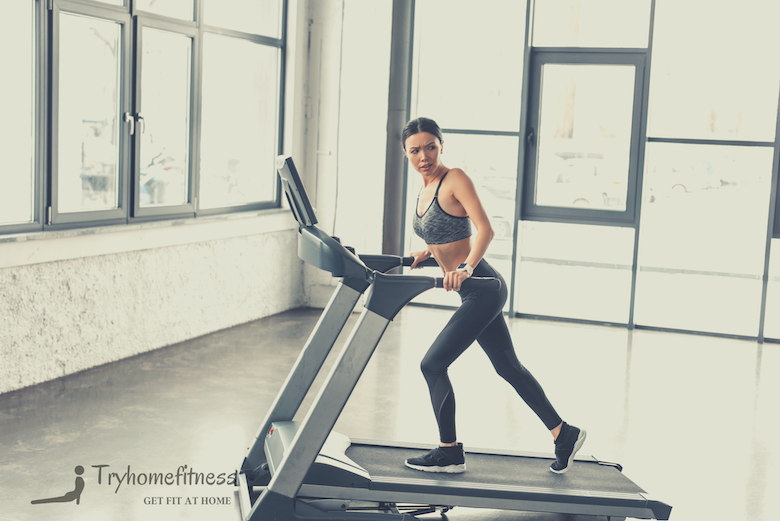 Having the treadmill at an incline is beneficial for stiff joints, and it allows you to burn more calories while traveling less distance. It's the difference between walking uphill versus level ground.
Training Programs
Many treadmills have workout programs built into them based on what you're looking to achieve. If you're trying to lose weight, they'll have a specific walking or running plan for you. If you want to gain muscle in your legs, they might have a program for that as well.
These workout programs can be a part of the treadmill's firmware that doesn't need internet access and are normally set ones. A lesser number may be customizable.
Television
As previously mentioned treadmills aren't really made these days with a dedicated tv screen inbuilt.
Some commercial systems are out there but they are expensive and not really for home use (warranty will be negated). But any decent treadmill with a console will have a browser and therefore potentially access to anything on the internet.
Internet Connection
For internet access, the treadmill must have in-built wi-fi or Bluetooth to access your device which will have internet access.
Much of the time the easily accessible workout programs or apps will be those that are provided by the manufacturer. They will consist of training programs that allow you to join in, in real-time, and in virtual world landscapes.
Often this is a subscription-based service and can be, superficially, the means of starting the machine's functions.
Benefits of Running on a Treadmill
It's no secret that any form of exercise is useful if you're trying to maintain a healthy lifestyle. Walking or running on a treadmill is the perfect way to exercise from the comfort of your own home. Here are some of the many benefits of running on a treadmill:
Cardiovascular Benefits
If you've ever had a stress test for your heart, you know they put you on a treadmill to test how your heart can handle exercise. Doctors use treadmills for diagnosing heart disease, blockages, and many other cardiac issues.
Exercising regularly and getting your heart rate going helps to improve blood circulation, which may lower blood pressure and strengthen the heart. Exercise reduces the amount of bad cholesterol in the body and raises the levels of good cholesterol.
Of course, if you have a heart condition, you should seek approval from your doctor before starting an exercise schedule.
Weight Loss Benefits
Getting on the treadmill and walking for at least 30 minutes a day can help you lose weight. Any form of exercise is excellent for people who want to drop a few pounds and what's better than doing it from your home? Don't forget to stick with a healthy diet.
Diabetes and Regular Exercise
People with type 2 diabetes are encouraged to exercise on treadmills. Studies show that regular exercise reduces blood sugar levels and helps control insulin in the body.
Fitness activities like treadmill walking or running helps the liver release stored glucose as fuel.
This may help some people with diabetes, reduce the amount of medication they need to take in regulating their blood sugar.
Possible Downsides of Running on a Treadmill
While there are no real downsides to running on a treadmill, there are some safety concerns to keep in mind.
If you are new to walking or running on an electric treadmill, you want to make sure it has an emergency shut-off.
The better treadmills comes with a clip that you can attach to your clothes. The clip shuts the treadmill off if you go a certain distance away from it. This safety device will help prevent you from falling off if you get winded or overworked.
As I mentioned before, a downside is the amount of space that a treadmill can take up. Have you ever been to someone's house and they have a treadmill sitting right in the middle of their living room?
I have, and it looks silly.
If you don't have a decent amount of extra space in a discreet corner of the room, you might have to put the treadmill in the basement, garage, or even a shed. Make sure it doesn't get forgotten.
Our Verdict on the Best Treadmills with TV
In the end, we think the NordicTrack T Series is the best treadmill in this roundup. You get on-demand studio workouts that take control of the treadmill for you.
You also have live interactive training, stat tracking, and a lightweight design that doesn't take up too much room in your home.
If you're looking for a quality home treadmill but with the excellent features that come with integrated tv screen and internet then this could well be what you're looking for.