Total Gym and Weider Ultimate Body Works are among the most popular and highly praised home gym machines. So, today we'll have a showdown – Total Gym vs Weider.
Whether you prefer fitness studios or yoga and Zumba classes, current times have seriously limited our options.
Home workouts can be great as well, but replacing all those exercising machines you get at the gym can be difficult. Unless you buy an all-in-one home gym system.
This article includes affiliate links. If you choose to purchase any of the products we have discussed in this article, we may receive a small commission.
Total Gym XLS vs Weider Ultimate Body
---
---
My vote goes to Total Gym XLS, but make no mistake – both of the pieces of fitness equipment can be the catalyst to a fantastic workout. The XLS is a good deal more expensive. I'll dig further to help you figure out which one is a better fit for you.
In this part of the review, I will refer to the Total Gym XLS, a premium machine. However, the Total Gym Apex 3 is more comparable in price to the Weider and I'll compare those two at the end.
Total Gym Overview
Total Gym began its journey in 1974. Initially, they were selling their devices to rehabilitation centers to aid the recovery from injuries.
Soon enough their products found their way to our homes. So far, more than 5 million pieces of Total Gym have reached homes and training centers worldwide.
Cardio, strength, arms training, core exercises, you name it – this machine covers it all (hence the name).
It comes with convenient accessories, such as a squat stand, wing attachment, ankle cuffs, training chart, and even a nutritional program.
There is a new-ish Total Gym tv app that streams on-demand on any smart device. This is a free service to anyone who has purchased any Total Gym machine and includes 4 workouts originally on DVD and 3 new ones.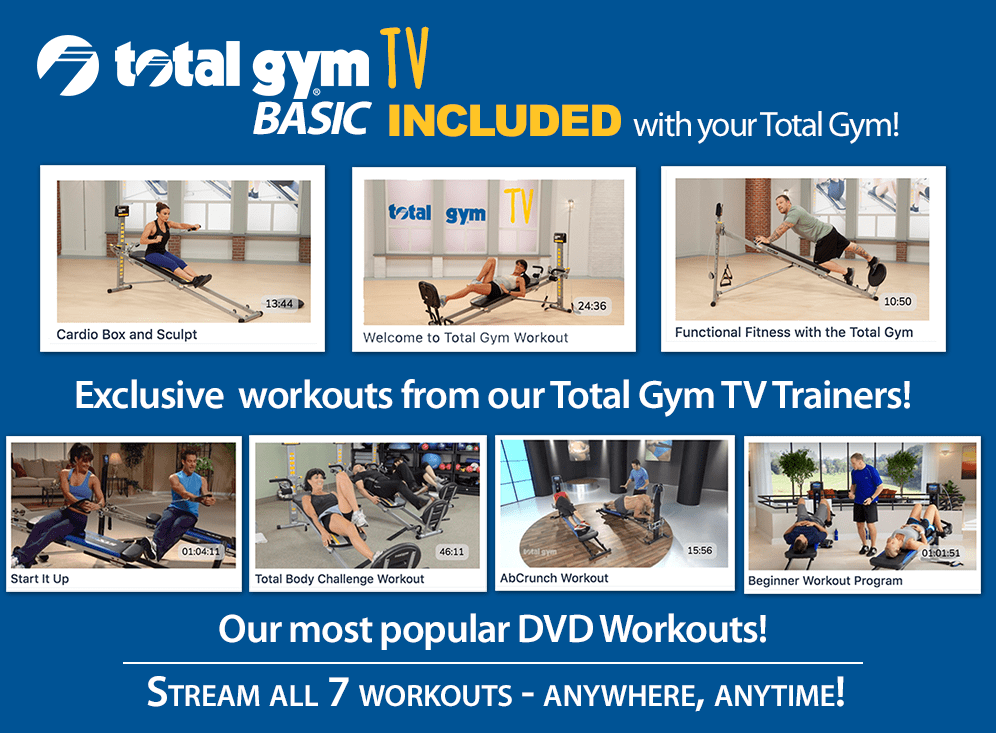 There is, naturally, a premium subscription service which has a bunch more but that probably won't be essential – not in the early days anyway.
It is a versatile, comfortable, and sturdy machine. It's really a complete package of equipment.
Pros:
80+ exercises.
400 pounds capacity.
Comfortable and durable.
Lifetime warranty on frame. 6-months on moving parts (home use).
Cons:
A bit expensive.
6'2" height limit.
Dimensions: L/W/H 90", 19", 43"
Weight: 82lbs.
Weider Overview
The Weider brand has been a family business since 1936. Joe Wider, a famous bodybuilder, was the most prominent family member and the leader of the company for almost 70 years.
Today, their exercise equipment brand is a part of the Icon Health & Fitness company. It is the world's largest exercise equipment manufacturer.
The Weider Body Work machine is one of their most popular products. It is more affordable than Total Gym, but don't let the price fool you as it has much of the same basic features as other Total Gym models.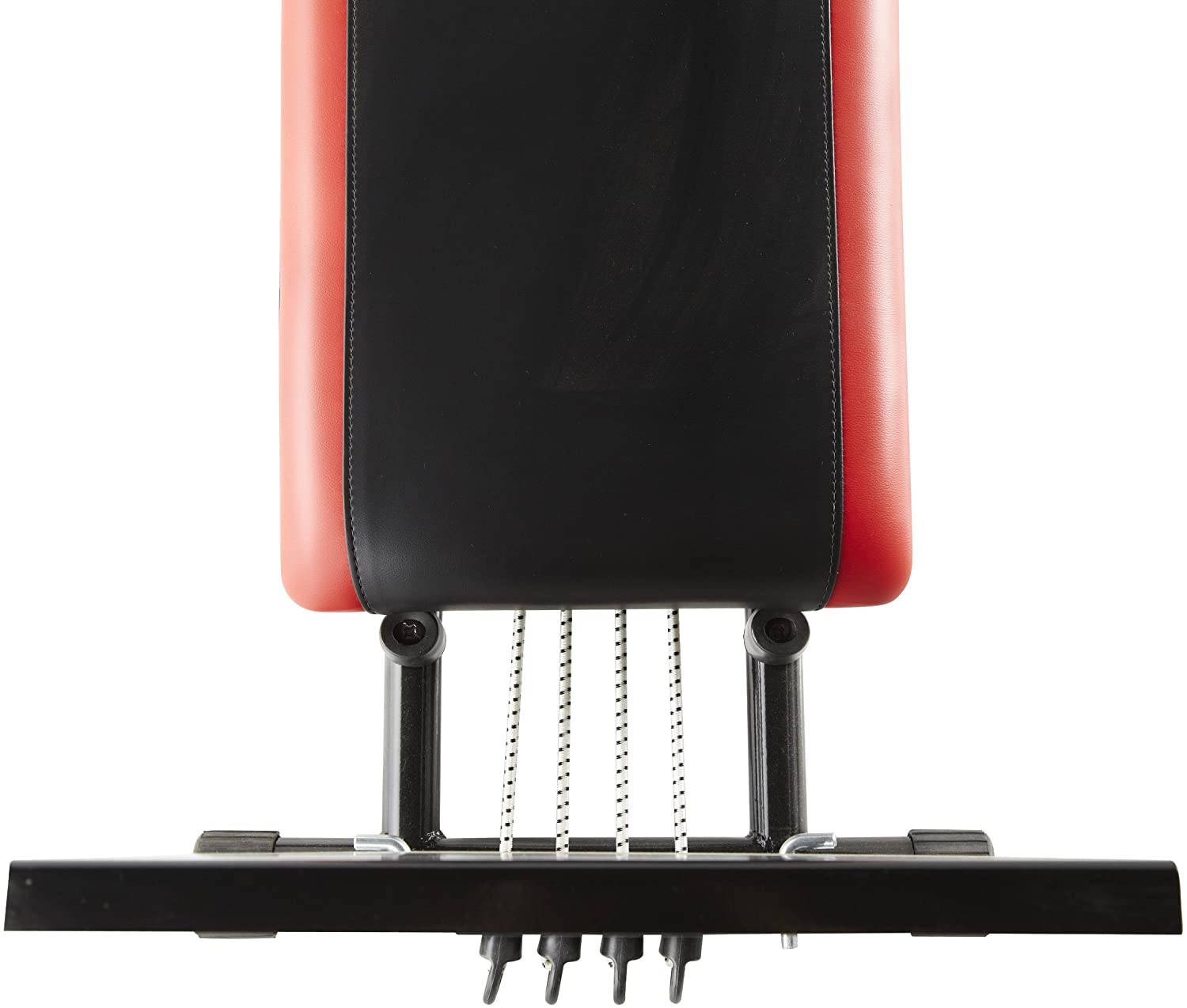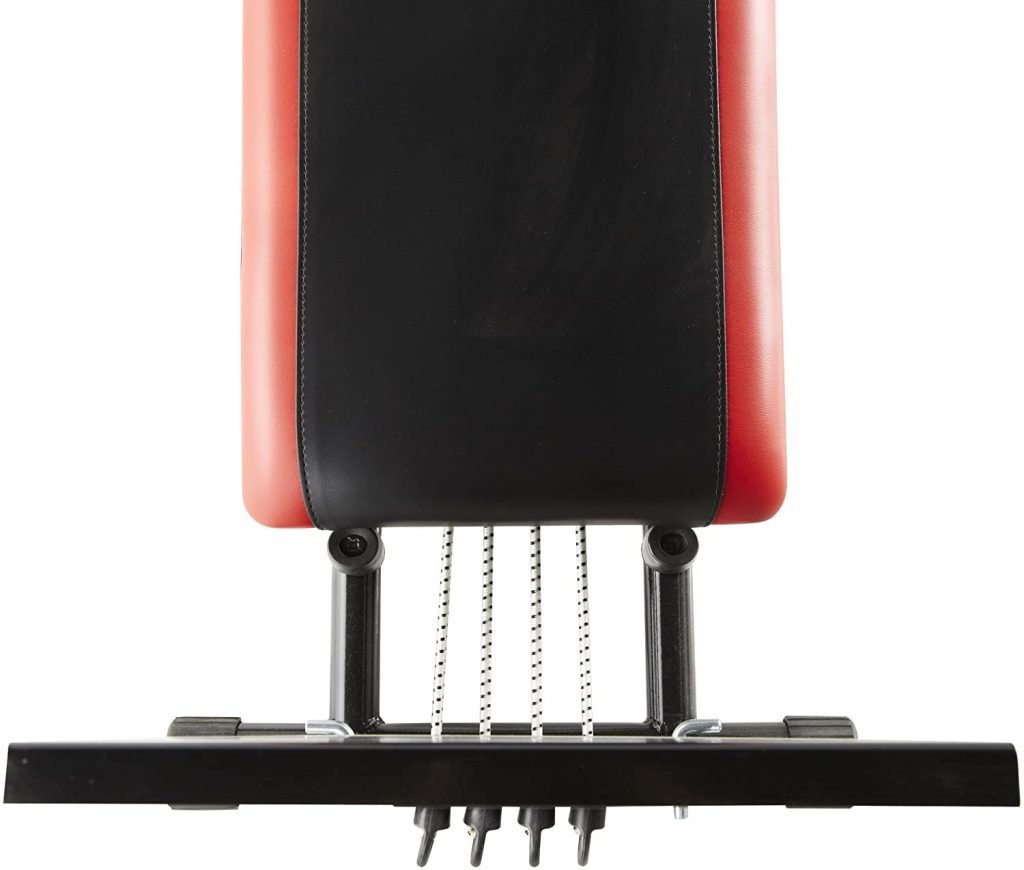 The additional feature with the Weider home gym is 4 attachable resistance bands that increase the resistance.
Pros:
Affordable.
Relatively lightweight.
Telescopic design.
Easy to fold and store.
Cons:
Maximum weight is 250lbs.
Incline adjustment can be cumbersome.
Dimensions: L/W/H 59", 27,5", 48"
Weight: 72lbs.
Total Gym vs Weider Head-to-Head
Let's dive into it and compare relevant features.
Exercise Versatility
While Total Gym XLS offers more than 80 different exercises, Weider can't match that with it's lack of attachments.
But because of the similar design, the functionality is much the same. So, it's fair to say that both machines can satisfy much of your upper and lower body training needs if used correctly.
Let's face it: no one will do 80 or more different exercises in one session. But, having the ability to choose from a wide variety allows you to organize different training regimes to stave off boredom.
Weider has 4 attachable resistance bands that can increase the intensity of the workout by up to 50 lbs in total. They are manually added at the base of the machine.
It's a nice feature and can add the extra tension on the large leg muscle groups, those that made need the extra tension.
For extra resistance with the Total Gym XLS (and Apex G3) you can use a chrome bar (Total Gym 28800) that fits through a hole in the lower part of the slide upon which you can add extra weight.
That's the good news. However, the bar is an additional cost (about $30) and you also have to supply the weight plates.
Function
We have determined that both machines work well. However, there are a couple of slight differences. Total Gym glides smoother and it's easier to adjust the incline. The design of each is different.
The weider has a telescopic mechanism that allows for the incline. The Total Gym has a more simple incline adjustment where the angle is changed at one end against an upright.
The Total Gym has a more comfortable feel and is a smooth "ride" when in action. The Total Gym models have precision roller bearing whilst the Weider Ultimate Body Works uses traditional ball bearings.
The latter generally used for light loads and the precision roller bearings for heavy.
I found, too that changing resistance, incline, levels was a more simple affair than the Weider which was could be a bit awkward especially if you were between sessions.
Weider home gym works well enough, but Total Gym wins this one.
Weight Capacity
This is a feature that I value a lot. Higher weight capacity indicates how sturdy and durable a machine is. It's not necessarily so, but I'd still prefer not to push my machine to the limit.
Total Gym XLS has an impressive 400 pounds capacity, while Weider can stand 250 lbs.
Don't get me wrong, the 250lbs upper limit should be enough for most of the users, but a 400 lbs capacity provides more assurance of the machine's durability.
Price
Most of us can't or won't disregard price. A higher price usually means higher quality, but sometimes more affordable products can offer the same quality.
Anyhow, Weider is without doubt great value. Total Gym XLS is pretty expensive, and the Weider home gym is surprisingly affordable, considering the quality.
Durability and Warranty
No one wants to splurge money on a machine that won't last. Both pieces of equipment are solid and durable.
The Total Gym XLS is a better build and is more durable. From its precision rolling bearings to the chrome steel cables it is really a mean machine that can run and run.
Warranty policy shows the quality as well as the confidence in the XLS product with a 30-day trial plus a lifetime warranty on the frame and 6 months on parts.
Weider offers a limited 90 days warranty on parts and labor, which is pretty short.
Stand Out Features
While both machines use the same bodyweight pulley system, there are some differences in features.
Total Gym accessories. Wing attachments allow a wider range of motion. Ribbed squat stand, leg pulley, and padded glide board provide additional versatility and comfort.
Total Gym weight capacity. I've said it already, but 400lbs weight capacity is an outstanding feature.
Total Gym TV free access. It's convenient and you'll find all the guidance and advice you may need, especially if you're starting out.
Weider's resistance bands. While home gyms are pretty versatile and can provide a full-body workout, building muscles is a different story. It takes more intensity and few reps. Resistance bands add up to 50 lbs to your weight allowing you to work harder.
Summary Comparison
One thing is for sure, you won't regret buying either of these models. Both of them offer a good to high quality, versatility, and complete workout. Choosing between them comes to a couple of features and your budget.
Consider Total Gym XLS if:
You weigh 250 pounds or more.
You want to pay for quality.
You're looking for a robust and extremely durable machine.
You want a smooth, comfortable workout and quick and easy adjustments.
You prefer to have some guidance on workouts through DVDs or an app.
Consider Weider if:
You need a basic home gym without bells and whistles.
You're looking for high-quality, low-price equipment.
You need a relatively small, lightweight, and foldable home gym.
The Weider Ultimate Body Works home gym is a way behind the price tag is excellent. So, it comes down to a simple decision between a great value for money and the top-notch quality at a higher price.
Overall, the Total Gym products are better in terms of quality and build, and our focus model, the Total Gym XLS is outstanding.
It may be a little unfair to compare the Weider with the XLS. A more comparable machine in price would be the Total Gym Apex G3 which is a similarly well-built machine as the XLS with most of the features but cheaper.
Total Gym Apex G3 vs Weider Ultimate Body
---
---
And Finally
Paying more for a well-built machine like the Total Gym Apex G3 could, in the long term, be a wise choice. Or paying a lot more for the Total Gym XLS for quality and durability may be an even better decision.
But if you think, you may get bored after a few weeks then we would recommend the Weider.
If you're interested in a bench-style "home gym" the final choice is up to you.
We'd love to hear from you, so let us know which one you prefer.
In the meantime check out our article on the full range of Total Gym machines.