If you're familiar with Total Gym, you'll know that it has proven to be a go-to machine for a certain design of home multi-gym equipment, even though there are many others with similar features and benefits.
We've compiled a list of five Total Gym alternatives to help you choose the best one for you and to give you a home workout with value.
This article includes affiliate links. If you choose to purchase any of the products we have discussed in this article, we may receive a small commission.
Total Gym vs Other Home Gyms – Comparison Clarification
This is just to clarify our inclusions here (and exclusions) of Total Gym alternatives. As you probably know the Total Gym system is based on attachable accessories that fit on an inclinable (is that a word?) bench with a sliding (glide) board.
This gives the functionality of a "home gym" with resistance provided by your body weight and the amount of incline.
This basic design has been "reproduced" a number of times by various manufacturers. We have compared directly, the Vigorfit system here with Total gym as well as with the Weider system here. And because of that, we haven't included them here even though their basic design is close to that of the Total Gym.
Partly for that reason and because of the fact that we wanted to include in our "Total Gym alternatives", some options which would give you similar benefits (or even more) we have chosen to compare the Total Gym system with Home Gyms or Multi-gyms.
Total Gym, as well as the mimics, market their equipment as a home gym meaning that you can get a full-body workout from one piece of equipment.
We've picked Total Gym alternatives that are not all based on the same design (one is) but compete on the benefits of a one-station home gym workout unit.
Our Five Selections For Total Gym Alternatives
We've researched many alternative types of Total Gym and picked five based on what they offer and their price.
We start off with a Total Gym look-alike which has been around for just a few years and competes extremely well.
Price-wise, the GR8FLEX is well under a thousand bucks which makes it comparable with the Total Gym Supreme, a low-end Total Gym model.
But the GR8FLEX gym has more attachments than a comparable Total Gym model.
The GR8FLEX gym has included with your purchase: wing bar, dip bars, extra-large squat stand, leg harness/pulley system, soft-grip handles, resistance bands, ab accessory, EZ curl bar, cellphone holder/stand.
We thought it was so much stuff, it would be nice if there was something handy in which to store it all.
Where the Total Gym lacks in bodybuilding exercises, the GR8FLEX makes up for intense resistance training with up to 50 pounds of resistance. 
This extra resistance comes from bands that can be attached to the base of the glide board. This is on top of the 15 levels of resistance. The levels are simply the height setting that increases or decreases your affective body weight.
When I tried the GR8FLEX out for the first time I found the sliding action to be as smooth as you like with the expected noise level. That is – not very.
I gave the extra resistance a go – there are 2 x10 lb bands and 2 x 15 lb ones. They worked well although I found the design a bit lacking. When I managed to release them they dangled clumsily when I went back to sliding. A small point.
A weight capacity of 450 and a maximum height of 77″ make this home gym a great alternative for anyone looking to pack on more muscle. 
Pros:
Great price
Well constructed
Carbon finish looks great
Includes lifetime warranty on the entire machine
Good additional resistance makes it ideal muscle gain 
Includes a lot of accessories more than Total Gym comparable model
Cons:
Strangely packaged (plastic wrap) on arrival making assembly a bit awkward
The online videos could be better
---
Okay, so this home gym is different from the previous choice and the Total Gym in their sliding board design where, of course, the standard body position is horizontal.
With the Bowflex Xtreme, the standard body position is vertical, that is, sitting down. Some people prefer that: I do for one but that's a personal choice.
The Bowflex Xtreme 2 SE is a versatile home gym that enables you to perform over 70 different exercises targeting different muscle groups, giving you the full-body workout to get you in shape.
The 210-pound Power Rod resistance is a great feature for those looking to build muscle without causing pain or tension in joints and makes it easy to switch between exercises with a no-change pulley system, which Total Gym doesn't have.
And neither does it have the "quick change" feature, allowing you to move between muscle groups immediately. This was very beneficial for me as I hate messing around with setting up the next workout.
There are several models of Bowflex Home Gym to choose from (on Amazon) ranging in price from under a grand to very pricey. This model comes in the latter category but it is very cool.
It is just 53 x 49 x 84 inches of compact elegance and yet able to deliver a powerful and versatile workout. I love the flexible rod design providing the ample resistance.
I didn't try the upgraded version, the 210 lbs of resistance was enough but you can get (pay for) 410 lbs resistance.
Of the 5 or 6 Bowflex models available on Amazon the currently marketed Bowflex models are this one, the Xtreme and the PR1000.
The PR1000 is about half the price but it only has a maximum resistance of 200 lbs. (I say only – it's good enough for many of us). It also has a bigger footprint and allows for around 25 different exercises.
However, and here's my point, it compares more closely with the Total Gym models as it has a slide board which I thought worked well for some extra cardio in the form of rowing.
Here's the Bowflex PR1000.
Compared to most of the Total Gym models (and the GR8FLEX) which have a seemingly unequivocal lifetime warranty, the Bowflex models are a bit more nuanced.
The lifetime warranty on Bowflex is dependent on where you buy it from and the machine breaking. Wear is not covered. (I'm waiting for more clarification from Nautilus (Bowflex).
Pros:
Very compact and well made
Upgradeable to unparalleled resistance
Lifetime guarantee for the power rods (breaking)
Comes with seven free trainer workouts
Includes a no-change pulley system for quick transitions
Cons:
The machine has an ambiguous warranty
Doesn't have a bench
---
This is another Total Gym alternative but with another difference. This is neither based on the Total Gym system or the Bowflex rods, cables and levers but is a suspension trainer.
More on those can be found on the Best Suspension Trainers.
We've covered the benefits of suspension trainers here.
Although the TRX system can be called a Home Gym and it uses your body weight as the method of resistance.
TRX has different models of their home gym system with some small differences. The All-In-One has all that is required.
The TRX All-in-one Suspension Trainer is a full set of resistance equipment that you can use to target the entire body.
It is much cheaper than all of the Total Gym's models although it has far less substance basically a set of strong straps with a pair of handles or rings and a point of anchor that's attached to somewhere solid, either outdoors or in.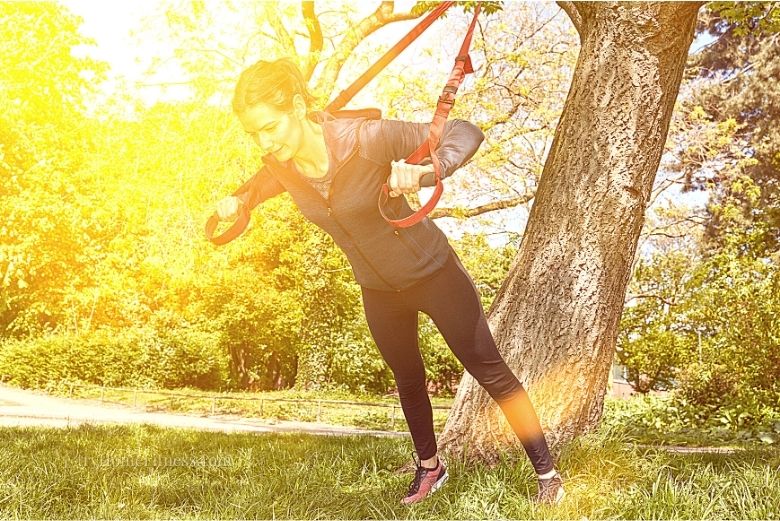 This home gym weighs no more than two pounds altogether and can be set up in minutes, unlike the Total Gym. It's even portable, so you can take it on the go and squeeze in a workout whenever, wherever.
Pros:
Quick and easy setup
Targets your upper, lower, and abdominal muscles
Extremely affordable compared to other home gyms
Can take it on the go with an included drawstring bag
Cons:
Resistance is limited to your body weight
---
Again, this system is another different take on the Total Gym although it does rely on bodyweight for resistance.
It's a much cheaper Total Gym alternative. You can take your fitness routine on the go without breaking the bank. This system is the best value option and offers reasonable features.
Complete with a BodyBoss fold-out base, resistance bands, handles, wrist wraps, a door anchor, and a collapsible workout bar, you can get a quick workout wherever you are.
With 15 pounds of total weight, this portable home workout can be a great alternative to the heavier Total Gym machines, giving you full range to use upper, lower, and abdominal exercises.
I have used the BodyBoss and found it not so well made, a bit limited in the number of exercises afforded and I couldn't motivate myself to use it much – might be just me though.
Pros:
Can be easily transported
Includes rubber padding on the bottom to keep the base in place
Takes up much less space than other machines
Cons:
Has a limited resistance range (up to 80 lbs)
Not ideal for bodybuilders or those looking to build strength
---
As a Total Gym alternative this Body-Solid model is similar in terms of pricing.
This model has been out for around 2 decades and has proved popular with those of us looking for a traditional home gym unit that is affordable. And it is.
It's the same design that you would find in a commercial gym but if you've got the space then this is a machine I would recommend. 83″ L x 51″ W x 83″ H.
This workout system is equipped with biomechanically designed stations for targeting specific muscle groups.
Body-Solid's home gym offers a 210-pound weight stack, with several stations including chest press, pectoral fly/rear delt, leg developer, upper and lower pulley, and an optional leg press (sold separately).
Pros:
The no cable change design allows you to quickly through exercises
Is built with high tensile strength steel for long-lasting durability
Includes a lifetime warranty on everything included with the home gym system
Cons:
Can take a long time to assemble all of the parts
The machine is large and very heavy (446 lbs)
---
Getting the Most Out of Your Home Gym
Home gyms give people the peace of mind to work out alone and without judgment. They are quite popular, given the numerous types of models and brands that are creating them. There are many differences, including the size, features, exercises, and look of each home gym.
If you're wondering how to choose a gym, what to look for, or if buying a home gym is even worth it, we've got you covered.
How to Choose the Best Home Gym
Choosing a home gym that will be best suited for you will require you to look at your fitness goals, your budget, and the home gym's equipment or model.
Set Your Goals: Even if you are new or are well into your fitness journey, setting goals about what muscle groups you want to target, whether you want to become toned, muscled, or increase endurance, will help you find home gyms that have the features you need.
Decide On Your Budget: Some home gyms cost quite a bit and can be a large investment. For those who are looking to save money and budget more, the BodyBoss 2.0 System is an option since it's very affordable and portable.
Look at a Home Gym's Features: Finding a home gym that includes more variety of equipment and exercise will be your best option. Look for home gyms that come with additional gear and equipment (for free) and ones that offer additional workout videos if that's going to be helpful.
What Are the Advantages of Using a Home Gym?
Home gyms come with some pretty sweet perks, especially for anyone wanting the privacy and efficiency that working out from home gives you. No cold early morning trip to the gym.
Privacy
For the shy or people who don't want any prying eyes, using a home gym can offer comfort and space to work out on your own terms.
Plus, you wouldn't have to share any dumbbells or the bench rack with anyone else like you would in community gyms. Think, germ-free!
Working with home gyms means you can try new exercises without the fear of messing it up for everyone else to see. No one will be staring at you, and you don't have to adhere to a dress code.
Cost Efficiency
In the US, the average yearly cost for a gym membership is around $507. Most home gyms do cost a bit of money, but investing in a home gym is worth it, considering that you wouldn't need to pay for any gym membership fees and gas to get there.
A home gym sitting in the corner is a good constant reminder and motivating factor.
Buying a home gym is typically a one-time fee and one that you can get the most out of since home gyms can last for years.
Most home gym systems can be fully adjusted so that most members of the family can workout.
Convenience
Who doesn't like convenience? Having a home gym gives you a very easy way to hop in your workout room or garage and get a quick workout in.
No more drives to the gym or watching the weather for a running session. Inside home gyms give you the convenience of choosing where and when you work out, and it is right there in your living space.
Are Home Gyms Really Worth It?
One of the many questions about home gyms, or any workout regimen in general, is if it's truly going to work.
No one wants to invest time and money into a machine that won't produce any results, especially if you're putting in the work.
Many people understand the benefits of exercise but rarely have the time, energy, or money to join a gym. Home gyms can provide a solution for that.
Giving you the space and privacy to work out whenever you want, home gyms can be a worthy investment if you take your fitness journey seriously.
Looking to start exercising and don't know where to start? We have a beginner's guide. This a useful article for part-time or lapsed exercisers.
A Summary of the 5 Home Gym Systems
Meeting your fitness goals will be quite the journey, but with a little help from a home gym, you can feel motivated and determined to get moving and get fit.
Total Gym is a popular example of one type of home gym and we have looked at 5 other Total Gym alternatives, one being the same system, as well as 4 other systems that can all enable a you an all-over body workout but each do so in different ways.
While most of them have great features as home gyms, the only one in our list that has the same design as the Total Gym is the GR8FLEX High Performance Gym. It is great value!
Out of the five home gyms discussed, the BodyBoss 2.0 System is the best value for what it offers. You have no excuse. It is the cheapest. But not the best.
The Bowflex Xtreme is like a traditional multi-gym (compact) unit that provides, mainly, vertically seated workouts with Bowflex's own innovation for providing resistance.
The TRX suspension system is a different beast altogether relying totally on your bodyweight for resistance. In all honesty, it helps if you're quite fit and strong already else it takes some motivation to continue. But it's effective and inexpensive. Oh and portable.
The Body-Solid StrengthTech EXM2500S home gym is your traditional multi gym with a weight stack for resistance, a system still effective today. Although not commercial grade it's a make that you may see in any gym. Another good price too.
We hope you enjoyed this look at five Total Gym alternatives. Three of them are completely different systems but all offering similar results, hopefully.
Here is some more information on the Total Gym models.
Or a look at some of the best compact Home Gyms.