Choosing a pull-up and dip bar or station is hard these days. There's a lot of 'em. But there are fewer options for a pull-up station that's portable.
This Pullup & Dip review should help. We'll look at the benefits of the Mobile Pullup & Dip bar but offer some alternative equipment choices if it doesn't suit your needs or as you'll discover if it's too pricey as a piece of fitness equipment.
If you hadn't realized "Pullup & Dip" is the company name given to their solution to pull-up bars. They have a range of pull-up products for both indoors and outdoors including a pull-up bar for the door frame.
This article includes affiliate links. If you choose to purchase any of the products we've discussed in this article, we may receive a small commission.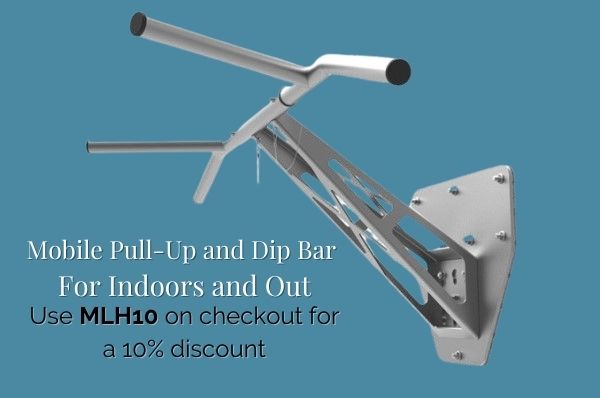 We've also covered the resistance bands here and when we get around to acquiring their other products we'll review them too. They have, what look to be similarly well-made products like parallettes and hand bars.
They also include in their catalog, accessories like rings, wrist bands, ab straps that add to the pull-up bars and band's functionality.
Check out the pull-up bars and the rest of the range at Pullup & Dip otherwise read on and find out if this is the right choice for your home or outside gym.
Things to Consider Before Buying any Pull-up and Dip Bar
Exercising on the go and without a gym can be tricky. Bodyweight exercises, calisthenics, are not just a great substitute for gyms and all their equipment but are in themselves a valuable form of training.
Bodyweight exercises, which don't need free weights, can still be enhanced with some key pieces of equipment to train the most popular areas of the body – like the abs. And yes we may have to fix them to a wall.
The best pull-up and dip bar is the kind of exercise equipment that allows for multiple exercises and ones that can be combined.
You can use it to train anywhere, including both indoor and outdoor allowing for an independence of "time and place".
Things to Consider:
Workout location
Variety of workouts
Permanent or mobile
Ease of set-up
Durability
The cost
Available accessories
Pullup & Dip Review
The original Pullup & Dip bar sets itself apart as the world's first detachable pull-up and dip bar that can be attached to a wall inside or to a wall or tree outside. It includes directions on doing 35 different exercises and promises to help lose weight, get fitter, and help to build stronger and bigger muscles.
The German company offers an indoor-only pull-up bar, but the indoor/outdoor version is for people who want to exercise anywhere.
The outdoor adaptor allows the bar to be affixed to a tree or pole. It may be a bit much for casual exercisers who won't be training outdoors and don't want the bar attached to a wall.
There are a number of options if you will never want the "inside, outside, on a tree, on a wall", options.
The most complete option is the most expensive, of course. Around $280.
So the Pull-Up and Dip Bar that just mounts on indoor & outdoor walls only approximately $230.
The Outdoor Pull-Up and Dip Bar mainly for outdoors as it is designed just to go round a pole or tree. I guess you could use it indoors if you had a suitable pole:) about $250
The above three options are related in their design. There are 2 more pull-up only options – so the frame can't be turned upside down to go from pull-ups to dips.
Doorway Pull-Up Bar for the door frame – no mounting or screwing – includes pull-up band.
Wall Mounted Pull-Up Bar includes pull-up band.
Both options around $80.
In all cases the materials used are of the best quality.
Pros:
Absolutely solid construction made with premium materials
Easy installation with a drilling template for mounting
Mount one way for pull-ups and upside down for dips
Can be used with a wide or narrow grip
Quick to configure and change exercises
Compact enough to be transported in a backpack – although heavy
Free shipping over $200
Cons:
Expensive for casual exercisers
Heavy to lug around (although "portable")
Some other reviewers have had issues mounting the bar to drywall
The top of the range package, the Mobile Pull-Up And Dip Bar includes indoor and outdoor adapters, everything needed to mount the bar at home or outside on a tree or pole, two multi bars for pull-up and dips, and an ebook of exercises.
Features & Benefits
The Pullup & Dip Bar has several features that set it apart from other pull-up and dip stations on the market.
Customizable
Using the two multi-bars included with purchase and setting the wall mount where it is most comfortable for your body, you can use the Pullup & Dip bar for a full-body workout. That includes pull-ups, dips, and leg raises targeting major muscle groups.
The included ebook explains how to do each exercise and configure the bar for the best version. That means fewer trips to the gym to see a trainer and less additional equipment that needs to be purchased.
Versatile Working Environment
One of the reasons people fail to exercise is that it becomes inconvenient. Either they're traveling, or they don't want to stay indoors.
The Pullup & Dip bar has two different adaptors that you can use to affix the bar to a wall, a tree, or a pole using a mounting kit or a tension belt.
Mobile pull-up stations often rely on door frames or pre-existing mounting areas to keep them up, but you can't use them outdoors.
Parks and outdoor spaces will usually have trees thick enough to use the bar or concrete walls that the bar can mount onto. It eliminates one more reason not to exercise.
Two Different Adaptors
The indoor adaptor includes screws and a sidearm that allows the bar to be mounted permanently at home.
When the bar isn't in use, it can be removed from the mounting gear and stored away, so you don't have to have the pull-up bar always visible. The mounting frame is close enough to be hidden behind a picture out of sight.
The outdoor adaptor includes a protective mat to wrap the tree or pole to avoid damaging the bark or surface. It also increases the grip of the 91-inch tension belt that wraps around just about any square or round object you want to mount the bar to.
All of the outdoor equipment makes it about 29 lbs, so it is a little heavy to load up into a backpack and take it with you on a hike to workout in nature. Make that part of your workout.
Quick Installation
Whether using the bar outdoors or indoors, installation is quick and easy, and it can be unmounted without additional assistance using either adaptor.
The wall-mounted indoor adaptor requires some drilling for the screws and dowels, but a drilling template is included with purchase.
High-Quality Materials and Warranty
The bar and mounting equipment is powder-coated steel and comes with a five-year repair or replacement warranty. The company states that the bar and accessories are durable enough to be purchased once and last a lifetime of training.
Safety
A mounted exercise bar is less likely to slip and cause injury than a doorway mounted bar, and the addition of the protective mat and tension belt helps keep the bar stable outdoors.
A safety pin helps stabilize the bar when doing exercises that may shift it quickly and potentially cause it to slip, such as muscle-ups. Muscle-ups are a bit tricky when you have a tree trunk in front of you.
Accessories
To add to its versatility, the Pullup & Dip bar can combine with various accessories also available from the company to fill out a home gym.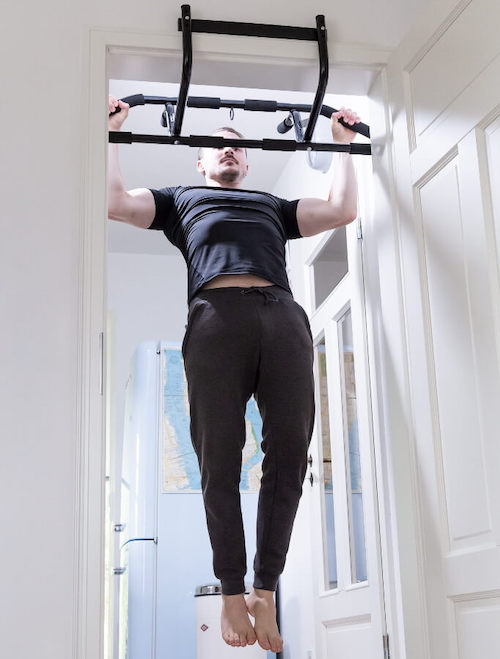 Wooden parallettes

– Ergonomic and joint-friendly parallettes for exercises such as handstands, L-sits, and pushups. They're height-adjustable, non-skid, and offer a low to the ground alternative to the pull-up bar.

Resistance bands

– Can be used in conjunction with the pull-up bar in four different strengths for additional resistance.
---
Other articles you might enjoy are resistance bands for glutes and help with doing pull-ups.
Alternatives
Not every piece of equipment is suitable for everyone.
Here are a couple of the best pull-up and dip station alternatives to the Pullup & Dip bar.
Weider Power Tower
The Weider Power Tower is an excellent piece of free-standing home gym equipment for taller people who want an upper body workout using their weight at a low cost. The Power Tower is constructed from sturdy material with a 300 lb+ weight restriction that doesn't wobble.
It stands 84 inches tall
Free-standing and doesn't require mounting
Less expensive than the Pullup & Dip
Great for tall and heavier users
If the Pullup & Dip is too expensive for your budget or you need a free-standing pull-up station for working out, check out the Weider Power Tower.
Fitness Reality X-Class Multi-Tower
The Fitness Reality X-Class multi-tower has one of the highest maximum weights in the industry supporting users and weights of up to and including 400 lbs.
Functional while working out with additional weights, and it has a robust frame constructed of a thicker steel-tube frame. It comes with two handlebars that you can mount wide and narrow.
Ergonomic multi-step design
Adjustable backrest
It doesn't require mounting
For a variety of experience levels: assisted dips and progressive pull-ups
Check out the Fitness Reality X-Class Multi-Tower if a mounted pull-up bar isn't sturdy enough or you're new to bodyweight exercises.
Conclusion
Commitment to exercise and building a habit can be difficult if you can't exercise everywhere you go, and gyms can be expensive and time-consumingly dull. When it comes to variety and something a bit different a mobile home gym can help solve that problem.
This Pullup & Dip review has shown a mobile exercise bar that can be transported easily and mounted indoors or outdoors quickly by anyone without assistance.
If you're looking to start or expand your home gym check out Pullup & Dip's range of Pull-up & Dip Bars and their wide variety of accessories.
The product comes with an extensive booklet on what you can do with the pull-up bars and we have, in another article covered some of the best pull-up workout routines.
There is maybe one thing not to like about the Pullup & Dip bars and that is the price but we think that construction is of such top grade that the bars will last a lifetime and so is it that much to pay if you're going to be using them consistently.