This suspension trainer, the Monkii Bars, offers flexible home gym resistance workouts that are easy to carry around meaning you can work out anywhere. This Monkii Bars review evaluates the key features of the brand Monkii Bars as a good choice of suspension trainer for those of us who want our gym facilities at home or on the go.
Suspension training allows you to use your own body weight as resistance whilst performing strength-building arms, legs and core exercises. If you think bands are the same, check out our article on suspension training vs resistance bands.
To find out more we have produced a small guide on what it is, the benefits of suspension training and some example exercises.
From my own experience, a portable suspension trainer is a great place to start for strength or even cardio fitness routines. This tool comes with handles, elastic straps, and an anchor.
We've researched similar (some cheaper) products and came up with five of the best suspension trainers.
Monkii Bars Explained
Monkii Bars might be a good choice to help you stay fit from home, during field trips or in any other way on the move.
There appears to be a continuous stream of associated programs or gadgets that are coming off the Kickstarter funding conveyer belt.
A few products currently out of the Monkii stable, so as not to get confused – I was:
Monkii Bars "proper"
We'll just be assessing these two products which are the original solution for strength training equipment that is highly portable.
Other Monkii-ing about
The further 4 products – there may be more by now – are similarly well made with, what looks to be, some innovation.
Monkii 360
Isocore
360 Training System
Tactical Ladder
Monkii 360 and Isocore are 2 versions of bungee lines with balls on the end, anchored by a door or similar. Aimed at exercising the shoulders.
And the Tactical Ladder is an agility ladder. There's will get a bigger mention elsewhere if we or anybody else think it a good idea.
Here's a brief Monkii bar 2 review or rather an MB2 Adventure Kit Xlab Edition review. This appears to be a fancy upgrade although I don't much difference in the product.
Monkii Bars Review
I will start and finish by saying Monkii is pretty expensive. Whether it's the full version or the Pocket Monkii. And add some caveats.
The Monkii Bars 2 workout tool is very well made. It has grips made of powder-coated aluminum and solo straps separate from the handles. These straps are wear and tear-resistant and abrasion-free. It also has adjustable anchors that allow you to set up the grip width and your preferred offset capacity.
If you are an outdoor person who loves the beach, going on field trips, boot camps, hiking, or any other outdoor activity, the Pocket Monkii might be what you need to keep a healthy fitness routine. Capable of withstanding up to 250 pounds, this trainer is compact, sleek, and even more travel-friendly. At 7×3″ and weighing just 10oz, it's tiny.
Pros:
Versatile workout tool that you can use in any location
Simple to anchor
Lifetime repair or replace policy
30-day money-back guarantee
Delivers a convenient way to build and maintain your body strength
Well designed free app loaded with several video tutorials
Cons:
Limited to users weighing 250 pounds and below.
Assembling the workout kit requires a little patience before you get the hang of it.
Some first-time users find them shaky and difficult to control.
Features and Benefits of Monkii Bars
Compact and Easy to Carry: Monkii bars come in a versatile and minimalist package that you can squeeze into your hiking bag, beach backpack, or travel suitcase. The Monkii carrier has well-defined compartments to store different parts of the training tool.
Easy To Set Up: When you first assemble the kit, it may be challenging, but things get easier once you learn the process. Through the Monkii app, the company provides comprehensive assembling tutorials which are easy to follow.
Made of Durable Material: Monkii bars consist of powder-covered aluminum grips with straps made of abrasion and weather-resistant material. The handles are separate units from the straps. These solo straps offer a gymnast ring-like challenge, giving you the versatility you need for your workout.
Monkii App: This mobile fitness app has loads of workout videos to challenge and motivate you as you work out. The app is, without doubt, a major feature of the system. It also features detailed kit assembling tutorials to help you set up everything you need before your workout session.
Money-Back Guarantee and Life-long Warranty: If you are unsatisfied with your experience after buying Monkii bars, you are eligible for a refund when you return it within the stipulated time frame. You will also receive a life-long warranty to repair or replace your Monkii bars, provided the damage occurred while using the trainer per the instructions.
Monkii Bars – Drawbacks
Having mentored the "couch potato" through to a reasonable standard of fitness, to stay motivated with this system of training, whether Monkii Bars, TRX or any other form of suspension training, you have to have a little strength related fitness already.
Which leads me to the second point, a similar one but not the same. More of an elephant in the room if you plan to start exercising and get fit using the Monkii Bars.
If you walk into a gym for the first time you might feel overwhelmed with all the well-meaning but aggressive-looking pieces of gym equipment.
But you're soon reassured when the Personal Trainer takes you around and shows and demonstrates each piece and what it does.
It's the complete reverse when you open up Monkii Bars. It's totally underwhelming. I personally found it very difficult to jump on in and start a medley of beneficial routines that had any coherence or any enjoyment, come to that.
So for anyone with little or no experience in exercise self-motivation I can see the Monkii Bars quickly put at the back of a draw and forgotten about.
What was totally necessary was to use their excellent app. This shows, clearly not only how to do each exercise but grades the programs into different categories of abilities or categories based on how you feel on that day.
I'm not a great advocate of following generic limited day programs (I guess I'm just used to bespoke programs) however I would follow along with the (again excellent) 21 day training program that comes with the Monkiis.
I said I would say it again so here it is. Monkii is pretty expensive for what it is. Whether it's the full version or the Pocket Monkii.
There isn't a great deal of difference between the MB2 Kit and the Pocket. The foot straps are part of the Pocket version but it doesn't stop the range of exercises. For me, the best value for money option out of the 2 Monkii Bars offerings is the Pocket.
Considering Purchasing a Monkii Bar?
The Monkii Bar system is a great workout option for the home or outdoors. It easily attaches to doors but also trees or other solid construction. it's especially useful for travelers because it is so portable.
Besides, it gives work-at-home parents, like me, an alternative to maintain their fitness goals while keeping up with their busy lifestyles.
This suspension trainer delivers an intense and challenging workout depending on your versatility and strength.
Unlike other suspension trainers that come fully assembled, the Monkii Bars system comes with separate grips, straps, and anchors. If you're after the convenience of a suspension system that you can easily take anywhere then you'll need to dismantle them when you're done with it.
Someone on the move might consider one disassembled ready to go and another assembled and ready to use in the house, garden or park.
With the Monkii app, you will have access to excellent videos and tutorials guaranteed to get you hooked on the fitness program. The app also has how-to guidelines to help you assemble the kit.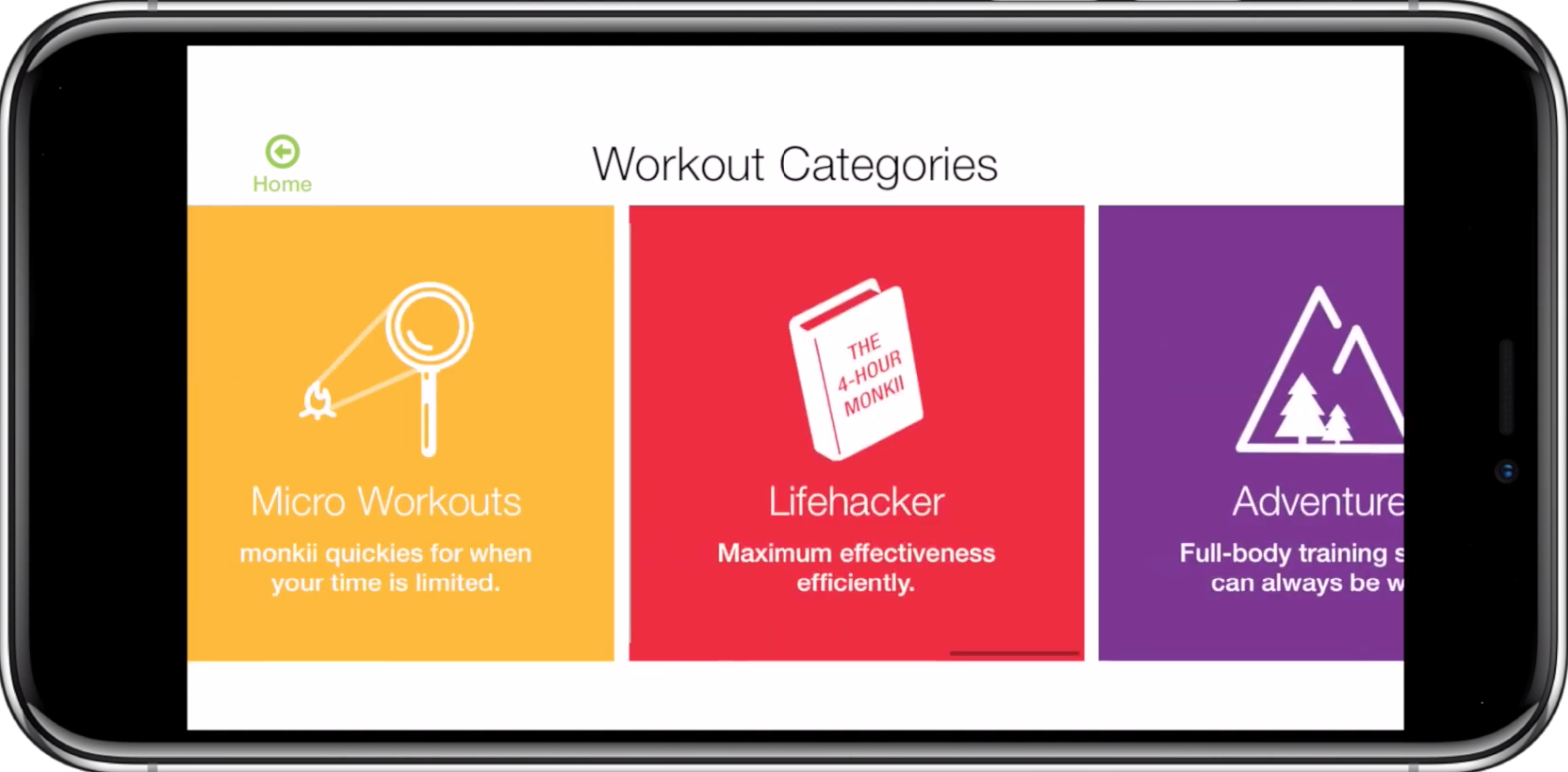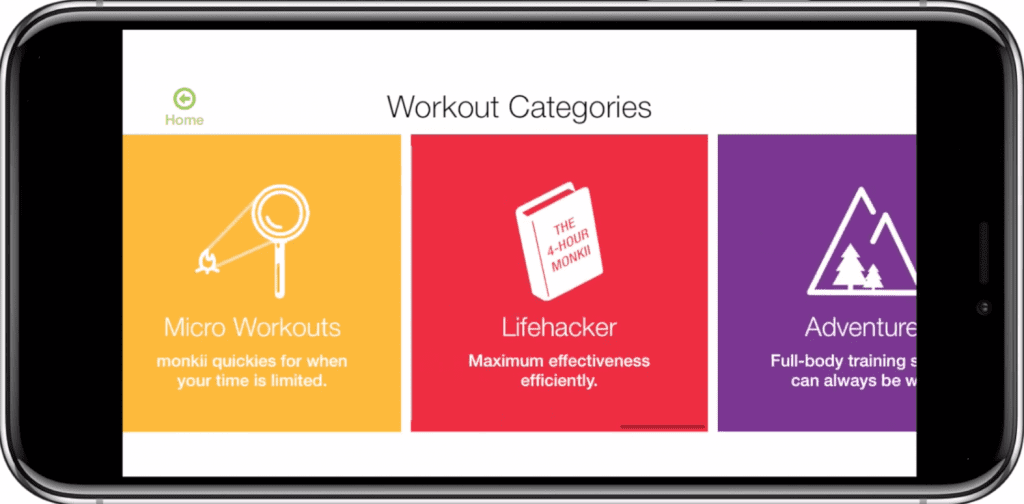 Alternatives for Monkii Bars
Not exactly comparable but a lot easier on the wallet and still very effective are resistance bands. Get to grips with these and they can provide a progressively difficult level of strength training.
Monkii Bars are particularly good as a compact fitness tool. I can also recommend these suspension trainers:
TRX Suspension Trainers
Like the Monkii Bars, the TRX is portable, and you can use it anywhere you go. The one thing that makes this workout tool stand out is it supports a much heavier weight than Monkii bars. The material used to make TRX is heavier.
Check out our review of TRX Trainers here.        
Monkii Bars vs TRX – a Brief Comparison
Monkii bars are lightweight and easy to pack, while the TRX trainers are heavier and a little more difficult to pack and carry.
It takes more time to assemble and use the Monkii bars than TRX trainers.
The maximum user weight for Monkii bars is 250 pounds, while TRX trainers accommodate up to 350pounds.
Monkii has a good associated app providing workouts and how-to videos. TRX has a more extensive range of on-demand videos with diverse trainers and training types.
INTENT SPORTS Bodyweight Fitness Kit
This suspension trainer looks to have a nice setup. It has two handles, a door anchor, and a user guide with over 70 workouts. It is also portable and works both indoors and outdoors. It is decidedly cheaper than TRX or Monkii however the last time I looked, unfortunately, the Fitness Kit was unavailable.
---
Summing Up Our Review of The Monkii Bars
Suspension trainers help you meet your body strength goals from anywhere, whether at home, outdoors or traveling.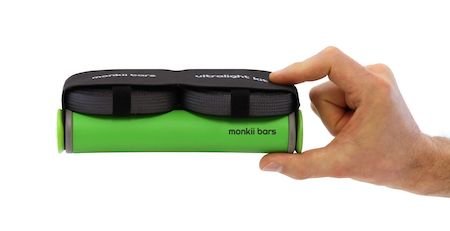 Monkii Bars are compact, easy to use, and come with a fitness app with lots of videos to help you set up the workout tool, learn different workout techniques and stay motivated. Check out the very portable Monkii equipment.