I discovered strength training using your body weight with suspension trainers a few of years ago now and was pleased I did. Using them as a "no fuss" way of staying strong after having 2 kids suited my lifestyle.
I spent a while researching and looking for the best suspension trainers and even got a chance to use different brands to find the one that worked for me. Hopefully, these suspension trainer reviews will benefit someone who, like me, wants to get a comprehensive workout at home and for me, keeping one eye on the kids.
My outstanding choice was the original and in our opinion the best. Although there are cheaper ones around the TRX System is our clear winner. But first…
How To Choose a Suspension Trainer
Suppose you are unfamiliar with suspension training or considering including a suspension trainer in your home strength training routine. In that case, there are a few things to consider before choosing the one that best suits your needs.
Suspension Trainer Materials
Workout programs vary depending on your weight, abilities, or space available. You should be comfortable that the suspension trainer is of high-quality material. Because of the weight exerted, all the components, the cradles, straps, handles, carabiniers should be made from high-grade material.
Dual or Single Anchor Points
One of our reviews has a dual anchor system which is better for more strength orientated workouts and less for circuits or cardio-based exercise. This is because it takes longer to set up and configure the equipment, in particular the strap lengths, between routines – this is like the time and bother taken when changing weight stacks in traditional strength training using weights.
The single anchor system is rotational though, so these suspension trainers have their own form of flexibility and versatility that the dual anchor system doesn't.
Where To Anchor The Suspension Trainer
Check the suspension system to ensure it fits seamlessly into your home design. If you plan on anchoring the system's straps onto your door there shouldn't be a problem as all the systems reviewed here can do that.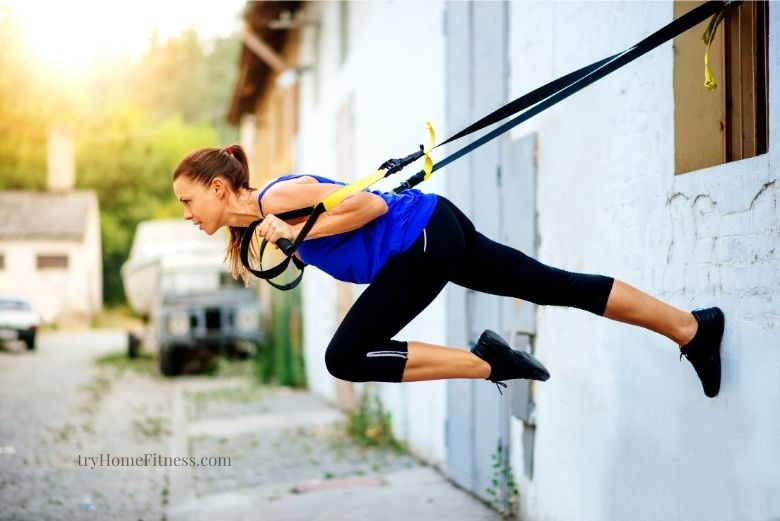 If you want to fix the trainers directly to the wall or ceiling, you might want to check to see if the mounts are included and if the straps allow for the required range of motion when fixed.
Finally, of course, make sure the suspension trainer meets your expectations vis-a-vis price and functionality.
Comfort
Most of the time you might find, as I always do when punishing yourself "on the straps" comfort doesn't play a big part in how you're feeling. But you don't want additional discomfort with handles for the hands and ankle cuffs. Generally, the handgrips are nicely molded with some padding. The feet straps may be a flexible nylon-like material or a molded plastic.
Without further ado, here are five of the best suspension trainers I have come across.
This article includes affiliate links. If you choose to purchase any of the products we have discussed in this article, we may receive a small commission.
TRX All-In-One Home System
The TRX (Total Body Resistance Exercise) system is a high-quality product, ideal for beginner exercises or even advanced athlete training. There are other models available. The TRX Pro, for example, offer a little more versatility, some components materials are better quality and you are able to securely lock the kit to avoid theft.
I believe this model, a bundle whose core product is the TRX Home1 is a decent price point and has all someone starting out, needs. There is a later model, the Home2 which you can check out on the TRX website.
This TRX product comes with two types of anchors, a wall anchor and another design for indoors or out so you can use it on doors, poles, beams, or trees.
Floor space and area needed? Think of working within a cube of around 10 x 10 x 10 feet being the optimal amount of space. Somewhat less could be workable.
It also has rotating foam handles and adjustable straps. You can have a full-body workout incorporating exercises such as planks, squats, and rotational movements thanks to the range of motion this set allows.
Besides accommodating all fitness levels, the TRX system is light and easy to pack when traveling. Suppose you've just started working out at home and have no experience whatsoever.
I was aware of most of the possibilities that are available with suspension trainers but for those newcomers, you get access to a TRX app. I know a lot of people are not always in favor of subscription-based apps but this one is free for the first year and it really opens up the full panoply of opportunities you have with this system. I highly recommend it.
Maximum load if using the wall mount is 750 lbs and minimum height for the anchor is around 7 ft. If a ceiling attachment is out of the question you can use a suitable door with the supplied door anchor.
You can advance to the next level or dial back on your exercise routine, depending on your fitness level. Even though the TRX All-in-One System accommodates all fitness levels, you may still require a fitness coach's guidance to brief you on proper use and techniques.
Strap length: 66″ (extendable to 84″)
Supported weight: 350 lbs
---
Lifeline Jungle Gym XT
While most suspension training systems are ideal for home exercises, the Lifeline Jungle Gym XT is particularly good for the extensive exercise workout possibilities.
This training set has easily attachable and very sturdy straps that you can anchor to doors, a bar or the branch of a tree.
It's USP has got to be the 2-point anchor system which allows a variable width to increase the number of exercises as well as the muscles groups that is targeted. This is the only system that we've reviewed that has 2 anchor points. Even the TRX has just the one.
I like the buckle and anchor points design. Quick to setup or configure and I can't imagine the anchors will damage the door frame in any way.
Again the ankle straps are of the same molded plastic but shaped nicely for the feet unlike the TRX or the other options which tend to be simpler but more flexible with their D ring design. The ankle cuffs may be more contoured hard plastic for the foot but they may limit some of the "foot suspending" exercises.
Strap length goes from 16" for chin-ups and pull-ups to 8' feet. However there is a fault with the strap slide which fixes the length. It doesn't work properly. Searching through reviews I found a number of other people with the same gripe. The company is aware so perhaps it'll get fixed in a later model.
The Jungle Gym XT comes with workout charts and instruction videos suitable for all fitness levels. The entire set comprises high-quality and durable materials that are easy to clean and store after your workout.
Compared to other models like the TRX the Lifeline Jungle Gym is good value for money.
Strap length: 96″
Supported weight: 600 lbs
PROS:
Reputable & innovative US company
Dual anchor points
Sturdy finish
Good price
Easy to clean
CONS:
Strap lock faulty
Less compact than others
---
GoFit Extreme Pro Gym Set
If you are looking for an affordable but effective suspension trainer, then the GoFit Extreme Set is a good choice from a maker who specializes in this sort of home "strength-building" equipment.
This suspension trainer comes with four rubber resistance bands with strength resistance options of 20, 30, 40, or 50 pounds. These options are beneficial if you are a beginner who is yet to adjust to home exercising. It also means a larger range of movements can be done – concentrating on the leg muscles will require the bigger resistance bands, for instance.
The bands are definitely the component that stands out with this set. They are reinforced with thick nylon and extra stitching. As you can use multiple bands the total resistance is 140 lbs. Although, because of the physics surrounding pulleys and levers, this wouldn't be comparable to the same as a dead weight.
This set includes two sturdy door anchors and two attachable handles with a comfortable grip for accessible outdoor or indoor workouts. It also prioritizes your home workouts' safety by having two reinforced and padded ankle straps.
The quality of build isn't quite there compared to the TRX. The ankle straps, for instance aren't as padded and therefore comfortable as they should and I could see them failing at some point with the weight they're going to have to endure.
The GoFit set also comes in a nifty light bag for easy portability.
While the GoFit Extreme Pro Gym Set is affordable and comes with a helpful booklet for beginners, you may eventually need to replace some bands. Considering its quality and durability, I find this suspension training set to be quite average.
Strap (band) length: 56″
PROS:
Good value
Resistance bands have measurable resistance
Can combine resistance bands
The grips on the handles are comfortable
Good instructions via dvd
CONS:
Quality of some materials could be better
No wall anchor just door attachment
No media to step through the moves
---
Monkii Bars
If you are a minimalist and an adventurous type of trainer, the Monkii bar will be valuable to your home exercise routine. This ultra-light but robust trainer set comes with two durable straps, ideal for anchoring on doors or ceilings for indoor workouts or on trees when exercising outside.
Monkii bars come in a portable, hassle-free case when packing for traveling or an office workout. The Monkii bar tactical kit also provides value for money thanks to its durable nylon outer fabric and cerakote grips designed for extended use.
For more effortless functionality and versatility of your strength training exercises, the Monkii bar set has removable foot and suspension straps.
What I really loved about this Monkii bar system was the outstanding and detailed training program targeted at beginners.
This program allows you to create your workout routine and includes quick guidelines on getting started with proper form and foundation strength tips. This is going beyond what might be expected of a similar suspension training system. Yes, even the TRX although in fairness the TRX system has a host of accompanying helpful media as well as a community. Anyway, I digress.
The Monkii bar suspension training set comes in three categories, the Ultra-light, Adventure, and Tactical set. Unfortunately, the Ultra-Light set does not include built-in door attachments or an adventure case.
PROS:
Outstanding portability
Great design
Surprisingly durable looking
Easily attachable to door or tree
CONS:
Expensive
Excessive time can be spent on setup and configuring the strings
Big drawback – not currently available (May 2021)
---
The Auster Traveller
Currently unavailable in the US at the moment but coming shortly
The Auster Traveller suspension training set has a lightweight pack designed to include everything you need for comfortable strength training at home. The Auster Traveller set has good quality straps and a solid anchor point that works for all fitness levels. Besides being flexible and providing a good grip, these straps are among the safest on the market; they can withstand up to 1220 lbs of force.
When it comes to durability, the Auster Traveler is up there with some of the most durable suspension trainers on the market. This set consists of aerospace-grade aluminum for all its carabiners, clips, and anchors.
On the flip side, if you have limited space for exercising, this suspension trainer may not be ideal for you because the main anchor works best for outdoor exercising. This suspension training set is also more expensive when compared to other options available on the market.
---
Frequently Asked Questions about Suspension Trainers
How do suspension trainers work?
Suspension trainers have adjustable and stretchable bands anchored on doors, ceilings, or trees to suspend parts of your body in the air. This training helps engage your core muscles by requiring you to maintain proper posture and resistance during exercises.
Is suspension training suitable for beginners?
Yes. Most suspension training sets include online charts, downloadable videos, and user manuals with guidelines for beginners' basic exercise routines.
What does suspension training involve?
Suspension training involves exercises such as planks, crunches, and push-ups. The difference is the increased use of body weight as resistance by changing the suspended angle between you and the ground with the use of straps. It is as or more effective than conventional exercising and it utilizes the same principles as bodyweight training.
And Finally
All the suspension trainers mentioned above meet the criteria as effective and good choices for TRX training. However, for strength training at home, the TRX system exceeds its competition; this set is versatile, high quality, and built for safety.
Besides, it includes an excellent exercise routine for both indoor and outdoor activities. The TRX Home System is also a highly recommended training kit for gyms, fitness centers, and schools because of its versatility in professional training and basic exercises.