Jumping rope is more than just a childhood pastime. Today, this exercise is used by professional athletes the world over to elevate their fitness.
Yet, you need the right equipment. A rope from the dollar store isn't going to deliver the results you require. We have brought you the ultimate in skipping ropes.
Disclaimer: This article contains affiliate links, if you choose to purchase any of the products discussed, we may receive a small commission which does not affect the purchase price.
If you want to skip the benefits and buying guide and get straight to the best speed rope top picks, here they are:
The Best Speed Rope for Home Fitness
Here are my top picks, starting with what I consider to be the ultimate best speed rope for home fitness:
It's one of the most incredible ropes currently on the market. I'd suggest this is the best speed rope if you're demanding a seriously professional product.
Both of the handles taper as they near the cable attachment mechanism. This lowers air resistance allowing you to increase spin rapidity. Furthermore, they're lightly knurled (textured) to promote a secure grip and encourage sweat dispersion of the hands.
The handle and cable connectors are at 90 degrees, with multidirectional bearings. This means fast skipping in any direction. I'd suggest that this may appeal to those looking to incorporate tricks or advanced movements into their training sessions.
This rope's cable is 120-inches long with a 0.09-inch diameter. For smaller users, you can easily adjust the length by the turn of a simple screw mechanism.
Pros:
The choice of 10 different colors may appeal to fashion-forward individuals.
Made in the USA.
Aluminum handles are lightweight.
Eleven-foot cables are available for taller athletes.
A long handle length (6.75 inches) enables faster rotating speeds.
Respected manufacturer.
Cons:
May require some practice to adjust to the long handle grips.
---
Although it was close, the Beast Gear slips into second place behind the mighty Rogue SR-2. However, it's still an excellent rope designed to increase momentum, made from a flexible steel cable.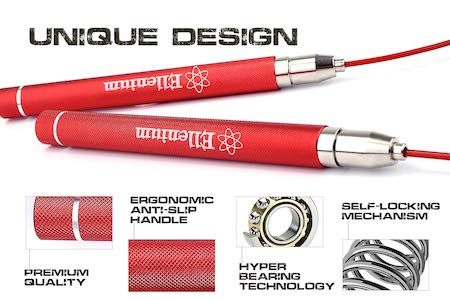 With precision-engineered ball bearings, the rotation of the cable is both rapid and smooth.
If you're one of those people who hammer their training equipment to the max, this may be the best speed rope. This is because it includes a free spare cable as a replacement for when the original becomes worn through intense use.
The cable length can be shortened or lengthened with the included Allen key. But don't worry, you're not going to lose it. When not in use, it hides inside one of the handle grips.
Furthermore, the cable has an outdoor protector. This is a sheath that covers the cable, protecting it against damage when striking the floor. This is particularly useful for those skipping on hard concrete.
Finally, the manufacturers have designed the cable to have high momentum properties, increasing speed and therefore, workout intensity.
Pros:
Constructed from industrial strength aluminum for durability.
Weighs just 200 grams.
Includes a bag for safe storage and to prevent tangles.
Possibly the best speed rope in a price vs. quality comparison.
Cons:
Handles have grooves to prevent slippage, although they may be insufficient for hardcore users.
The cable isn't at 90 degrees to the handle.
Only available in one color.
---
If you're a tall athlete, I'd suggest that this may be the best speed rope for you. With a lengthy 12 foot cable, this will be suitable for people who exceed six feet.

However, if you're not this statuesque height, the rope length can be easily adjusted with the included tool. You will need your own wire cutters to remove the excess.
The heavily knurled handles have a checkered texture, providing a secure grip. This could be an excellent choice for those who perspire easily or take their training workouts to the extreme.
The outdoor-protected cable attaches to the handles at 90 degrees, allowing for a full range of smooth movement. Furthermore, internal bushes promote a multidirectional ability for backward or forward skipping.
Pros:
Minimalist design may appeal to those with more reserved tastes.
Suitable for outdoor use.
Lifetime guarantee on the handles.
Comes complete with a microfiber bag for safe storage.
Cons:
Handles don't taper toward the ends, which can reduce spinning speed.
Pastel color may not appeal to everyone.
---
If you're a CrossFit enthusiast, this may be the best speed rope for your needs. The construction enables you to complete the formidable cardio double-under maneuver more easily. Reassuringly, a professional athlete has designed it.
It achieves this through a combination of speed ball-bearings and tapered handles, to create the maximum velocity. Furthermore, as you'd expect with a speed rope designed for high intensity, the cable attaches at a 90-degree angle.
You can adjust the cable length by trimming it down to your particular size.
However, in my opinion, this rope has a slight flaw. While the handles are lightweight, they're plastic and lack any texturing. This could lead to slippage.
What's more, if the plastic handles hit the floor at speed, they're unlikely to be as hard-wearing as aluminum types.
Pros:
Comes with a drawstring bag for protection and to prevent tangling.
Modern appearance.
Available in a choice of eight colors (for both handles and cables).
Weighs 227 grams.
Cons:
With plastic handles, I'd suggest it may not be sturdy enough for extreme use.
Little grip may mean slippage during intense workouts.
Lack of protective coating on the cable may promote wear when used outdoors.
---
In my opinion, if you want the most affordable best speed rope on the market, then this is it. Yet, despite its budget-friendly price, this is still packed with features.

Its anti-slip handles are rubberized and molded to fit tightly into the palms of your hands. Meaning that accidental release is unlikely, even in your toughest workouts.
The 124-inch cable attaches at 90 degrees. You can adjust the length by turning a screw. Hence, there's no requirement to chop the cable before use, making it appealing if different family members will be using the same rope.
Furthermore, if you're new to skipping exercises, this rope comes complete with a training ebook. This manual includes rope-jumping tips and numerous workouts.
Pros:
Impressively light on the wallet for a seriously effective product.
Includes a carry bag and two steel ropes.
Manufactured with a non-kinking wire.
Weighs just 154 grams.
A seven ball bearing head promotes smooth use.
Cons:
The short handle length (5.3 inches) makes achieving rapid rotations difficult.
---
What Is a Speed Rope?
If you haven't touched a skipping rope since childhood, you might recall the two wooden handles with a thick cord passing between both.
Today, they're much more advanced.
Try and use the skipping rope of your youth for intense training and you'll be sadly disappointed. It's too cumbersome, weighty and you won't be able to swing the rope itself quickly enough to raise your heartbeat.
The best speed rope provides the ultimate home workout.

Generally speaking, their handles are made from lightweight materials (such as aluminum) to allow for comfortable movement.
The "rope" itself is actually a cable, providing more momentum than a thick twisted piece of string (due to its heavier weight). This leads to faster rotation and, therefore, more intense exercise.
Furthermore, this cable usually leaves the handles at a right angle, which promotes a more efficient turning position.
Jump Rope vs. Speed Rope
Often, people use the words "jump rope" and "speed rope" interchangeably. However, there's a difference.
The critical variation is that jump ropes are heavier. Their handles contain additional materials to increase their mass. This elevates the resistance on your upper body during skipping workouts.
Furthermore, the cable is thicker to increase weight and difficulty. Again, raising the amount of effort required to turn the "rope." Traditionally, athletes use weighted jump ropes to increase muscle size.
Speed ropes promote cardiovascular health, elevate stamina and encourage weight loss. Research shows that 10 minutes of skipping provides the same cardio benefits as 30 minutes of jogging.
So to be clear, this article doesn't include the best jump rope, we're only concerned with the speed type.
The Benefits of Using the Best Speed Rope
The practical and health benefits of using the best speed rope are immense. These include:
1. Can Be Completed Anywhere
Well, almost. Performing an intense skipping workout near your 16th-century heirloom vase, passed down from your grandmother, isn't a good idea.
However, if you have sufficient space in your home (with a high ceiling), you don't have to visit a gym. Alternatively, use your yard or local park.
2. Budget-Friendly
For a full-body workout, there's probably no other piece of training equipment this light on your bank balance.
3. Ideal for All Skill and Fitness Levels
Whether a beginner or Rocky-Esque expert, training intensity is controlled by you. As your ability increases, you can raise the difficulty as required by increasing your rotational speed.
4. Suitable for a Variety of Applications
You can use the speed rope in a variety of disciplines, including:
HIIT (high-intensity interval training).
MMA (mixed martial arts).
CrossFit.
Boxing.
General fitness and weight loss.
Speed rope work is synonymous with boxing and boxers. Take a look at this video, illustrating some mad workouts by some of the biggest names in boxing over the years.

5. Promotes a Healthy Heart
Skipping improves cardiovascular health. Research from 2019 illustrates that jumping rope reduces the risk of developing heart-related diseases.
6. Boosts Fat Loss
The best speed rope can help you trim down to obtain that beach-ready body. Experts agree that skipping can burn over 800 calories per hour for a 185-pound individual.
7. Increases Stamina
A recent article, published in the Journal of Sports Medicine and Physical Fitness, demonstrates that jumping rope heightens endurance. This results in less chance of injury improves your functional fitness and allows for longer workouts.
8. Raises Bone Density
While maintaining healthy bones is essential for all ages, it's particularly relevant to those of more mature years. Since, as we age, our bone density decreases.
Research explains that using the best speed rope can elevate bone density.
9. Heightens Coordination and Mobility
If you're not as steady on your feet as you used to be, then invest in the best speed rope.
Scientists discovered that completing a rope-jumping program for just eight weeks raised the coordination and heightened motor skill ability of young athletes.
What to Look for in the Best Speed Rope?
Two handles and a length of cable, right? What more is there to worry about?
Well, the best examples on the market all have their particular characteristics and features that you need to consider when making your purchase.
Here are some factors you should look out for when selecting the best speed rope:
Ninety-Degree Handle
For the ultimate in speed, you need the cable to leave the handle at an angle of 90 degrees. Watch any of the professionals. It's the only type they use.
Ball Bearings in the Handles
These allow for both a quicker and more flowing movement of the cable. This enables you to jump faster and push your body harder.
Handle Grip
The more intense your workouts are, the higher your chances of getting the unwanted sweaty palms. This can lead to the rope handles flying out of your hands at a high speed.
The best speed rope will have either textured or padded handles to increase purchase (grip) and elevate comfort to prevent fatigue.
Easy Length Adjustment
You need to set the cable at the perfect length for your height. Too long and it'll lose speed as it hits the floor, too short, and it won't pass over your head.
---
Ready to Jump?
The best speed rope on the market, in my opinion, is the Rogue SR-2 2.0 Speed Rope. While the others in this list have some impressive features, only the Rogue has everything.
Its anti-slip aluminum handle grips will remain secure in your grasp. Furthermore, their long tapering enables you to build up some immense speed. Multidirectional bearings and a 90-degree cable angle mean that however complex your movements, this speed rope can cope.
Made in the USA and easily adjustable for height, this rope is ideal for both novices and professionals.
The bottom line:
If you want the immense cardio-boosting, fat-shredding and stamina-building effects that rope jumping can provide, look no further than the Rogue SR-2 2.0 Speed Rope.