Whether you want to lose weight, build and tone your muscles or try cardio that is gentle on your joints, a rowing machine can be good news. It's a full-body workout targeting your legs, core, and arms.
However, choosing the best rowing machine for apartment living is challenging. Some of these machines are pretty loud, and you don't want to annoy your grumpy neighbor.
We picked the well-trusted favorite of mine the Concept2 Model D.
You need a machine that performs well while being quiet enough to avoid disturbing the rest of the household and neighbors.
This article includes affiliate links. If you choose to purchase any of the products we have discussed in this article, we may receive a small commission.
And here is the full-list to give you more options:
Concept2 Model D is the most popular and best-selling rowing machine for over 40 years! So, there's no room for any doubts. It's an outstanding rower with stellar features.
It's been a favorite of mine for many years and we've also featured the concept 2 Model D as our pick of the top overall home rowing machines, still for 2023.
It's most likely the same model that you'll see at the local gym and they are made in Vermont.

Like other air rowers, it provides a realistic feel, similar to real rowing. The harder you pull, the greater the resistance. Furthermore, you can adjust the resistance with a 10-level damper.
Unlike most other air rowers, it is relatively quiet. Actually, it's very quiet at a low level setting, especially for an air rower.
You can fold the screen back, roll the machine to where you want to store it and lift the stem up so that the whole machine is resting on it's front so taking up very little floor space.
Alternatively, the stem easily comes away from the front so the machine is in 2 pieces, for, I would suggest, longer term storage.
The backlit LCD display is above the handlebars, so the chain doesn't obstruct your view. To sum it up, this model offers the highest quality and best performance.
Dimensions: Assembled: 96" long and 24" wide Disassembled: 33" x 25" x 53"
Resistance system: Air
Weight capacity: 500 lb
Pros:
Renowned maker.
Made in the US.

Durable.

Compatible with a wide range of fitness apps.

Outstanding weight capacity. Even the heaviest persons can use this machine.

Nickel-plated steel chain.

Advanced monitor with adjustable height and angle.
Cons:
A little bit loud at high-intensity levels.
---
RW1000 Indoor Rower is one of the quietest models out there, making it a great choice for apartments. But it also performs great. It's a sturdy and reliable machine. With 5 levels of resistance, it can fit anybody's needs for a low-impact workout.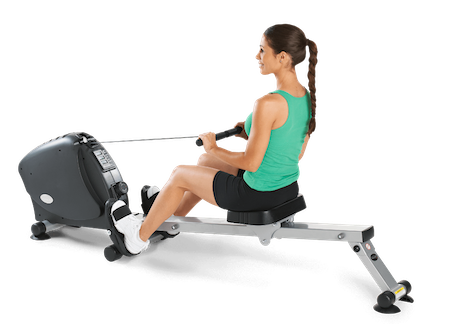 Compact design and easy-folding mechanism allow you to save some space after the workout.
Maybe it doesn't have many bells and whistles, but it's a great value for money.
Lifespan has another model, RW7000, a versatile and powerful hybrid magnetic & air rower. It didn't make it to our list because it's more expensive, rather large, can't fold, and not as quiet on air settings.
However, if your apartment is well-isolated and you prefer more intensive workouts it may be a great choice for you.
Dimensions: Unfolded: 90" x 18.5" x 23" Folded: 34" x 19" x 64"

Resistance system: Magnetic

Weight capacity: 300 lb
Pros:
Very quiet, almost noiseless.

Very compact when folded.

Cordless. The display runs on batteries.

Great for light to moderate workout.
Cons:
Even the highest level of resistance isn't that demanding for the super fit.

Inaccurate calorie count. It stays the same when you change the resistance level.
---
The Stamina Avari rower is not the prettiest model, but it is pretty functional. It is a compact and very quiet rower. The foam-padded handle and ergonomic seat provide excellent grip and comfort. It is very easy to assemble and it folds nicely for storage.

The backlit display is intuitive and beginner-friendly. Moreover, it offers 12 workout programs plus usual data (count, distance, time, calories, stroke rates).
Besides being virtually silent, the most remarkable feature is the heart rate program. It monitors your heart rate and automatically adjusts resistance to keep you in the optimum zone.
While we didn't like the short warranty period, it appears to be sturdy and durable.
Dimensions: Assembled: 81" x 20" x 24.5" Disassembled: 36" x 20" x 53.5"
Resistance system: Magnetic
Pros:
Very quiet.
12 workout programs.
Heart rate chest strap.
Easy to put together.
Cons:
Not enough resistance for a high-intensity workout.
Short warranty period.
---
If you're looking for a budget rowing machine, this is the one. It is by no means the best rower out there, but considering the price, it is a bargain.

SF-RW5515 is a smooth and quiet rowing machine. It's a great machine to enter the world of (indoor) rowing.
While it may have some issues such as limited display options, it is reliable when it matters most. With 8 levels of resistance, it will provide an excellent low-impact workout.
And there's a bonus: an extra-long slide rail makes it great for people with very long legs. Just as long as they're not over 250 pounds.
Dimensions: Unfolded: 82" x 19" x 23" Folded: 37" x 19" x 23"
Resistance system: Magnetic
Weight capacity: 250 lb
Pros:
Affordable.
8 intensity levels.
Generous slide rail. 44 inches in inseam length will allow tall persons to exercise comfortably.
Quiet.
Cons:
Low weight capacity.
Unreliable display.
---
You want to exercise at home, but you still like to feel as if you're on the lake? No problem, Mr. Rudolph rower will provide. It has a water flywheel so it emulates a water-rowing experience.
The frame is made of oak wood and it really looks good and classy.
But, it's not just about the looks.

You can customize the intensity by changing the water level in the tank. The more water, the harder it gets to row. If filling or emptying the tank sounds cumbersome, there's a siphon pump included, making it a breeze.
Truth be told, it's not super quiet, but it's quieter than air rowers. And a swishing sound of water is pleasant for most people.
While competitive rowers would probably choose air rowers, a lovely design and great feel can make your workout more enjoyable.
Dimensions: 82" x 22" x 20"
Resistance system: Water
Weight capacity: 320 lb
Pros:
It feels like real rowing.

Elegant and stylish.

Adjustable resistance.

Bluetooth monitor.

Soothing "whooshy" sound?
Cons:
Annoying "whooshy" sound?

Monitor is dim and difficult to read while exercising.
---
How to Choose the Best Rowing Machine for Apartment
Choosing a rowing machine begins at your home. You're not looking for the best machine, but the one that fits your needs as well as your apartment.
Space. Rowers are pretty long. So, you need to make sure that you have enough space to fit it and store it. Measure your available space and leave some extra space for free arm movement.
For other cardio machines for the home, we have gone into some depth in uncovering more compact exercise equipment for tighter spaces.
Noise. It can be a major issue when living in an apartment. Of course, it depends on isolation. With decent isolation, you can use some quieter air rowers. But, if your isolation is awful, you should probably choose either a water rower or the quietest of all, a magnetic rower.
Your Goals. All rowing machines are great for toning your muscles and losing weight. But, if you prefer a high-intensity workout, you need to choose carefully. Water and magnetic rowers usually allow low to moderate levels of intensity.
Key Features to Consider
There are many things to consider when buying a rower for your apartment. Rowing machines have four distinct resistance types and they all perform differently. So, here's a short guide.
Rowing Machine Types
There are four types of resistance: air, magnetic, water, and hydraulic.
Hydraulic Rowing Machines
Hydraulic rowers are affordable and compact. However, due to somewhat unnatural rowing motion and unstable resistance levels, they are considered obsolete, and other types are becoming predominant.
Air Rowing Machines
Air rowing machines use air and flywheel to produce resistance. The majority of models come with dampers to provide additional resistance if needed. They provide smooth action and mimic rowing on the water quite decently.
Typically, they offer a wide range of resistance. So, whether you look for a light cardio exercise or you want to build muscles, air rovers will deliver.
On the downside, they are louder than other types.
Magnetic Rowing Machines
These machines use magnets to create resistance. As a result, they are almost silent. Usually, they are compact and provide smooth action.
However, the resistance is the same throughout the stroke. It doesn't affect your workout, but it doesn't "feel" like real rowing. Also, magnetic rowers typically produce less resistance than air rowers. So, they are great for low to moderate exercise but not as good for high-intensity training.
Water Rowing Machines
This is the youngest type of rowers. These machines come with a tank of water and a water flywheel to produce resistance. Typically, they are made of wood so they are elegant and classy.
All you have to do is close your eyes and you'll feel as if you're on the real boat.
You can't fold them, but usually, you can store them in a vertical position. They are also pricier than other types with similar performances.
You don't have to limit your choice to one resistance type. But, knowing the differences can help you narrow down your choice. Let's move on to check on the key features.
Reliability and Durability
The rower may look, feel, and sound great, but it won't matter if it's not consistent and durable. Repairing and changing parts is often frustrating as well as costly. Reliable and sturdy machines will keep you happy for years even if they don't have some fancy and advanced features.
Comfort
This one is obvious, isn't it? You don't want to quit the session because of a sore butt or slippery handles. The comfort often comes to personal preferences, but a padded seat, non-slip handlebar, and adjustable footplates work well for most of us.
Weight Capacity and Slide Rail Length
Home exercise equipment should take as little space as possible. Consequently, it can be too compact for tall or overweight persons. Measure your inseam length and weight to make sure to get the machine that fits you.
Versatility and Programming
You may wonder what kind of versatility are we talking about? All you can do is rowing, right? Sure, but there's a "but". Two things make the rower more or less versatile.
First, the resistance range. Some rowing machines can have only one level of resistance while others have 10 or a variable amount. Obviously, it changes the intensity of your workout quite a lot.
Secondly, advanced machines come with a wide variety of preset workouts, apps compatibility, and data tracking capabilities.
Benefits of Rowing Machines
It's a Total Body Workout
Rowing at home engages around 86% of your muscles! It mainly targets the lower body, but your core and arms will work as well. The ratio between the lower and upper body engagement is roughly 65% to 35%. So, you'll get total body conditioning.
Rowing will also increase your strength and endurance.
It's Great for People of All Ages and Fitness Levels
Different resistance levels provide versatility to meet everybody's needs. Whether you prefer high-intensity workouts or you're a beginner, a rower will suit you fine.
Rowing Decreases Injury Risks
Speaking of high-intensity exercises like sprints and jumps are hard on the body, particularly on joints. Rowing and other low-impact regimes are more forgiving and put minimal stress on your joints.
Rowing is also great for active recovery from an injury.
Caveat: Make sure to use the correct rowing technique.
It's Great for Your Heart and Lungs
Rowing is an effective cardio workout. It increases your heart rate and oxygen intake. So, it's great for your cardiovascular system. As a "side effect", you can lose weight and improve your stamina.
It's Convenient
You don't need to leave your apartment to reap the benefits of this effective workout. With a rowing machine, you get a simple and accessible workout whenever you want.
Conclusion
Now, you're equipped with the knowledge to search for a perfect rowing machine for your apartment.
Our top choice is a Concept2 Model D. Not all apartments are alike so it was difficult, even for us, to reach the final verdict. Simply, the worse the isolation at your apartment, the more you have to consider noise levels.
Only if your apartment has awful isolation and you need a very intensive workout, this machine would be too loud. But so can be your dryer, dishwasher, or even TV.
Still, at the end of the day, you need your rower to perform. And that's where Concept2 Model D shines. It offers exceptional quality, versatility, and unmatched durability. It's also very compact, easy to store, and quiet enough.