Functional trainers or otherwise known as cable crossover machines rely on weight stacks, cables and pulleys and the best ones give an almost limitless way of performing controlled workout exercises.
Below is a review of our top pick of 5 and of those five we rated the XMark XM-7626 Cable Machine as the best functional trainer in 2023 given the quality build, smooth action and excellent after-sales support. A good price too.
Disclaimer: This article contains affiliate links, if you choose to purchase any of the products discussed, we may receive a small commission which does not affect the purchase price.
The complete list of reviewed machines are:
You can pay 10 times the price of most of the above and get a commercial-grade functional trainer with all the bells and whistles but we had the wallet in mind when choosing these practical machines for the home gym market so here they are in more detail.
Reviews of the Best Functional Trainers
The XM-7626 functional trainer is a nice piece of equipment to add to your home gym. It has quick-adjust pulleys with 19 settings spaced 3.5" apart with a number of attachments.
The FT comes with two 8″ hand straps, a pair of 17″ long strap handles, a 23″ tricep rope, a short bar and a 42″ long bar, leg extension leg curl strap and an ankle strap.
There is a built-in split grip pull-up bar. A workout poster 24" x 34" describes 36 workout exercises.
As with the majority of well-built functional training systems, the build is of heavy-duty 11-gauge 2″ x 3″ welded steel mainframe construction. Hard durable plastic with steel bearings makes the pull-up rig and pulley system very smooth.
The cables extend 81" from the pulleys and the space between pulleys is 60". The lowest setting is 1' to the highest setting of 6'6".
The weight pulley system ratio is 2:1 200lbs is 100lbs of effort.
The cast steel plate weights are 10 lbs. each and 1" thick. There are no weights upgrades but 5lb plates can be separately purchased although this will reduce the total weight stack. Space between weight stacks is 48".
If corner placed the machine unit will extend 52" from the corner down the side walls.
Assembled Dimensions: – 65"W x 43.5"L x 83"H – 760 lbs
Warranty: Lifetime in-home frame warranty and one year on hardware, pop pins, pulleys and cables.
Pros:
Great all round multi-gym
Compact, sturdy and functional
Smooth in action
Wide pulleys (60″)
Affordable price
Cons:
Assembly seemed to be the only fault with buyers… "You must run the cable as you install each pulley. Do not try to install the pulleys first"
Limited to the 2 x 200 lb stacks
---
There are weight stack options from 165, 215, 270 to 320lbs. Whatever weight you choose the Body-Solid Functional Trainer tower shows no wobble or sway with any workout.
The vertical carriage has fiberglass-reinforced nylon pulleys and locking universal attachment connections.
The aircraft cables are made of 4.8mm diameter spun steel rated to over 2,500 lbs.
The pulley system is incredibly adjustable – between the 20 height adjustments, the pulley attachments swivel 180 degrees, and the 2:1 pulley system allows the cables to travel 2x as far as the plates rise with frictionless resistance.
There are countless exercises that can be performed on this machine.
The frame components are constructed from commercial grade 11-gauge, 2″ x 4″ oval tubing with an electrostatically applied powder coat finish which adds to the machine's durability.
The high-density foam rubber handgrips and handles have an inner cylinder that rotates independently of the outer grip which is very comfortable. High-density injected molded end and foot caps.
The package includes a dual position pull-up bar although for a little extra the press bar is a great addition as it spans both columns allowing many exercises (squats, bench press, lat pulls, deadlifts, etc.) combining the weight of both towers.
The Body-Solid GDCC200 has a 60″ pulley to pulley distance apart. The height of the pulleys over the floor at the highest adjustment is 68″.
Assembled dimensions: 41.3"W x 78.4"L x 84.2"H – 551 lbs
Warranty: Lifetime
Pros:
Almost unlimited variety of workouts
A solid build
Wide pulleys (60")
Widely adjustable pulley system
Cons:
Assembly is difficult and heavy
The pull-up bar is a bit low for tall people
---
A well-designed machine the Inspire Fitness functional trainer is solid and weighty but compact fitting more easily into a residential property.
Inspire Fitness makes the FT2 which is a very similar machine with an inbuilt Smith machine but it costs a good deal more for something functionality we felt didn't warrant the price.
The standard offering comes with 2 165lb commercial weight stacks with center drilled holes and magnetic weight pin for safety but there is a 100lb upgrade – that's 50lb a stack.
The frame is heavy-duty 2″x4″ oval and 3″ round 11 gauge tubular steel and the electrostatic powder-coated finish means a durable, maintenance-free life span.
The quick, one-handed adjustable high/low pulley system adjusts to more than 30 height positions for all of your exercise needs. Pulleys swivel and are quite narrow at 48″ apart. The weight-to-effort ratio is 2:1.
The number of different exercises you can do on the FT1 is seriously only limited to your imagination. The pulleys are super smooth and quiet while using, and the whole thing is built solid!
The Inspire Fitness FT1 comes with a chrome pull-up bar but the fun part is at the back where the panel rotates to reveal more accessories.
All in all the FT1 comes with a multi-functional belt, EZ curl bar, straight bar, ankle cuff, sports handle, tricep rope, and 2 standard D handles.
The instructional flip chart offers color photos with over 40 different exercises
Split Resistance .5 resistance ratios provide a smooth, continuous feel and a longer range of motion for more versatility in your workout movements.
Apparently, assembly is easy with good instructions, each side is pre-assembled and easy to set up taking around a couple of hours.
Options available at an additional cost are FID Bench, 50 lbs Weight Stack Add On, and abdominal bar.
Assembled dimensions: 54″W x 46″L x 83″H – 950 lbs
Warranty: Residential: Limited Lifetime on frame and all parts.
Pros:
Compact but well-made machine
Comes with great additional add-ons as standard
Relatively easy to assemble
Cons:
Narrow pulley distance apart might not be to some's (who are after true cross-over) liking
---
This is another solidly built but relatively compact functional trainer by Bodycraft made with a combination of heavy plate steel and 11 gauge 2″ x 4″ and 1-3/4″ x 3-1/4″ oval steel tubing.
Gray and black textured finish with electromagnetically applied powder which is then baked on at high temperatures making it tough and durable. It's a nicely finished machine with good detail.
The dual-weight stack is 150lb each which can be upgraded to 200lb or can be purchased as an option. The weight stack to user weight ratio is 2:1 and resistance is in 5lb increments.
The aircraft cables reach 79.5″ inches and are made of flexible nylon-coated 7×19 cables rated at over 2000 lbs tensile strength riding on 3.5" fiberglass-impregnated nylon pulleys with sealed ball bearings.
The 2 column pulleys have 31 Height Positions and rotate 180 degrees allowing an impressive array of workout routines from any position and height. The space between the pulleys is a little narrow at 44″.
The FT by Bodycraft comes with a 70+ page book with different options to get you started which you can add to. Nice touch.
It also comes with a long bar, short bar, tricep rope, multi-purpose strap, ankle strap, 2 chains, 2 single handles and a built-in multi-grip pull-up bar. This all adds to the extensive array of useful workouts you can put yourself through.
In regard to smoothness in use and overall quality, this seemed to sum up most people's feelings towards this FT machine. "This machine is absolutely insane. It functions just as well as an $8,000 professional FT found in gyms."
Other options for an additional cost include stability balls, utility bench, power row and stack upgrade. If you're tempted with the weight stack upgrade, it's best to assemble it with the rest of the build and not do it later as it can be a bit troublesome.
Assembled dimensions: 56" W x 40" D x 82" H
Lifetime warranty on frame & parts (residential use)
Pros:
Compact and well-built
Great set of accessories as standard
Smooth action of pulley weights and cables
Lifetime warranty on frame & parts
Cons:
Like the Inspire narrow pulley distance inhibits true cross-over
---
More of a compact bijou cable machine than a functional trainer we had to include this really excellent and clever design if only for those who don't have the space for anything else.
It's mounted on the wall and the footprint is an incredible 25 x 24.5".
The BD-62 has a dual-pulley system with effectively one weight stack allowing 16 adjustment positions enabling a range of bilateral and unilateral exercises.
There's a double bar track which adds to the stability and lets the carriage system travel smoothly along the tracks and the resistance is provided by the weights which aren't provided.
Plates are slid on the short 1″ horizontal bars just like a standard barbell. You can use plates with 1″ or Olympic 2″ diameter holes. You can buy an adaptor for the Olympic plates but it isn't essential.
It comes with two single strap handles adjustable in 5 different positions, and spring clips for weight pegs.
Assembly might need some time and/or innovation.
The weight ratio is approximately 1 to 1 and you can do squats, lunges, ab crunches, chest presses, rows, single arm rows, pull throughs, face pulls, bicep curls, shoulder presses, reverse flyes and other workout exercises on the Valor Fitness Cable System.
One handle will travel 9.5′ on it's own and 6′ pulling on both handles from the frame
You can purchase standard cross cable attachments for lat pulldowns, tricep extensions etc.
This compact cable machine is not for heavy duty work, it is meant for isolation exercises and controlled movements. It isn't recommended to go over 200 lbs (although it is ratio 1:1).
Assembled Dimensions: 25″L x 24.5″W x 80″H – 62 lbs
Warranty: 3-year frame, 1-year cable.
Pros:
Great value for money
You can do a surprising variety of workouts
Cons:
Needs to be mounted securely top and bottom
Some owners felt the need to re-engineer the wall mounting
No bearings, so the action isn't 100% smooth although it beds in after time
Limited warranty
---
All About Functional Trainers
The basic design of the most prevalent functional training machines is a 2 column and frame with 2 side by side swivel pulleys attached to 2 stacks of weights. The weight load and the height of the pulleys can be easily adjusted.

There are less complicated machines with single stacks and/or cross over fixed pulleys.
Further development has seen new innovations with a single column machine with 2 arms that provide pneumatic resistance.
These look like something out of "Lost in Space" (before your time maybe) but are extremely functional and take up a lot less space and multi-user pieces allow group training.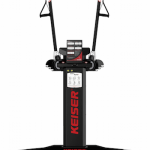 These machine like the commercial Keiser Functional Trainer even has a console screen that outputs data.
An all-in-one gym
Functional trainers are designed to allow you to exercise any part of the body in any and all directional paths just as you would whilst moving at work or play and everyday life. They are an all-in-one gym.
The person exercising using a functional trainer dictates the movements but by design, they are not on a fixed path so the smaller synergist muscles come in to play to stabilize the joint around which the movement is being made.
This is a more realistic representation of how we move and function every day rather than using gym machines that provide resistance in only one plane.
This type of exercise is called functional training – not surprisingly! And the equipment, functional trainers can also be "cable machines" or "cable crossovers".
Functional training
Functional trainers were originally developed for use to rehabilitate patients who had suffered a physical impairment or after strokes.
Training involves the repetition of basic functions, skills and endurance to help improve the muscular and cardiovascular systems.
Additionally, trainers were used to getting athletes to the peak of their abilities by improving the muscle groups associated with their particular sport.
But whether rehabilitating, peaking or starting out on a fitness journey, functional trainers and the methodology used in functional training can provide light resistance for most muscles in the body but then small increases in the weights at safe intervals get large improvements.
Functional training can help with stability, strength, coordination and mobility at any stage of life and at any ability level.
If you can imagine all the movement patterns that we articulate every day just to function normally – maintaining control over that would surely lead to better physical and mental health.
Having made the link between functional training and trainers a functional trainer machine isn't necessary to exercise the basic everyday patterns of movement like pushing, pulling, swiveling, squatting, lifting, etc.
Think of the multiple muscle groups you use in just getting out of a comfy chair. So any compound exercise can be used as a functional workout like squats, lunges, push-ups, etc.
Some of the 100s of workouts most functional trainers can offer.
Upper body – bicep curls, hammer curls, overhead triceps extensions, shoulder press, lat raise, reverse flys, upright rows, pulldowns, cable flys, chest press from any angle.
Lower body – glute kickbacks, straight leg deadlifts, cable squats, leg raises, hamstring curls…
…and many more.
What to Look For in a Functional Trainer
Size
Functional trainers can be big units with a large footprint. They need plenty of working space at the front especially if it's a wide machine or the width can be adjusted to be used as a cable crossover on wider settings.
The height is generally around 84" but most FT's have a pull-up bar so an allowance should be made for headroom.
Once the machine's in place that should be it. It can weigh 1000 lbs or more so you don't want to have to move it again.
Weight stacks
1 stack or 2? Having 2 weight stacks on your FT gives easier to use options and allows for 2 people to use the equipment if necessary.
It also means that workouts using both arms simultaneously ensure an even-balanced workout and having differing weights means you can concentrate on a weaker side.
Choose weight stacks at least 150 lbs or FT's that allow for weight upgrades, although these are often a pain to add later.
Due to the mechanics of 'leverage', the pulley system normally gives you at least a 2:1 ratio advantage over the movement of the weight.
So whatever you can, or think you will be able to, bench press, at least double it for the weight of the 2 stacks you'll need. Moving 100 lbs of weight via pulleys means an effort of just 50 lbs.
Cables & Pulleys
The cables and pulleys along with the weight attachments are the heart of the cable machine and need to be a clean action with no squeaky noises.
They should be a high quality material perhaps fiberglass reinforced pulleys with cables of high tensile strength, like 2000lb plus.
The long pulley extension will test the smoothness of the system and will allow you to do lunges, weighted sprints and cross country skiing type workouts.
Attachments
The functional trainer will come with the basic handles but for more fun and to target every part of the body, you'll want all the attachments like a straight bar for lat pulldowns, bicep curls, etc., EZ curl bar for triceps extensions, military press, etc., rope for tricep curls, pushdowns, etc., ankle attachment for cable lateral lunges, kickbacks and on.
And then the sports bar for golfers, rowers and baseball players.
Assembly
Putting a cable machine together can be an issue. All assemblies will be heavy and most will take hours but the last thing you want to do is get the build, even slightly, wrong.
Check the terms of delivery as well. Often it's curbside delivery only.
If there is an option for installation I would take it but if you (and 1 or 2 others) fancy it then download the assembly instructions (there should be one), check for Youtube videos and make sure to prepare your position – consider a gym equipment mat for instance.
Ease of use
Once your trainer has gone through whatever complications of assembly, it must be easy to use. This means that the weight selector should take a second and the same with the position, normally just the height, of the cables.
This is especially important if you want to do a circuit series and need quick changes from one exercise to another.
Durability & Warranty
Mostly these types of multi-gym machines are an expensive outlay and we would all expect the materials used in the construction to be good quality. And indeed they are in most cases.
The companies putting their name to home gym equipment products have their reputation to uphold (or improve) and should be covering these machines with generous warranty periods.
Admittedly the market for home gyms can be one a little top-heavy with testosterone so maybe the equipment will be stretched to the limit sometimes but we would like to see a life warranty on the frame and parts. Or something close.
Conclusion
It's a pleasant surprise to have found and researched some quality functional trainers which when we compare with commercial-grade machines conclude that any one of the top 4 would be an ideal addition to a home gym.
However, on price and excellent customer service, our top pick is the XMark XM-7626 Functional Trainer Cable Machine.
Its weight stack tops out at 2×200 lbs so if you want the extra poundage of 2×320 lbs then our 2nd in the list Body-Solid Functional Training Center GDCC200 would be our recommendation.