Training machines come in all shapes and features but the one thing they have in common is their size. They're big. So we've come up with some of the best compact elliptical machines, one of which meets all our criteria on price, build and features, the ProForm Endurance 920 E Elliptical.
This article includes affiliate links. If you choose to purchase any of the products we have discussed in this article, we may receive a small commission.
We've included a guide for choosing the right elliptical trainer and why they provide an efficient exercise workout.
We have reviewed 4 in all:
Ancheer Elliptical Machine Trainer (Value option)
The frame is made from solid steel and can accommodate 325 lbs of human.
A 25lb flywheel and faster gear ratio it makes for a natural and smooth stride (19″) experience.
The Proform 920E has a power ramp (incline) which is easily adjusted from 0 to 20% to simulate walking, running and hiking.
Burn different muscle groups with a higher intensity. The large cushioned pedals mean you can utilize different foot positions to provide more comfort or add another level of intensity.
This has got plenty of resistance which is why I liked it as you can really feel it in the arms as well as the legs.
There are 24 different levels of resistance using Proform's patented SMR (Silent Magnetic Resistance) system.
It's quiet too, something else I appreciated as ellipticals can be noisy. Magnetic resistance systems are always quieter than brake friction ones.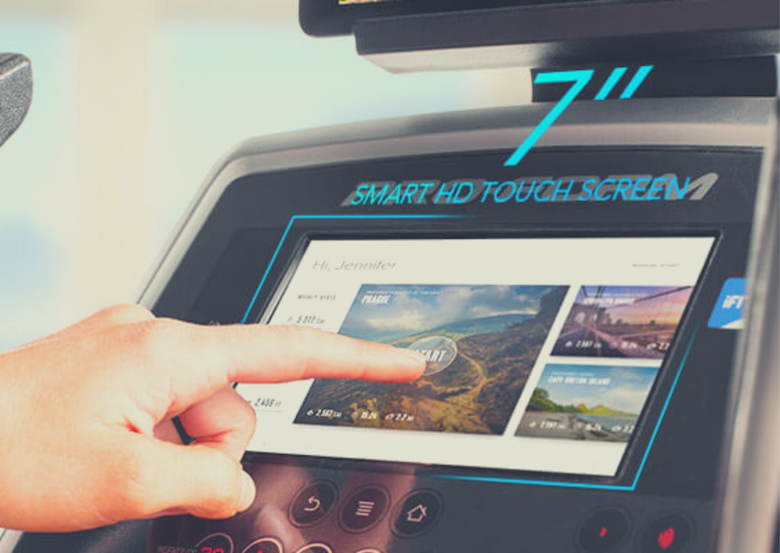 The console on the Proform Elliptical 920E is a 7″ HD touchscreen from which you can swipe through the usual stats calories burned, heart, time, distance, speed.
The heart rate monitor sits on the handles, it can be used in conjunction with wireless chest straps via Bluetooth but is an additional cost.
You can get motivated and maybe enjoy your sessions more with access to iFit with 1 year free membership and the personalized training programs that are offered from studios or worldwide locations.
You don't have to join iFit, after the year I believe it's $15 a month which you may have to pay for a year upfront. iFit is $180 a year after the first.
Other features
Built-in cooling fan (CoolAire).
Adjustable clamp for tablet or device holder. Water bottle holder.
Transport wheels and stabilizer feet to adjust the elliptical machine to level on an uneven surface.
Auxiliary audio port and 2″ speakers.
Dimensions assembled 70 x 36.5 x 68.25″
Assembled weight: 225lbs
Warranty: Lifetime frame, 3 year parts and 1 year labor.
Pros:
Feature rich
Solid construction
Quiet when in use
Free iFit membership for a year
0 – 20% incline
Stabilizer feet
Cons:
Can't adjust fan placement
Speakers adequate
---
This front-drive Horizon Evolve 5 elliptical trainer is easy to put together mainly because it comes near ready to go as a very large package.
This machine has its own proprietary patented "FeatherLight Folding" system which is hydraulically assisted.
This means a small lift on the platform and the mechanics kicks in to do the heavy lifting leaving you with a tidy bundle of elliptical-ness 41 x 28 x 69″ (69 x 28 x 69″ unfolded).
I love this feature for easy convenience and saving room and portability. (The folded footprint is 3'6″ by 2'4″)
It still weighs the same at 181 lb but moving it around is easy due to its new low center of gravity – and transport wheels of course.
A heavier flywheel means a smoother, consistent ride and this one is 23 lb.
Another proprietary system of the Horizon Evolve 5 elliptical machine is the Six-Star Frame which is a combination of 6 design features that together makes for a more smooth comfortable experience.

Individually these elliptical design features encourage the best upright posture, closer pedals avoid stress on hip and knee joints, the grips and handles are positioned and move correctly for every design of human.
There is a generous 20″ stride. The flatter movement of the pedal's movement is a feature that mimics the smooth action of a running or walking motion.
For the less mobile there is a low step height of 10″ and once aboard there are 10 Distance, 10 Step Workouts, 2 custom, 3 interval, 4 performance, 9 calorie and manual.
The 6.25″ blue backlit console is pretty straightforward and gives calories burned, heart rate, resistance, RPM, speed, time, distance and watts as well as a cardio compass that works with your wireless heart rate receiver for workout feedback.
ViaFit is the interface that shares data with apps and social networks.
Passport™ ready is an add-on that you can buy that connects to your tv and gives you the feel of moving through worldwide locations. Nice for keeping you motivated but not essential.
Other features
Bottle holder, tablet tray
Energy saving mode
Built-in speakers.
Max user weight 300 lbs
Dimensions 69 x 28 x 69″ assembled
Warranty Lifetime frame, 1 year labor, 3 year parts
Pros:
Small footprint
Folds
Rich featured
Excellent support
Cons:
---
The Schwinn 411 Compact Elliptical machine is a heavy-duty but compact unit that has a maximum user weight of 300lbs.
It's a pretty basic elliptical machine with 16 magnetic resistance levels but with no incline feature but it is compact with an 18″ stride which is fine for people up to 6′ tall.
It has the normal moving and fixed handlebars with contact grips. The moving handles are of a good length.
The step-on height is 12″ and the pedals are nice and close together at 5.5".
The console is quite basic; a 5.5″ high contrast screen displaying speed, time distance, calories burned, and heart rate.
The Schwinn 411 can be synced with the visual reality app RunSocial which currently offers a 3D experience running walking striding through 19 different locations along 27 routes in stunning locations around the world. You can even race with your friends while tracking your stats.
Other features
Wireless heart rate can be tracked via a strap and Bluetooth although the strap is at an extra cost.
Built-in media tray and bottle holder.
Dimensions: 53.8″ (at full extension otherwise 43″) L x 24″ W x 62.5″ H
Assembled weight: 120lbs
Warranty frame 10 years, parts, 2 years, electronics 1 year, labor 3 months
Pros:
Heavy stable & quiet
Easy to assemble
Small footprint
Good value with enough features
Cons:
No speakers
No incline feature
---
(Magnetic Smooth Quiet Driven with LCD Monitor and Pulse Rate Grips)
Value choice
This is a white label elliptical machine and badged by a number of distributors. Ancheer has a track record in selling bikes and indoor exercise machines and their support is good.
This elliptical machine has all the features you would expect although more basic than fancy hence the very reasonable price point.
The heavy-duty frame made from tubular steel can support a maximum of 330 lbs. Assembly is straightforward.
The balanced flywheel which is only 12 lbs and V- belt drive makes for a smooth and quiet exercise.
There are large pedals with ridges to prevent foot slippage.
A digital monitor and large window LCD display distance, calories burned, time, speed, scan and target zone heart rate monitoring. With the convenient scanning mode, you can choose to keep repeating these functions to keep up with all calculations!
Sensors for taking the pulse are on the forward (static) handles.
There are 8 levels of magnetic resistance adjustments.
Other features
There are transport wheels at the front for easy portability.
Comes in silver or black
Product Dimensions: 41″ x 19″ x 63″ Weight: 35.8 kg
Footprint: 15.6″ x 6.3″
3 years quality warranty to the products.
Within the warranty period, we provide free replacement parts.
Pros:
Very good price
Solid and compact
Cons:
Basic machine – Short stride – only 14"
Not for the power user
---
Why a Compact Elliptical?
Elliptical trainers or sometimes called cross-trainers, are pretty large machines not only in footprint and height but also bulk and they necessarily have to be heavy-duty or else the assembled machine wouldn't be stable.
They can be very imposing in the living room so packing as much punch into as small a unit as possible is a good idea. Some units are folding which helps.
Ellipticals have the flywheel positioned at the back, the front or the center. Ones with the flywheel at the front are normally the smallest ellipticals. Some rear-mounted flywheel designs do fold but we haven't found one that has the required quality.
Some front flywheel designs also fold from the back, up. This seems to be an easier way of achieving a smaller footprint with less complexity of moving parts.
Why Choose an Elliptical Trainer at all?
We all now know that for people of all ages, cardiovascular exercise is good for us and benefits our health and sense of well-being. Consider a cardio and strength exercise regime as a lifelong habit to get into.
As a way of exercising the heart as well as many of the muscle groups in our body, an elliptical cross trainer is a great tool. The value of it is the low impact nature of the elliptical exercise workouts.
The feet are planted in large ridged, cushioned pads and the hands are firmly attached to the ergonomic handles. Both sets of limbs move in alternate rhythm just like walking or running but without the jarring. What can go wrong?
The Best Compact Elliptical Should Have Certain Features
Machine size
As mentioned before these machines have a lot of moving parts and are big and even the small ellipticals have a certain bulk. The footprint dimensions need to be checked, bearing in mind a bit of buffer space behind the machine.
Because they sit off the ground, more than treadmills, the height needs to be taken into consideration, that is the height off the ground plus the biggest user height.
Delivery and assembly
Check on delivery options. You want to receive the parts intact. And how difficult is it to assemble, are there offers of technician assembly? Often it takes 2 people to put the machine together.
And don't forget you want to assemble the elliptical on the floor that it's going to live. Any decent elliptical will have transport wheels but stairs will be a barrier.
Motion quality & comfort
The handles should be conveniently placed or in variable positions to encourage good posture which means not having to lean forward.
The motion of the pedals should be smooth imitating your normal walking or running movement with the pedals generally close together and the rotation on a flat trajectory.
Stride length
A good stride length is good, 18″ and up. Some, but not many elliptical machines have adjustable stride lengths and some others have power inclines which changes the stride length.
Built to last
With so many moving parts it's important that the trainers are durable and most frames are made of some sort of steel which is one reason why they're so heavy.
Warranty
Most elliptical frames have a lifetime warranty with 3 year or more on parts. Any less is a negative.
Resistance
These cross trainers must have a good range of working resistance. You want to be able to work out hard at around the middle setting initially, with the other half of resistance an aspirational set of levels.
You want the resistance mechanism to be easily reached and smooth in the transition to higher or lower levels.
Programs
Preset programs can be initiated and automatically vary the intensity of your workout by adjusting the resistance and incline if that's available. This can mean effective interval training.
You will be able to make adjustments manually as well as create custom programs that can be profiled to individual users.
Exercise programs like these help maintain interest and motivate you to track your exercise progress.
Many elliptical manufacturers have come up with 20, 30 or more different settings for these programs but the basic resistance program settings are probably good enough like random, hill climb, interval, longs low distance, target heart rate and manual.
Safety
The nice thing about the inherent design of good compact elliptical trainers is that they're made with good handle features and solid, safe, enclosed footpads.
There should be 2 moving arms and 2 fixed so for older people especially, maybe a little unbalanced there is less risk of falling, than say, a treadmill.
And there is no powered belt so when you stop the machine does too.
It's good to make sure that crawling tots don't get curious about the moving parts of an elliptical. Some, but few, have a pedal locking device.
Console clarity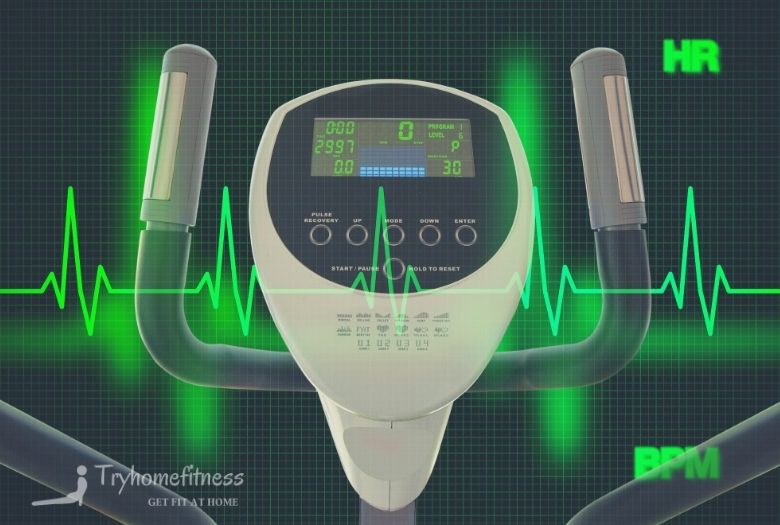 Backlit consoles are always best but just make sure the display is big and clear enough so you don't have to get your glasses out in mid-session.
Monitors, Connectivity
A lot of cardio equipment is getting more connect-ready these days allowing workout data sharing within a coached and/or competitive environment to social networks and apps.
The best compact ellipticals have Bluetooth and built-in wireless connectivity.
Some manufacturers are using this data gathering and app integration and giving user-friendly feedback by way of registration to their own software. Some like it, some don't.
Sensors on the fixed arms (normally) are typically not that accurate, wearables more. If available as an option Bluetooth can hook up to a chest heart monitor for more accurate readings and can be linked to a heart rate monitored program. So the machine's intensity changes according to your heart rate.
Treadmill vs Elliptical
When I first walked into a gym I saw rows of elliptical machines all in use by young fit looking types who didn't seem to be exerting themselves much. I was there for the treadmill, a proper workout!
After finally being seduced by the swinging arm and leg action I started giving it a go and it can be really tough. Crank the resistance up – the last level but be reachable but not for very long – and you have an all round workout that can produce a lot of lactic acid.
There are scientific studies to show that elliptical training is not just a 'walk in the gym' either, within one study, there was more perceived exertion on the legs using an elliptical over a treadmill and equal the amount of heart rate efficiency.
This means you can reach an optimum heart rate on an elliptical workout and not suffer the slings and arrows of outrageous pounding like you can with a treadmill, leading to joint and other problems.
Elliptical training has been tested on brain trauma patients and victims of serious strokes to increase their functional walking with positive results.
Even if you're a runner, especially one on the mend, cross-training with an elliptical machine may be a good idea to give those joints a rest.
It's how I first got into the elliptical machines in the gym. When recovering usually from an ankle problem I would hobble past the treadmills and find comfort in the low impact of the ellipticals.
You will use different micro muscles, especially if going backward, on an elliptical. You can go in reverse on the more decent compact ellipticals on the market.
We've also compared the stair stepper versus the elliptical showing the various benefits of both.
Getting The Most From The Compact Elliptical
One of the most important things to keep in mind when using an elliptical machine is keeping good posture.
Shoulders should be back and head up with your chin line parallel with the floor. The back should be straight and abdominal muscles taught. Use the handles by pulling and pushing, don't lean forward on them.
The correct way you use an elliptical machine will mean a more effective workout by exercising the right muscle groups, increasing the heart rate and lessen the risk of stress on the neck shoulders and back.
To get the most from your new shiny cross-training machine I would recommend you change the format of the exercise program regularly.
Most good elliptical machines have pre-set programs that will include interval training, speed, variable resistance etc. These will not only challenge your body but a bit of spice into the workouts not allowing complacency.
More and more available are training distractions that can let you connect to an in-built screen, your tv or app-based programs on a smart device which means you can 'dial in' to reality scenes and other users and coaches.
Personally, I think there is something to be said for concentrating on your own efforts but such programs are becoming more popular although it normally means an additional membership fee.
Conclusion
The Proform Endurance 920 E Elliptical came out on top as the best compact elliptical machine when considering compactness, features and price.
All the features you would expect from a good elliptical have been done well like the ergonomic multi-placement handles and then there are the added features like the 0-20% power incline.
On top of that is made to a high standard all at a very reasonable price. Looks good too.
If interested in all things elliptical for the home we have covered some other topics you might find interesting such as…
Rowing Machine vs Elliptical – Which is Best?
The Best Budget Elliptical For The Home
A Guide & Reviews of The Best Under Desk Elliptical