Ellipticals are a fantastic, low-impact way to burn calories, but home ellipticals can be a bit pricey. There are plenty of budget ellipticals around though.
We're going to take an in-depth look at the top models to uncover the best budget elliptical.
This article includes affiliate links. If you choose to purchase any of the products we have discussed in this article, we may receive a small commission.
Our first choice is the first in our list of reviewed budget ellipticals.
Health Benefits of Ellipticals for Home Exercise
I used to be a bit snooty about exercising on elliptical trainers or cross-trainers as they're sometimes called. Being a great proponent of pounding out the miles running on a treadmill or the roads I wrongly thought that elliptical trainers didn't offer the same cardiovascular benefits.
Pounding is the key word here though as I began to find out after years of running and jarring my joints.
There is very little stress on the joints when using an elliptical and the intensity can be sufficiently increased to give anyone a thorough workout.  
With less impact on the joints of the legs and lower back, it means you can safely exercise for longer periods and is especially good for anyone with soreness trying to get back to full fitness.
Elliptical trainers are also popular with older people as they provide a weight-bearing exercise. A low-impact weight-bearing exercise can help maintain bone health and lessen the onset of osteoporosis.
And not only do they provide a good aerobic workout that burns the calories helping in weight management they also help tone the upper and lower body muscles.
This whole-body exercise is unusual in exercise machines and it's the reason why ellipticals are a popular home fitness machine and why they're often referred to as cross-trainers.
What Is the Budget Elliptical Price Range?
Before we get any further, we must define what "budget" means so that we're all on the same page. This roundup will take a look at machines that range from $100-$300 at the time of writing, which is the lowest end of the price range for this home fitness machine.
We have also avoided compact or under desk ellipticals as we feel that's a different category dealt with elsewhere.
Mid-range models run from around $300-$1,000. If you spend over $1,000, you're buying a high-end elliptical with plenty of features. We won't be taking a look at any of these options, as our focus is on the best ellipticals under $300.
Is a Budget Elliptical Worth It?
While you may be surprised to learn that you can get an elliptical so cheap, it's vital to manage your expectations when shopping. The experience you get using a budget elliptical differs from the one you'll get in the gym. And while the experience is undoubtedly different from that of a $2,000 elliptical, this price range has its advantages.
Sure, a limited budget means fewer bells and whistles, but the function of the elliptical is still the same, and spending less allows you a great introduction to the machine.
You get to try it out, start reaping the benefits, and decide if it's for you—all without a significant investment. And there's plenty of value in that.
Considerations When Searching for the Best Budget Elliptical
What you need to know before shopping is that when it comes to the diversity of features, the budget price range is somewhat limited.
While there are certain general expectations for units in this price category, you should keep the following considerations at the forefront when searching.
Stride Length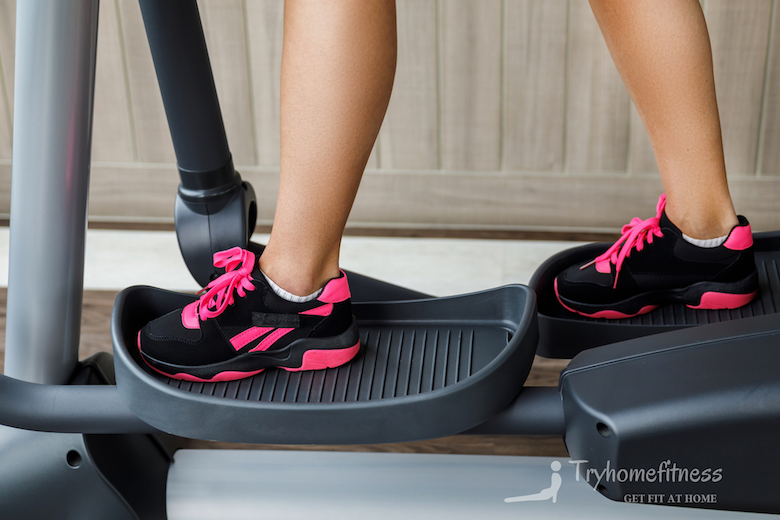 If you only pay close attention to one feature, it should be stride length. Stride length refers to the distance (in inches) that your legs move from the front to back while exercising.
It's a critical measure to get right, as it determines how comfortable you'll be using the machine.
The majority of professional, high-quality ellipticals have a stride length of around 20 inches, which most users would consider to be the sweet spot. Budget ellipticals, however, fall somewhere between an 11- to 14-inch stride length.
It's better to avoid really short stride lengths, but they are a more standard feature of the cheapest models. Stride length on a budget home elliptical fails to rival the gym's equipment and eleven inches will be uncomfortable for taller people.
Weight Capacity
How much weight the elliptical can support is the second most critical consideration to keep in mind during your search. Weight capacity is especially important if you have a lot of pounds to shed and are buying this machine for that purpose.
Commercial ellipticals have high weight capacities of between 300-400 pounds, and they can accommodate pretty much anybody. However, the same is not true for budget ellipticals, whose weight capacity can vary considerably.
We recommend models with the highest weight capacity you can find, even if you're within or significantly under the weight range.
Why? Generally, the higher the weight capacity, the better quality the build will be. Low weight capacities are typical of lightweight ellipticals that are built with inferior materials.
We recommend sticking with a model that supports somewhere between 220-250 pounds. Finding anything above that is challenging, though our list does include one higher weight capacity model.
Warranty
Warranties typically cover two areas: parts and labor. High-end ellipticals generally have lifetime frame warranties and parts and labor warranties of up to five years.
Most budget ellipticals won't offer this type of warranty, but anywhere from three months to two years is typical. Avoid ellipticals with no warranty.
Space
Room for fitness equipment can be a source of frustration and with treadmills, exercise bikes, elliptical machines you also need a bit of buffer space to stride or swing the arms. Fortunately, the cheaper ellipticals tend to have a smaller footprint but it's worth checking the dimensions.
Other Machine Features to Consider
Despite their lower price tag, budget ellipticals may surprise you with their features. Aside from the things we've already mentioned, here are some things your budget elliptical should have:
A grip heart rate monitor
A display, even though it may not be colorful or backlit
Electronic or magnetic resistance
Workout programs
What Budget Ellipticals Don't Always Include
It's essential to know what not to expect from ellipticals in this price range. Some features you may or may not find on budget ellipticals include:
Backlit or touch screen displays
Inclines
Water bottle or tablet holders
Single-use Budget Elliptical versus Hybrid 2-in-1, 3-in-1
2 of our 5 choices of budget ellipticals have 2 modes. With a seat built-in over the flywheel, a standup fitness elliptical machine becomes a sit-down exercise bike.
A good deal you might think but naturally, the dual-purpose machines are more expensive and have a larger footprint.
I don't normally like multi-functional exercise equipment but in these 2 cases, we found that the bike part wasn't just an add-on. They were a well-built component and provided another dimension to workouts. Another way of adding motivation and enjoyment whilst getting fit at home.
Top 5 Budget Ellipticals
So what are our picks for the top budget ellipticals? After conducting extensive research, these five models were our choices for quality and features.
They range in price within the budget category and we chose good basic models as well as feature-rich ones for variety. Let's take a close look at each one.
The ProForm Hybrid Trainer is a hybrid option. Though, unlike the three-workout Body Flex machine, the ProForm version has just two modes, elliptical and recumbent bike.
It has a good 15-inch stride length, and the maximum user weight is 350 pounds, making this elliptical accessible to most individuals and shows us that it is a well-made machine.
Besides giving you two exercise choices in one unit, it has some features we like, the heart rate monitoring and 16 resistance levels at the push of a button as opposed to the normal manual way of adjusting the tension via a knob or lever.
Even better, the Proform Hybrid has Bluetooth connectivity built-in so you can get all the benefits of an iFit subscription which is an additional fee.
iFit is a separate but compatible interactive fitness platform that offers virtual worldwide workout tours and group classes with trainers and a huge workout library. It's fun and it keeps you motivated and enthusiastic.
There is a 30 free trial for iFit if you purchase the Proform elliptical and a completely free coach app that you can download for your cell phone.
The Proform elliptical has adjustable pedals and seat to make each family member comfortable with their fitness journey. I found the seat particularly comfortable with good support for the back.
The Hybrid Trainer has a big LCD that's easy to see, a water bottle holder, and wheels to make moving it from room to room easy.
Warranty: 5 years on the frame, and 90 days on parts and labor
Stride: 15"
Dimensions:76"L x 26"W x 60"
Weight: 116.8 lbs
Pros:
Bluetooth enabled for access to workout apps and paid unlimited workout library
Two-for-one piece of equipment gives you more bang for your buck
Long stride length
Includes an integrated tablet holder
Cons:
Assembly a little challenging
---
Value Option
The next contender for the best budget elliptical is the Sunny Magnetic Elliptical Trainer, our "great value" pick.
It features eight resistance levels and has a maximum weight capacity of 220 pounds. The magnetic tension system provides users a relatively smooth ride, and the anti-slip foot platforms ensure your safety while using the trainer.
You can change the tension using the hand knob to adjust the intensity of your workout.
The model also has a hand pulse monitoring system to track your heart rate, which is just one of the metrics viewable on the LCD monitor.
Perhaps the best thing about the Sunny Magnetic is its small footprint. It's between three and four feet long, so if you're tight on space, this might be the elliptical for you. It's light, portable and has the basic functionality of an elliptical machine at a great price with plenty of favorable customer reviews.
A nice feature the Sunny elliptical has is that the base bar is adjustable to maintain stability on uneven surfaces whether using it on a carpet or wooden floor. You simply turn the leg until it's level with the floor.

We should mention that if you're looking for a fold-up model, the Sunny Magnetic does not have this capability.
Stride: 11"
Warranty: 3 months
Dimensions: 37.8"L x 26.6"W x 60"H
Weight: 68 lbs
Pros:
Small footprint – will fit in small spaces
Mostly noise-free
Easy assembly
Cons:
The 220-lb weight limit is on the lower end of elliptical weight capacities, meaning this machine is not for anyone with serious weight problems
Short stride length
---
The next elliptical on our list gives you a little bit more for your money. This well-priced machine offers you three workout options for the price of one, so you can switch things up when the mood strikes.
Choose between the elliptical, recumbent bike, or upright bike. We didn't look into it but the design of the 3 in 1 is patented so we didn't find out what bit was unique.
However, you don't have to adjust the pedals to switch from one mode to another, making changing up your workout a simple matter of changing your body position.
So changing from recumbent to upright bike position is just a matter of hands and feet placement. I found the upright bike position a little awkward and that my back might be prone to strain.
I would rather think of the Body Flex Trainer as having dual functionality as a bike and an elliptical.
The motor-assisted magnetic resistance gives a smooth ride while you're working out, and the machine includes hand-grip heart rate sensors that allow you to monitor your pulse.
The Body Flex Trio Trainer comes with a workout DVD and a programmable exercise console with 24 preset training programs. You can also pedal backward to exercise other anterior muscle groups and the resistance can still be applied.
This model is a fantastic option, though some users report that it took quite a while to put together. Another downside is the LCD screen, which is rather small, even for a budget elliptical.
Stride: Short
Warranty: 1 year on frame and 90 days on parts
Dimensions:62" x 55" x 25"
Weight: 79.8 lbs
Pros:
The three-in-one design allows for a variety of workouts
The machine provides a high maximum weight at 250 pounds
Includes a media shelf for your devices
Cons:
The LCD screen is somewhat small and challenging to read
1 year warranty
---
The Marcy brand is ubiquitous in the fitness world and with good reason. Their products are of high quality and provide remarkable value for money—and the NS-40501E is no exception.
With a 14-inch stride length and eight levels of magnetic resistance, you'll get a comfortable—not to mention, smooth—workout.
It's got a display unit to track your workout progress across a variety of metrics and a shelf to house electronic devices so you can stay motivated as you work out.
The one issue with the shelf is that if you use a tablet with it, the display will be hidden.
There's also no way to measure your heart rate, though ellipticals in the budget range aren't known for their accuracy.
The trainer has a pair of roller wheels to move around more easily. Carefully hold and tilt the machine and roll.
Overall, this Marcy model will serve you well. And if you're struggling to find a budget elliptical because you're over 250 pounds, this 300-pound weight capacity elliptical is one to consider.
Stride: 14"
Warranty: 2 years on frame
Dimensions:49"L x 24"W x 64.2"H
Weight: 65 lbs
Pros:
Features the highest weight capacity of the strictly elliptical models (not hybrids) in this review at 300 pounds
Includes a tablet holder
Easy assembly
Each pedal has three attachment positions
Cons:
No option to monitor your heart rate
Using the tablet holder will cover the console
---
Our final budget elliptical option is this very nice machine from Zoovaa Efitment.
It features a stride length of 13 inches, a weight capacity of up to 220 pounds, and a 3-year warranty.
The machine has ribbed foot holders to prevent slipping, eight resistance levels, and a tablet holder to stay entertained while you work out.
You can see your pulse on the LCD panel by holding on to the heart rate grips, as well as calories burned, distance traveled, speed, and time spent on the machine.
It's got two sets of handlebars, both fixed and mobile so that you can work out your arms. While the Efitment Magnetic Elliptical doesn't have a folding frame, it does have wheels, so it's easy to transport.
This heavy-duty elliptical has a low profile, and its quiet operation won't interfere with other activities in your house. The only real issues with this machine are that if you use the tablet stand, you cover the LCD.
Warranty: 3 years frame. Parts & labor 90 days
Stride: 13"
Dimensions: 50"L x 23.5"W x 62"H
Weight: 80.5 lbs
Pros:
Smooth pedaling
Easy assembly
Fairly noiseless operation
Machine includes pulse sensors in the handlebars
Its low profile is excellent for use in small spaces
Cons:
Less robust than others
Using the tablet holder covers the display
---
The Winner for the Best Budget Elliptical Is
Our top choice for the best budget elliptical is the ProForm Hybrid Trainer. While all of the top five models have some similar features, we chose the ProForm Trainer for a few reasons.
Despite not being a critical feature, we love that this unit offers Bluetooth connectivity and the option for exciting workouts. Variety is a crucial part of staying consistent with exercise, and having another choice for home workouts is further incentive to stay on track.
At 350 pounds, it offers the highest of all the capacities on our list and makes it accessible to those beginning a significant weight loss journey. The 15-inch stride length is fantastic for taller individuals as well as the adjustable seat and pedals.
Overall, we couldn't argue with the number of great features the ProForm Hybrid Trainer has and give it our top recommendation.
For our value pick, we couldn't go past the Sunny Magnetic Elliptical Trainer. It's a basic single-use machine but for anyone looking for an inexpensive, low-impact way of getting fit at home then this is the one we recommend.
If you're thinking of other pieces of fitness equipment we have covered articles on stepper vs elliptical and rowing machine vs elliptical.